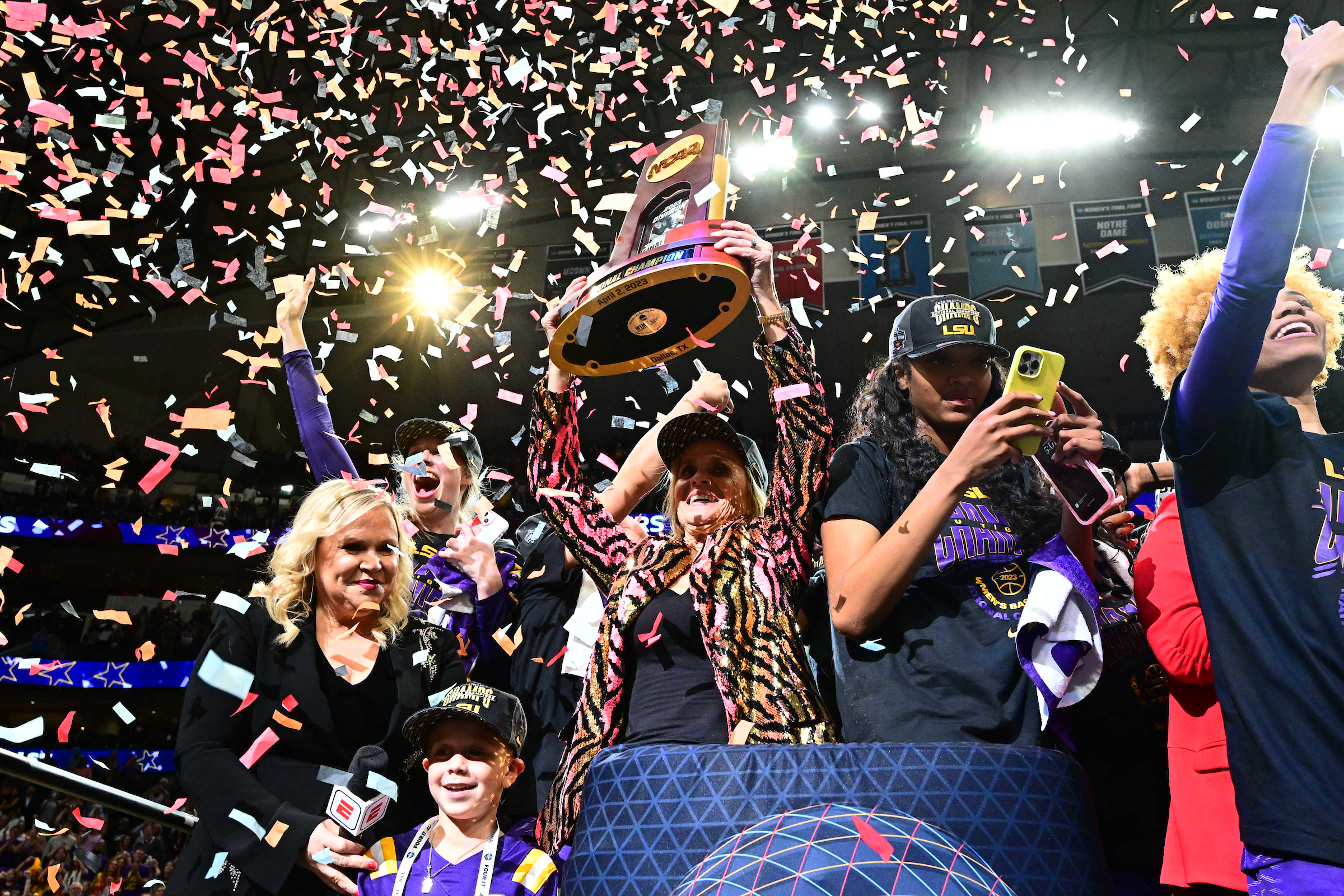 Barely two months have passed since the confetti dropped on the LSU women's postgame celebration of its first NCAA basketball championship in Dallas.
There's been plenty of adoration for the Tigers, who were ranked No. 16 in last year's preseason poll, to win 34 of 36 games and cap a memorable stretch with six straight wins that reached a crescendo in a record-breaking 102-85 victory over Iowa.
There's been an on-campus parade, a dinner at the house of Louisiana Governor John Bel Edwards and numerous appearances that culminate May 26 with a White House visit.
And since then, all LSU's managed to do since then is improve its roster.
The Tigers lost key pieces from their championship team in point guard Alexis Morris and forward LaDazhia Williams. No one will soon forget the performance guard Jasmine Carson gave in the championship game against Iowa, coming off the bench to score 21 first-half points. Not only did she energize her team, but provided a sense of belief they could win despite starters Morris, Angel Reese and Kateri Poole on the bench in foul trouble.
LSU was already going to be in the high-rent district of women's basketball next season with three starters returning such as Reese, a first team All-American, Flau'jae Johnson, the SEC's Freshman of the Year, and Poole who started the last four games of the season.
The Tigers were prominently mentioned in ESPN's Charlie Crème's Way-Too-Early Top 25 for the '23-24 season, garnering a No. 3 preseason ranking behind No. 1 UConn and No. Utah, a team LSU encountered in a difficult Sweet 16 tussle, 66-63, to advance on its magical tournament run.
Teams like Iowa, Indiana, UCLA and South Carolina followed but this was BEFORE second-year coach Kim Mulkey, who had already signed the nation's No. 1 high school class in November, worked her magic in the transfer portal and signed not one, but two difference makers.
A year after landing Reese, the No. 1 player in the portal, Mulkey exceeded those expectations and signed guard Hailey Van Lith of Louisville and forward Aneesah Morrow of DePaul.
"I don't have any doubt that she'll figure it out if there's anything to figure out," Crème said of Mulkey on the May 16 edition to Tiger Rag Radio. "With that kind of talent, it's hard to pick anybody else."
Mulkey's 60-8 over the first two years of her career at LSU, relying solely on eight-player rotations because she didn't have the luxury of a deep bench.
Well, those days are over.
With three returning starters, based on the final game of the season, Mulkey welcomes back a total of six letter winners, four high school signees to go with Van Lith and Morrow. You would expect the development of Johnson and forward Sa'Myah Smith to continue in their sophomore seasons and Last-Tear Pao will fulfill a key backcourt role.
The combinations are numerous with Van Lith providing another tough-minded player with terrific perimeter skills and scoring potential and Morrow, another double-double machine, who was the nation's only player other than Reese to average more than 20 points and 10 rebounds last season.
Factor in Louisiana's two-time Miss Basketball and nation's No. 1 prospect Mikaylah Williams of Parkway High School, center Aalyah Del Rosario, guard Angelica Velez and forward Janae Kent and it's easy before all of the hard work is put in and chemistry's developed, to see just how good next year's LSU could be.
Maybe, national championship worthy.