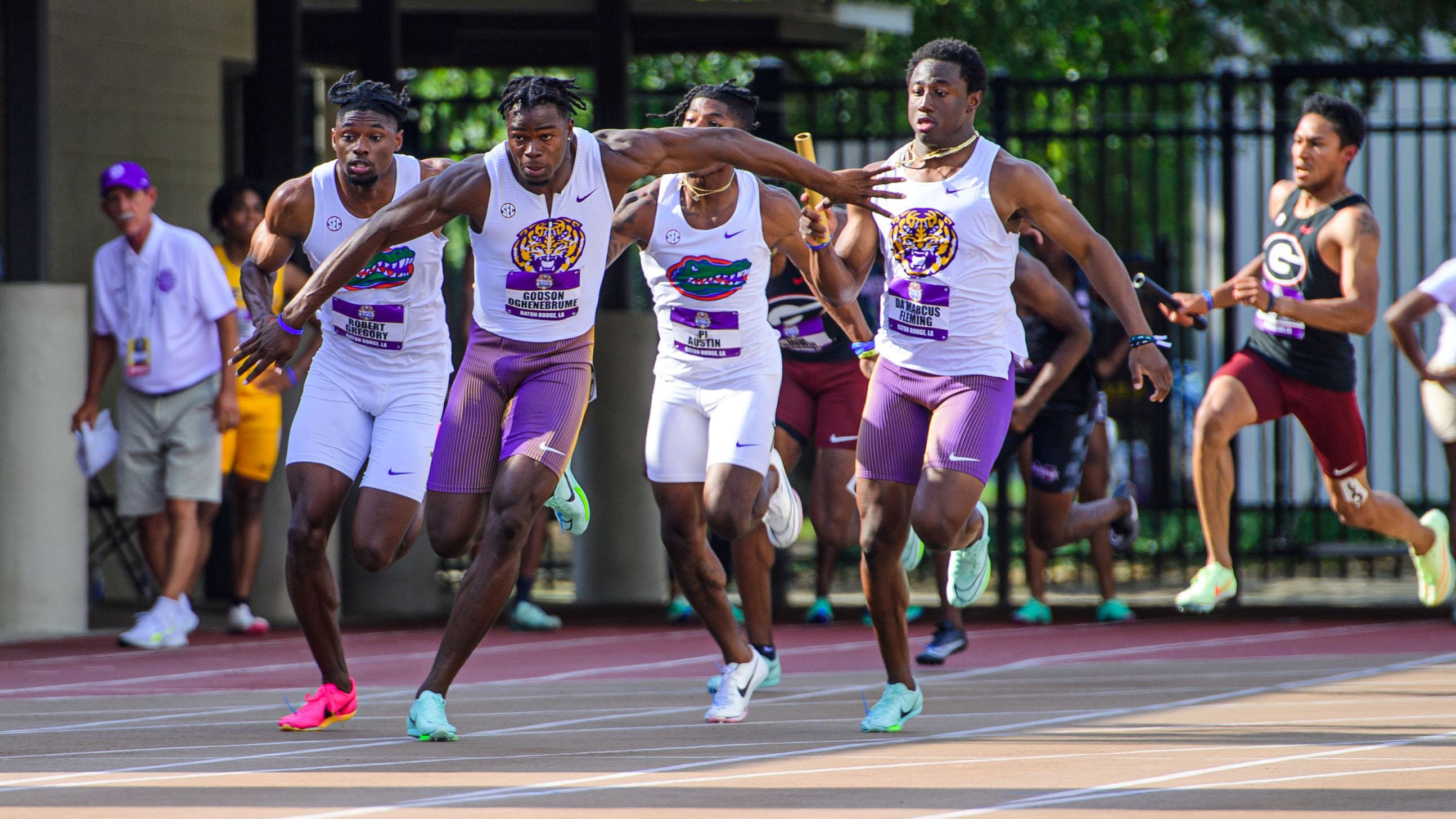 LSU track & field coach Dennis Shaver simply refers to it as championship time. His hopes are that bigger meets bring out the best in his competitors.
That's what Shaver believes was the result when his men's team, projected to finish fourth going into the Southeastern Conference Outdoor Championships, catapulted themselves into second place with 89 points. Arkansas was the event winner with 149 points at LSU's Bernie Moore Stadium which hosted the May 11-13 event.
"Without about a doubt I thought the men competed well and stepped their game up as a team," Shaver said. "When you're at championship time you want to have a great meet and that's what the men's team did."
LSU's women, though, wound up seventh with 57 points. Arkansas pulled off the sweep of the meet with 134 points.
"The women, I didn't think we had a really great meet," Shaver said. "I thought we had an OK meet."
Senior Dorian Camel and sophomore Godson Oghenebrume – two-fourths of LSU's 4×100 relay – produced nearly half of LSU's points. Camel, also a sprinter in the 100 and 200 along with running a leg on the 4×2 relay, totaled 23 points and Oghenebrume scored 20.
"Dorian has always been a person that's helped us in both relays as well as two individual events," Shaver said of the Scotlandville High product. "He's been extremely valuable to us and performing at his best this season. He was ready for championship time. That was exciting to see him contribute that to the team."
Oghenebrume came back after anchoring the victorious 4×100 relay to capture the 100 meters in a time of 10.04 seconds, the fourth best time in school history.
"It was great to see him get a great start and really execute a really good race and win against some of the top sprinters in the country," Shaver said.
LSU's 4×100 unit of Brandon Hicklin, Camel, Da'Marcus Fleming and Oghenebrume held off a strong charge from Florida to win their specialty in a nation's best time of 37.90 seconds. It was the fastest time in college history, breaking a 25-year-old mark previously held by LSU in 1998, No. 2 time in the world and a facility record.
"Those guys, they're just really good," Shaver said. "You just ran the relay faster than anybody's ever run it in college for 100 years. That said a lot about them and it's a competitive race and you need those to run fast. Setting the collegiate record was fun to see. I thought all along those guys could do that but at the end of the day, doing it and executing that in a championship meet, you have to give them credit for doing a great job."
Camel was also third in the 100 (10.19) in the 100 meters.
LSU piled up some points in the field events – especially the weight throws – where John Meyer equaled his school record and was second in the shot put (67-3 ¼). A pair of local products gave the Tigers eight points in the javelin with Parkview Baptist graduate Tzuriel Pedigo in second (257) and Jackson Rimes of Catholic High in seventh (212-6).
Freshman Matthew Sophia, who wasn't projected to reach the finals in the 110 hurdles, had a personal best time of 13.80 and wound up fifth.
LSU's women, who were projected fifth in the event, extended its reign in the SEC 4×100 relay to eight years behind the team of Alia Armstrong, Favour Ofili, Brianna Lyston and Thelma Davis. They had to fend off Kentucky to win in a time of 42.92 – fourth best in the nation.
"It was extra motivation to continue that streak and I was really proud of the effort we got in that event," Shaver said.
Armstrong, a native of New Orleans, came back to win her specialty – the 100 hurdles – in a time of 12.40 seconds to set both a school and facility record, and produce the nation's No. 3 time.
Michaela Rose recorded the only other first place for the Tigers in SEC-record fashion with a time of 1 minute, 59.73 seconds in the 800 meters and Lorena Rangel-Batres was second in the 1500 meters (4:17.91).
"She did what she has been doing for the last couple of years and that's really stepping her game up in championship meets," Shaver said of Armstrong said. "We were really proud to see her accomplish that, especially since it was here and for her to be able to win it again this year."
NOTE: LSU takes a total of 33 athletes competing in 43 different events beginning in Wednesday's NCAA East Preliminaries at Hodges Stadium in Jacksonville, Florida. The top 12 finishers in each event advance to the NCAA men's and women's championships June 7-10 in Austin, Texas.