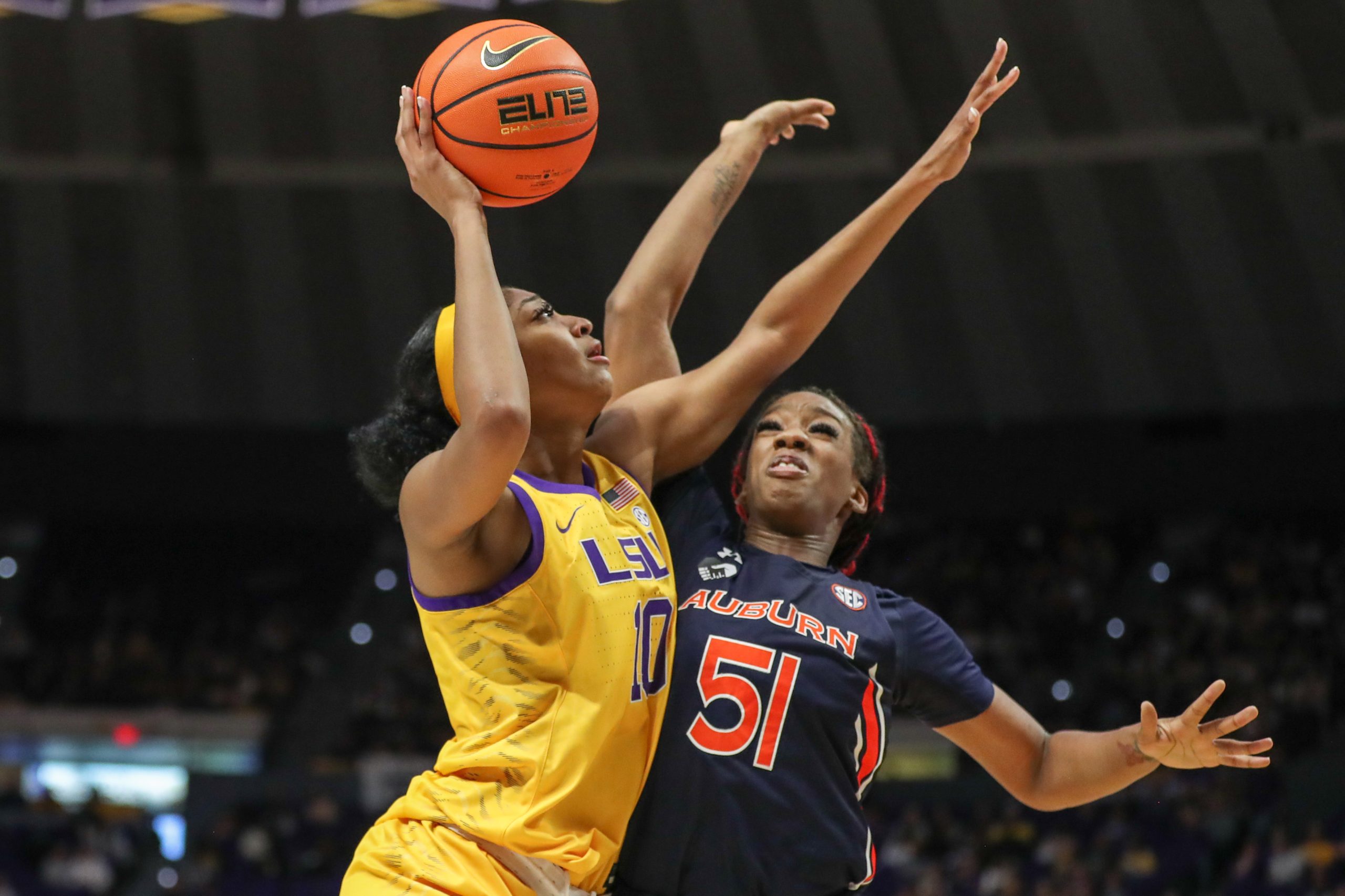 There were wide smiles all around.
From the victorious coach who watched her fifth-ranked LSU team blast Auburn 84-54 on Sunday in Southeastern Conference play, to a large contingent of alumni players and the current team's family members who were all part of the fifth-largest crowd of 11,475 at the Pete Maravich Assembly Center.
The good-vibes day began well before tipoff when former All-American Seimone Augustus became the first female athlete in school history to receive a statue which was unveiled in the plaza area. Augustus, who had her No. 33 retired in 2010, later received a tribute at the end of the first quarter, bringing an approving crowd to its feet and driving Augustus to tears.
"They're all wonderful," LSU second-year coach Kim Mulkey said. "Seimone's statue unveiling, the first female ever in the history of LSU sports. A team that's 18-0. There's so many things you can write, and they were all wonderful and meaningful."
LSU (18-0) remained a co-leader in the SEC with a 6-0 record, taking care of its end of the deal against Auburn which it never trailed against and extended its best start in school history.
The Tigers, who shot 47.8% (32 of 67) had four players in double figures led by sophomore Angel Reese with her 18th double-double of the season of 23 points and 15 rebounds, leaving her one game short of Sylvia Fowles' school record mark. Graduate student Jasmine Carson had 18 points, including four of her team's six 3-pointers, senior guard Alexis Morris had a double-double with 12 points and 10 assists and freshman guard Flau'jae Johnson 10.
Reese scored 13 of her team-high total in the first half and added 11 of her team-high rebound total after halftime.
"I'm just doing what it takes to win," Reese said. "I'm just happy to be mentioned with Sylvia Fowles, Seimone Augustus. It's a blessing."
Auburn (10-7, 0-5) built off its late run in the third quarter and got to within 60-44 – the closest they had been since the two-minute mark before halftime – when Carson began heating up and helped LSU flex its muscle again with a comfortable 30-point cushion (80-50) with 3:34 remaining.
"We got fatigued there in the second half," Mulkey said.
Back-to-back corner 3s from Carson made it 73-50. Reese then converted a three-point play, Sa'Myah Smith a layup and Morris capped the 13-2 run with a steal and layup with 3:34 remaining.
"I'm feeling like I'm having a complete all-around game," Morris said. "I'm not just getting points for myself, but I'm making my teammates better if I can give them confidence. I know I'm going to score the ball. My job's to make everybody else around me better.
"It's not all about scoring," Morris said. "That was my role last year but I'm in a different role this year and that's to make everyone around me better. Coach Mulkey gets on me for passing up shots but I'm just having fun with my teammates scoring and I'm scoring. We're having fun."
LSU opened the third quarter with a 13-4 run to stretch its lead to 54-26 with 6:28 left.
Morris triggered that run with a layup off an inbounds play and added a runner in the lane. She later fueled the run with a pair of assists, feeding Carson on a fastbreak layup and finding Reese inside for what turned into a three-point play when she was fouled on a layup.
LSU gained a 58-29 lead when Reese made a pair of free throws, but the Tigers went the last three minutes without scoring another point, shot 35% (7 of 20) and were outscored 13-2 and had their lead trimmed to 60-42 at the end of the quarter.
Reese scored 11 of her 13 points on 4 of 6 shooting in the second quarter, sparking LSU to a 41-22 halftime lead.
Auburn's double-team defense was an early deterrent until Reese came up with a strip and layup for her first field goal at the 7:35 mark of the second quarter.
That basket gave the Tigers a double-digit lead (27-16) that eventually grew to 19 by halftime when Carson knocked down a 3-pointer, Reese converted a nifty reverse lay-in, and Morris' drive beat the halftime buzzer.
Carson opened the game with a 3 pointer – the first of four in the first half for the team – and LSU never trailed in building a 18-9 lead on a 7-0 run. Reese, LaDazhia Williams and Johnson, who rebounded her own miss, all contributed to the stretch when Kateri Poole added a 3-pointer and Carson a steal and layup for a 23-14 lead.
"I told the team, 'Let's not make anything a distraction'," Reese said. "It's Family Day, it's Alumni Day, there's a lot going on. We just had to stay focused like we always do."