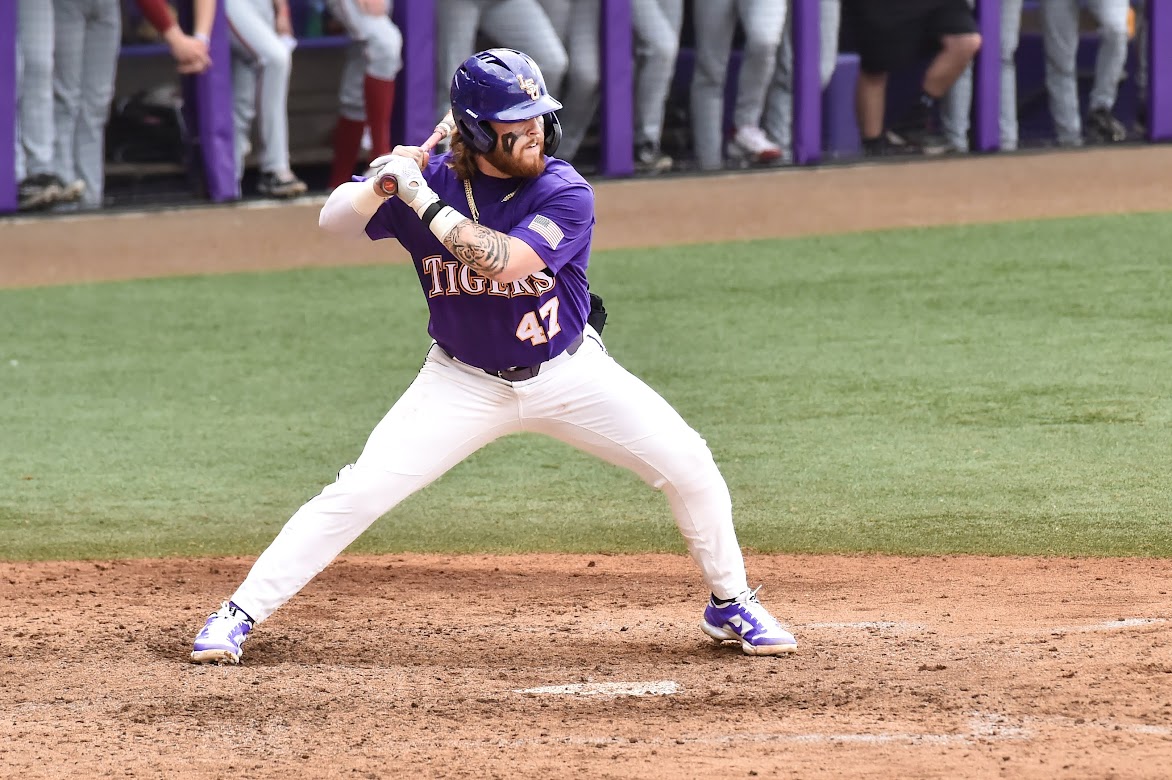 LSU was ranked No. 1 in every poll during the college baseball preseason, and it stayed that way for 12 weeks throughout the regular season until the Tigers dropped their first SEC series of the season at Auburn, losing the final two games of that series.
LSU dropped to No. 2, behind Wake Forest, following that initial malaise.
Then, the next weekend, things hit the lowest point of 2023 for LSU.
LSU lost its second consecutive conference series by dropping games two and three to a bad Mississippi State team at Alex Box Stadium, Skip Bertman Field, including a shocking game three loss when the Tigers led by nine runs more than midway through game but still ended up losing 14-13 to the Bulldogs in extra innings.
LSU dropped to No. 5 in the nation, and suddenly, the season-ending series at Foley Field in Athens against a somewhat schizophrenic Georgia team took on added importance.
For the first time this season, the scoop from the field of college baseball experts, D1Baseball.com, etc., said LSU needed to win at least two out of three against the Bulldogs to make darn sure it was still in the top eight nationally RPI-wise and thus still assured of hosting an NCAA Regional, and should the Tigers advance beyond that, as expected, a Super Regional.
Of course, eventual SEC Pitcher of the Year Paul Skenes won Game 1 in Athens at Georgia, as expected. Then, Ty Floyd turned in perhaps his best performance of the season on the mound, and suddenly all attention turned to game three against the Bulldogs because if LSU could break out the brooms and pull off a sweep, they had a chance to win the regular season SEC Championship.
Long story, short. It didn't happen.
LSU, still ranked No. 5, ended up the No. 3 seed in the tournament behind No. 1 Florida and No. 2 Arkansas, and now knows it will open play on Wednesday against No. 6 seed South Carolina – which absolutely waxed No. 11 seed Georgia, 9-0, to open the tournament on Tuesday morning.
LSU and South Carolina split the regular season series when the rubber match in Columbia was rained out. The Gamecocks took a rain-delayed first game because the Tigers had to put Skenes on ice after the game resumed a couple of hours later. When LSU needed him the most, Gavin Dugas delivered an eighth-inning grand slam to rally the Tigers and then-No. 1 LSU evened its SEC series against the then- No. 3 South Carolina, 8-7.
Weather postponed the final game, so there was no series finale.
The rubber match, in essence, will now be on Wednesday at 9:30a.m. when LSU and South Carolina square off in the Tigers' SEC Tournament opener.
"The benefit we have this week is we're going to see a team in the first game that we've played already," LSU coach Jay Johnson said on a Zoom call with the media on Monday before the Gamecocks torched Georgia on Tuesday. "…I think we've actually played all of the teams on our side of the bracket."
Here's where LSU now stands after losing two of its final three SEC series and what's at stake for the Tigers in the SEC Tournament.
LSU still trying to lock up a top-8 seed in the NCAA Tournament
LSU is ranked No. 3 in RPI with a 12-6 record against top-25 RPI teams and a 12-5 record on the road.
With that resume, there's no chance the Tigers don't earn a top-16 national seed.
But if the LSU goes go 0-2 this weekend, while the other teams around them in RPI and the national rankings – Vanderbilt, Arkansas, Stanford, Clemson, Oregon State and UConn, to name a few, make deep runs in their respective conference tournaments, the Tigers could teeter and fall off that top eight RPI edge.
However, one win and LSU should lock up a top eight finish. Two wins from LSU seals it. Should LSU put together a deep run, or an SEC Tournament title, the Tigers could conceivably return to the No. 1 ranking overall heading to the NCAA Tournament.
To pitch or not to pitch, that is the question
Johnson said Monday LSU is playing to win this tournament, but then he qualified that some by saying he wants the players to play their hardest and always give their best, but he would be looking out toward the NCAA Regional tournament and making those strategic decisions and calls on as-need basis.
Translation: 'We're playing to win it all, not the SEC Tournament, if it comes down to it.' . . As for the pitching, this week could foreshadow what LSU's bullpen and rotation will look like in an NCAA Regional or a run in the College World Series.
LSU's biggest question all mark season has been its pitching depth beyond Skenes, and perhaps, Floyd. In other words, Here we go! The Tigers pitching will likely be tested repeatedly. Think up to five games in five days this week. Will Johnson pitch Paul Skenes on Wednesday or save him for Thursday? How aggressive, or not, will Johnson be with pulling starters and keeping relievers in the game? Who is the third starter, let alone the fourth or fifth?
"I think depth is important," Johnson said. "We definitely have that because we wouldn't have been able to withstand (those injuries and) be in position to be a national seed if we didn't have it."
LSU could use a few games in the SEC Tournament to tune up its offense and defense, too. The Tigers have been prone to leaving too many runners in scoring position the last few weeks.
That will not bode well in the regional and beyond if the pitching staff continues to be challenged, even if slightly in key games.
But the biggest question was who will LSU start at pitch against South Carolina?
That answer came late Tuesday afternoon: LSU – Sophomore RH Thatcher Hurd (4-2, 6.59 ERA, 41.0 IP, 29 BB, 55 SO) got the nod and will oppose Eli Jones (4-4) of South Carolina.
Here is the summary for Jones in 2023:
2023: Career high 10 strikeouts in five innings at Arkansas (May 12) …
Struck out four in three innings of relief in a win over Florida (April 21) …
Struck out the side in a 5-0 win over North Carolina (April 4) … Earned his
fourth win of the year, striking out six in four innings against Presbyterian
(March 14) … Struck out four in 3.1 innings of relief at Charlotte (March 21)
… Pitched 2.1 innings in a pair of games against Missouri (March 24-25),
striking out two … Career high six strikeouts in five innings of work in a win
over The Citadel (March 7) … Picked up wins in each of his first two appear-
ances of the 2023 season … Struck out four in 2.2 innings in the win over
Winthrop (Feb. 21) … Threw three shutout innings with two strikeouts in
the win over N.C. A&T (Feb. 28) …
First pitch is at 9:30 AM on the SEC Network.
2023 SEC Tournament
No. 6 seed South Carolina Gamecocks (39-17) vs. No. 3 seed LSU Tigers (42-13)
DATE/TIME
Wednesday, May 24 @ 9:30 a.m. CT (SEC Network)
STADIUM
Hoover Metropolitan Stadium in Hoover, Ala. (10,800)
RANKINGS
LSU – No. 4 in USA Today; No. 5 in D1 Baseball; No. 5 in Baseball America (No. 4 in NCAA RPI)
USC – No. 19 in USA Today; No. 22 in Baseball America (No. 6 in NCAA RPI)
RADIO
· LSU Sports Radio Network affiliates, including 98.1 FM in Baton Rouge
· Live audio at www.LSUsports.net/live; Live stats at www.LSUstats.com
TV/ONLINE
The game will be televised on the SEC Network and streamed on SEC Network +
LSU SERIES RECORD VS. SOUTH CAROLINA
• LSU leads the all-time series with South Carolina, 41-32-1 … LSU has won 19 of its past 30 games versus South Carolina … the teams played to a 1-1 series tie earlier this season (April 6-7) in Columbia, S.C., as Game 3 of the series was rained out.
LSU IN THE SEC TOURNAMENT
• LSU has a league-best 89-47 (.654) all-time record in the SEC Tournament, and the Tigers own a conference-high 12 tournament titles … Alabama and Mississippi State are second behind LSU with seven tournament titles … LSU has won six of the past 14 SEC Tournament crowns, claiming the title in 2008, 2009, 2010, 2013, 2014 and 2017 … the Tigers were 38-11 under former coach Paul Mainieri (2007-21) in SEC Tournament games … LSU had reached the semifinal round in seven straight SEC Tournaments (2013-19) before dropping a first-round, single-elimination game to Georgia in 2021 by a score of 4-1.
PITCHING MATCHUP
LSU – So. RH Thatcher Hurd (4-2, 6.59 ERA, 41.0 IP, 29 BB, 55 SO)
USC – So. RH Eli Jones (4-4, 3.88 ERA, 46.1 IP, 15 BB, 57 SO)
QUOTING LSU COACH JAY JOHNSON
"Our team has done such a great job this season; we've played our way into where we want to be. I want our guys to get to Omaha and experience Omaha, and we've done what we need to do relative to playing at home for the NCAA Tournament. With that being said, when you put the Tiger uniform on, there's an expectation that we're competing to win. Our guys are winners, and we play to win every game. We're excited to be here for the SEC Tournament; it's one of the best events in all of amateur baseball."
ABOUT THE TIGERS
LSU is the No. 3 seed in the SEC Baseball Tournament in Hoover, Ala., and will play its first game at 9:30 a.m. CT Wednesday against either No. 6 seed South Carolina or No. 11 seed Georgia. The No. 3 SEC Tournament seed is LSU's highest since the 2017 Tigers were the No. 1 seed in the event.
The Tigers completed the 2023 regular season 42-13 overall and 19-10 in conference play. LSU recorded its most SEC regular-season wins since the 2017 club won 21 SEC games, and the Tigers posted their most overall regular-season wins since the 2015 squad ended the regular season with 46 victories.
The Tigers, the SEC's No. 4 seed last season, have finished in the Top 4 in the overall SEC standings in back-to-back seasons for the first time since 2014 and 2015. LSU's second-place finish in the SEC Western Division is its best since the Tigers won the Western Division in 2017.
LSU has reached the 40-win mark in back-to-back years for the first time since the 2016 and 2017 seasons … LSU finished 40-22 in 2022.
LSU enters the SEC Tournament at or near the top of several NCAA statistical categories … the Tigers are No. 1 in the nation in shutouts pitched (9); No. 2 in on-base percentage (.440); No. 3 in hit-by-pitch (119); No. 3 in strikeouts pitched per nine innings (11.6); No. 4 in runs scored (522); No. 4 in slugging percentage (.568); No. 6 in scoring average (9.5 runs per game); and No. 9 in hits allowed per nine innings (7.70).
LSU centerfielder Dylan Crews is No. 3 in the nation in on-base percentage (.573); No. 2 in runs scored (79); No. 3 in walks (56); and No. 7 in batting average (.423); … third baseman Tommy White is No. 2 in the nation in RBI per game (1.75), and he is No. 2 nationally in total RBI (89).
· Right-hander Paul Skenes is No. 1 in the nation in strikeouts (164), strikeouts per nine innings (17.03), WHIP (0.75) and strikeout-to-walk ratio (10.93) … Skenes is No. 3 in hits allowed per nine innings (5.19) and No. 4 in ERA (1.77) … second baseman Gavin Dugas is No. 3 in the nation in hit-by-pitch (26).
· LSU is No. 1 in the SEC in 10 offensive categories – batting average (.310), slugging percentage (.568), on-base percentage (.440), runs (522), hits (569), RBI (478), home runs (115), total bases (1,042), hit-by-pitch (119) and sacrifice flies (32) and plate appearances (2,332).
· LSU junior centerfielder Dylan Crews was named 2023 SEC Player of the Year Monday in a vote of the league's 14 head coaches … Crews, also voted the 2022 SEC Player of the Year, is only the second player to win the award on two occasions, joining Florida's Matt LaPorta, who was named SEC Player of the Year in 2005 and 2007 … Crews is the only player to receive the honor in back-to-back seasons.
· Crews, a junior from Longwood, Fla., leads the SEC and is ranked seventh nationally with a .423 batting average … he has 14 home runs, 13 doubles and 57 RBI, and he is the league leader in on-base percentage (.573), runs scored (79) and walks (56) … he has increased his reached base streak to 59 straight games, which includes all 55 games this season and the final four games of last season.
· Junior right-hander Paul Skenes was named 2023 SEC Pitcher of the Year in a vote of the league's 14 head coaches … Skenes is LSU's first SEC Pitcher of the Year since Aaron Nola won the award in both 2013 and 2014 … Skenes, a junior from Lake Forest, Calif., leads the SEC in wins (10), strikeouts (164), earned run average (1.77), innings pitched (86.2) and opponent batting average (.161) … he is ranked No. 2 on LSU's all-time single-season strikeouts list, trailing only Ben McDonald, who recorded 202 strikeouts in 1989.
· Skenes, who has allowed two or fewer runs in 11 of his 14 starts this season, was named the SEC Pitcher of the Week three times in 2023 … he has also received Collegiate Baseball National Player of the Week recognition on seven occasions this season.
· LSU is now the only school with both a two-time SEC Player of the Year (Dylan Crews, 2022-23) and a two-time SEC Pitcher of the Year (Aaron Nola, 2013-14).
· Sophomore third baseman Tommy White was voted First-Team All-SEC Monday in a vote of the league's 14 head coaches … White has 89 RBI this season, already the sixth-highest single-season total in LSU history … he is No. 2 in the nation in RBI per game (1.75), No. 2 in total RBI and No. 11 in slugging percentage (.793).
ABOUT THE GAMECOCKS
· South Carolina defeated Georgia, 9-0, on Tuesday in a first-round SEC Tournament elimination game on Tuesday … the Gamecocks completed the regular season in third place in the SEC Eastern Division with a 16-13 conference record.
· The Gamecocks are No. 11 in the SEC with a .276 team batting average .. South Carolina is fourth in the league with 109 home runs.
· Infielder Ethan Petry is hitting .379 on the year with nine doubles, 21 homers and 70 RBI … catcher Cole Messina is batting .313 with 17 doubles, one triple, 17 homers and 63 RBI … first baseman Gavin Casas has eight doubles, 19 homers and 49 RBI.
· The South Carolina pitching staff is No. 3 in the SEC with a 4.08 cumulative ERA … the Gamecocks have recorded 548 strikeouts in 481.0 innings while limiting opponents to a .241 batting average.