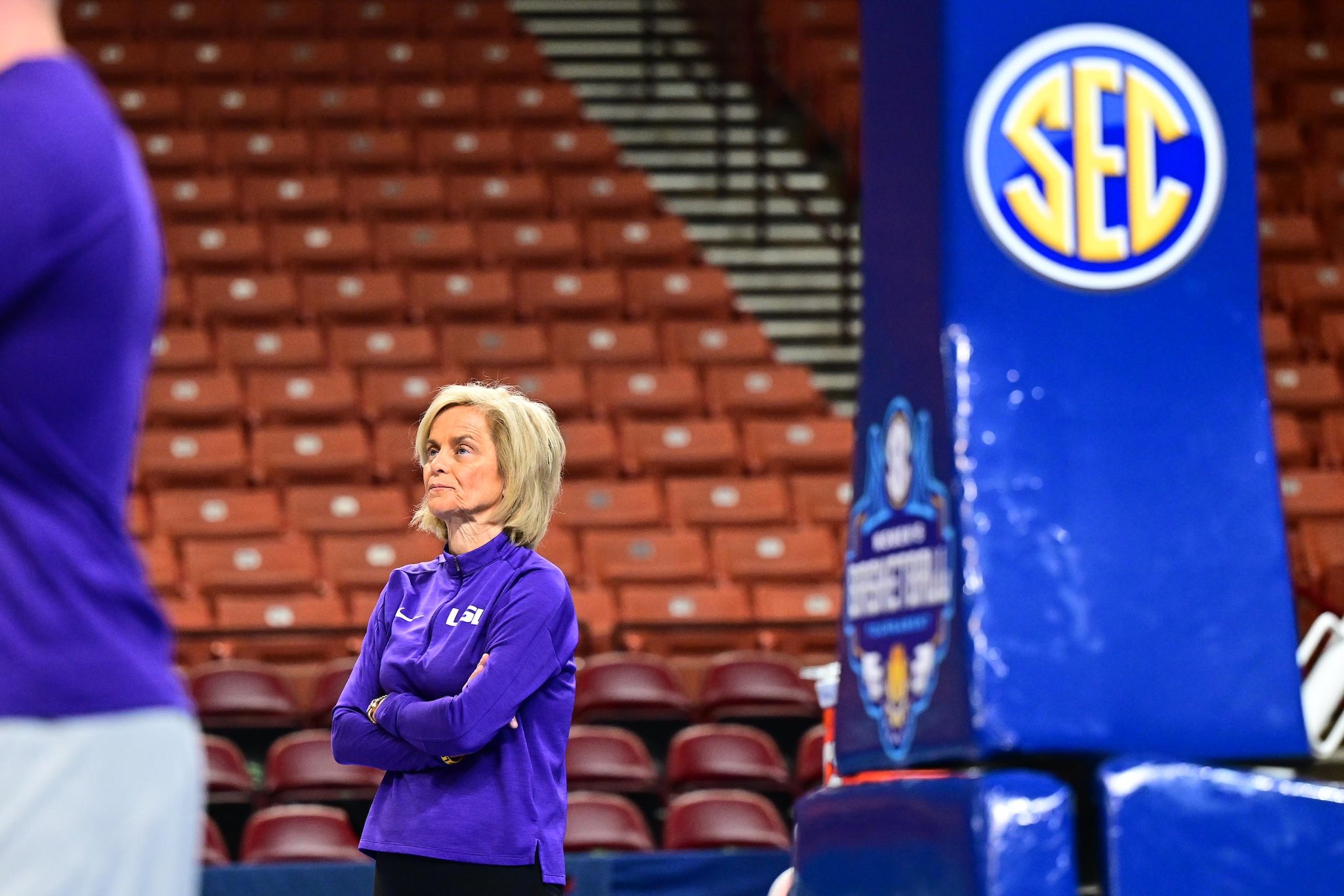 This year marks the 20th anniversary of LSU's last title in the Southeastern Conference women's postseason basketball tournament.
Considering the fourth-ranked Tigers have only won the event twice in the program's history makes them a long shot to accomplish the feat once again, especially having to play in the home state of defending NCAA champion and top-ranked South Carolina.
But even in the event No. 2 seeded LSU (27-1) can work its way through and win the tournament, second-year coach Kim Mulkey isn't convinced it would be enough to help the her team rise to the level of a No. 1 seed in the NCAA Tournament.
So, trying to find the right dose of motivation remains key when Mulkey sends her team out in Friday's quarterfinal round of the SEC Tournament against Georgia at 5 p.m. The game will be broadcast on the SEC Network and carried live on 107.3-FM.
The five-day tournament is being played at the Bon Secours Wellness Center in Greenville, South Carolina or just over 100 miles from the Gamecocks' campus in Columbia.
"If we were to beat South Carolina, I've said it many times, we're not going to get a one seed," Mulkey said prior to a Feb. 26 home game with Mississippi State. "Strength of schedule's not going to change. The NET hasn't changed. There's nothing we can do that will change the committee's mind."
Because of its second-place finish in the conference to South Carolina, LSU's earned a double bye in the SEC Tournament and will have to win three games in three days to win the championship.
But not even that's enough for LSU to gain a coveted No. 1 seed, Mulkey contends. She realizes her team, even with a run to a SEC tournament title, won't be able to satisfy the NCAA selection committee in that regard because of the Tigers' non-conference strength of schedule of No. 315.

LSU has a No. 2 NET rating, No. 12 RPI and 89st best overall strength of schedule. The Tigers have a 5-1 record in Quadrant 1 games.
"If I'm the champions of the SEC or second place, I struggle with the older I get, why do we play conference tournaments," Mulkey said after the Mississippi State game. "Why do you play them if you're already in pretty good shape for postseason. You play them for the Cinderella's. You play them for those who are on the bubble."
LSU is considered a lock to host the first two rounds of the NCAA Tournament at the Pete Maravich Assembly Center where they were 15-0 this season. The Tigers will learn their fate when the NCAA unveils its pairings March 12 on ESPN and the Tigers will host a first-round game either March 17 or 18 with the second round taking place either the 19th or 20th.
This year's Women's Final Four is scheduled March 31-April 2 at American Airlines Center in Dallas, Texas.
Mulkey plans to use the results of last year's one-and-done performance in the SEC Tournament for fuel. The Tigers entered play after a double bye and without an injured Alexis Morris and lost to the event's eventual champion Kentucky, 78-62.
LSU, which matched a program best 27-1 regular season, hasn't advanced past the quarterfinals since 2015 and last reached a tournament final in 2012, losing 70-58 to Tennessee. The Tigers last won the tournament in 2003, 78-62, over Tennessee in North Little Rock, Arkansas.
LSU placed two players on this year's All-SEC first team with sophomore forward Angel Reese (23.7 points, 16 rebounds) leading the league in both categories. Fifth-year guard Alexis Morris, a second-team All-SEC selection last season, was elevated to first-team status this season after averaging 14.5 points and 4.1 assists.
Guard Flau'jae Johnson earned All-SEC Freshman of Year with an 11.6 scoring average and her 5.9 rebounds ranked second on the team. Forward Sa'Myah Smith (5.3 points, 45 rebounds, 34 blocks) also earned a spot on the league's all-freshman team.
Graduate guard Jasmine Carson is the team's other double-figure scorer at 10.1 points and leads LSU with 54 3-point baskets.
"I have to motivate this team to understand that we're competitors," Mulkey said. "We're going to play for something. I've never won an SEC Tournament game as a coach. We got knocked out right out of the gates and then Kentucky went on and won it last year. Our goal is to win one more game in the SEC Tournament since this staff has been here."
Reese named finalist for Katrina McClain Award
Reese, who has 27 double-doubles to her credit this season, was named a finalist Thursday for the Katrina McClain Award, symbolic of the nation's top power forward by the Basketball Hall of Fame and WBCA.