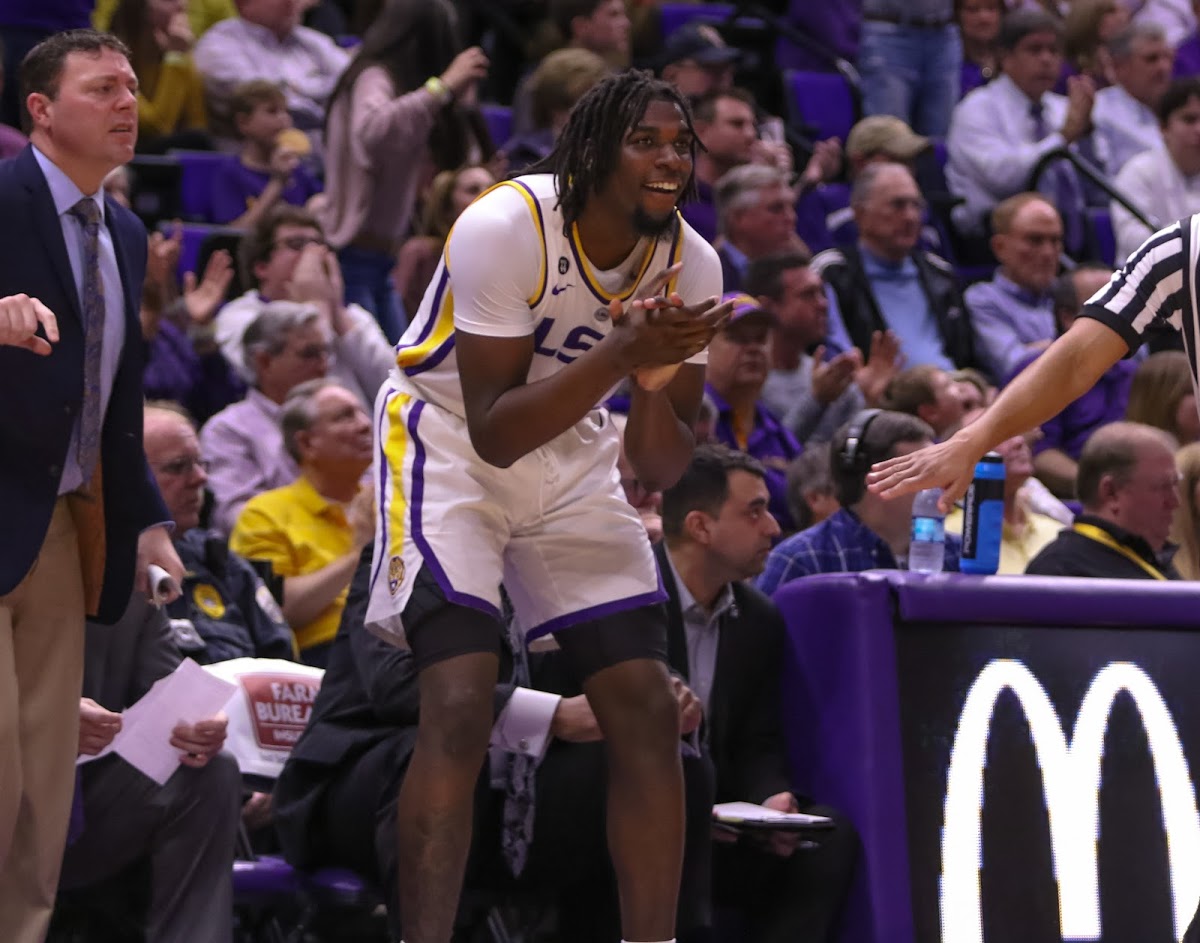 JACKSONVILLE, Fla. — When No. 3 seed LSU takes on No. 6 seed Maryland on Saturday at 11:10 a.m. CST, the battle in the paint will be the one to watch.
Both teams have NBA-caliber bigs they like to run their offense through as well as use to keep opposing teams from routinely getting good looks at the bucket in the paint.
On LSU's side, they primarily have Naz Reid (6-foot-10, 240 pounds) and Kavell Bigby-Williams. (6-foot-11, 240 pounds). On Maryland's, Bruno Fernando (6-foot-10, 245 pounds) and (6-foot-10, 215 pounds).
Each of these players brings a multi-dimensional game to the table, and those abilities — as well as their bodies — will undoubtedly clash in what promises to be a physical paint battle for supremacy and a spot in the Sweet 16.
"What it's going to come down to I think is very simple," said LSU interim head coach Tony Benford. "It's going to be who wins the paint and who wins the rebounding battle. I think it's going to be that simple."
Reid provides the offensive threat for LSU with his footwork and touch usually absent in players of his size. He can score from anywhere on the floor as evident by his .478 shooting clip and his nearly 14 points per game.
Not only that, but his willingness to learn and act as a leader on the court has LSU's coaches thrilled.
Reid has received criticism from some fans because he doesn't always use his body to bully opposing defenders, but LSU assistant coach Greg Heiar said he wouldn't want him to play any other way, calling his style "elegant."
"Sometimes it comes across like he's not being dominant or he's not playing as hard as many people want him to play," Heiar said. "But that same person that's thinking that doesn't realize all the little things he's doing and how good a teammate he is."
When the Tigers need physicality, they look to Bigby-Williams, a 23-year-old oak tree of a man with a penchant for double-doubles and an instinct for blocking shots.
Bigby-Williams made his presence felt early and often in LSU's opening-round game against Yale, blocking three shots in the first six minutes and four for the entire first half. He himself forced the Bulldogs to reconsider their entire offensive approach.
"That's his role on this team, he does that, and altering shots is something he's great at," said LSU point guard Tremont Waters. "So just going into the game we spoke to him about that, and he was able to get three or four blocks, and that kind of made Yale think about going in there a second time, and that's why they started shooting pull-ups."
Fernando enters the contest as a projected lottery pick in the 2019 NBA Draft after a sophomore season in which he has averaged 13.7 points and 10.5 rebounds per game.
He has relationships with multiple LSU players, including Javonte Smart, Darius Days and Emmitt Williams, who compared their friendship to that of blood brothers.
Williams — also expected to get in the mix down low off the bench — minced no words on how good Fernando is and why he has had so much success at the college level.
"He's a grown man," Williams said. "6-11, 240, that's a grown man right there. Straight lean. That's what makes him so good.
"It's kind of funny that we're going against each other. But as you can see, one of us has to go home. I'm not trying to be the one that goes home."
Smith serves as serviceable backup for Fernando in the post. Called "Stix" by his teammates, the lean forward can score in a variety of ways, as he showed in the Terrapins' first-round game against Belmont in which he shot 8-for-9 from the field for 19 points.
When asked if he plans on spreading LSU out with his shooting ability, Smith said he plans on focusing on the rebounding battle.

"I'm just going to do what my team needs me to do," Smith said. "I'm still going to attack the glass, regardless. That's just the job of a big man. But if coach tells me to go and play outside on the wing, then that's what I'll do."
With so much weight, strength and potential scoring ability in the post playing at the biggest stage in college basketball in front of a national audience, Saturday's game promises to be a showcase of talent in the paint.
Not only will these athletes get a chance to show the world what they can do against each other, but which of them can best utilize it's big men will likely earn a trip to Washington D.C.
One thing's for certain: It's going to be a physical war down there.
"Jalen and Bruno are two big guys who can really go," Reid said. "They're both competitive, strong and physical. They both can get after it. It's going to be a good game."