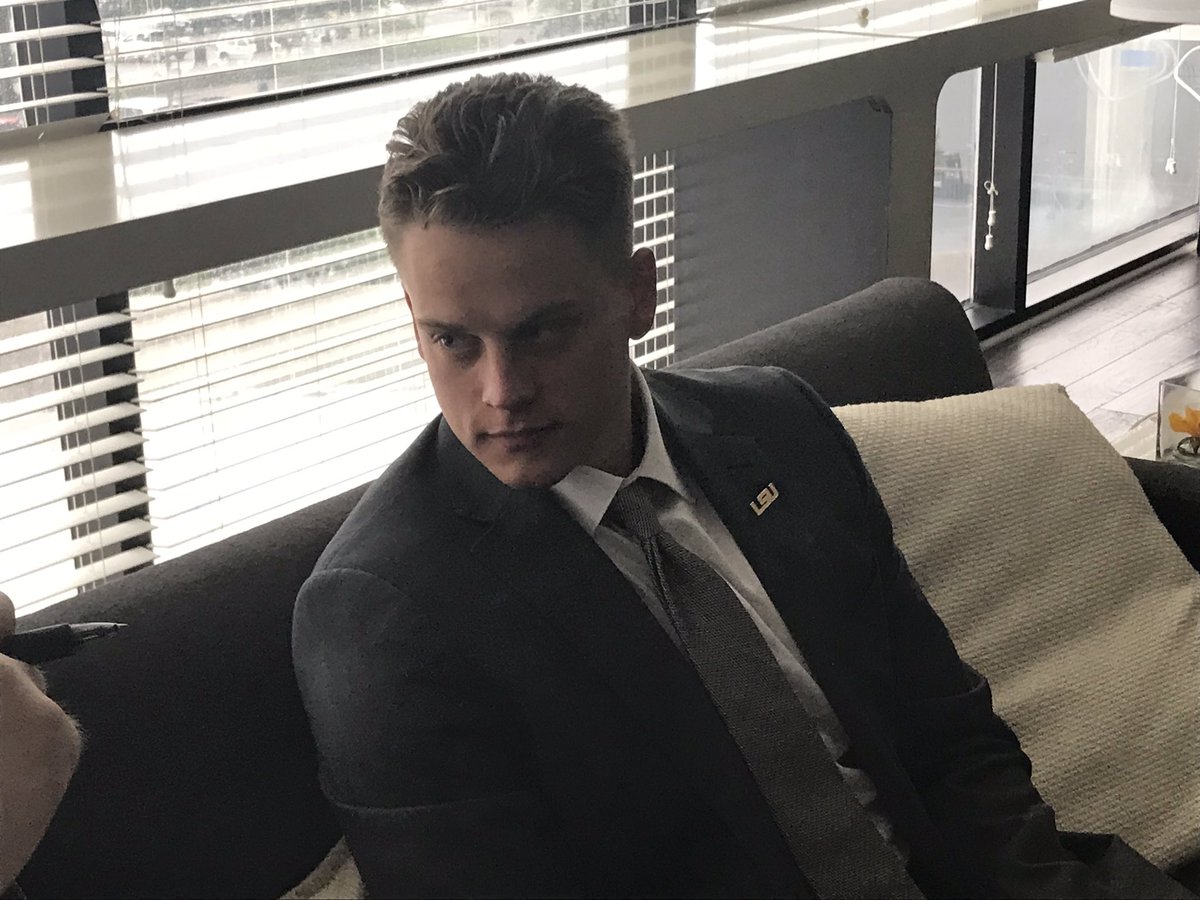 HOOVER, Ala. — Joe Burrow will always be an Ohioan through and through, but he officially became a Louisianan on a Monday afternoon in Hoover, Ala.
LSU's returning quarterback was taking questions from reporters in a crowded suite to begin his run through the talking gauntlet that is SEC Media Days.
The conversation shifted to Hurricane Barry, which had washed over the Gulf Coast the weekend before. Burrow's assessment of his first major storm since moving south couldn't have been more spot on if he said it in Cajun French.
"First hurricane this weekend. Let's go, baby," Burrow said. "It was very underwhelming though. Everybody is hyping it up on twitter and on the news, and it was like a drizzle for four days."
There are parts of life in Louisiana that Burrow freely admits he's still getting used to since transferring from Ohio State some 14 months ago. First off, there is no getting used to the heat. Burrow put on extra weight this offseason to counteract how much he sweated out in year one.

Louisiana cuisine is better than whatever people eat in Ohio. There's no debating that. Burrow learned quickly that people down here aren't big on salad, so he eats his salads in private to avoid ridicule. He describes Louisiana's liberal open container laws with an endearing wonderment.
Speaking of drinking, Burrow had no idea that hurricane parties were a thing until this past weekend. It's not like people in Ohio get together for drinks every time the forecast calls for a foot or more of snow.
"I did not go to the hurricane party," Burrow laughed. "Unfortunately I lost internet, so I couldn't play video games. So I watched a lot of physics YouTube videos. I'm very interested in astrophysics, quantum physics, relativity and that kind of stuff. I watched hours on hours of YouTube videos."
Burrow, who showed up in Hoover wearing Road Runner socks, is certainly a character off the field. The quarterback has thoughts on all subjects ranging from Space Jam to black holes, and he's been much more forthcoming going into year two as LSU's starting quarterback.
That's not how he became the leader of a 10-win team, though.
It was all business when Burrow arrived on campus as the ballyhooed savior last summer. It can be an awkward trying to assimilate into a locker room as the new guy, but Burrow defused the situation by keeping his mouth shut and showing his teammates that he was there to work.
"We were doing a conditioning test his first couple weeks, and he crushed it," safety Grant Delpit recalled. "He was ahead of everybody. That definitely showed us that he's here for business and trying to be our QB1. He earned our respect quickly, and it's took off from there."
Burrow came to Baton Rouge in search of a chance to prove he could be a starting quarterback after years of backing up JT Barrett at Ohio State. The leadership aspect just sort of comes with the territory.
But that doesn't mean it happened overnight. Burrow won the job outright in fall camp, but he admits he couldn't have named every player on the roster going into the season opener against Miami in Dallas. One year on the job has made all the difference in that regard.
"It's been like night and day for me," Burrow said. "Last summer I didn't know if I was ever going to be a starting quarterback in college. This year, with 13 starts under my belt, I'm coming in wanting to be a leader. I want to make everyone better around me. I'm going into the season with high expectations for myself and my team."
LSU coach Ed Orgeron has been a big believer in Burrow for a while now. He more or less bet the future of his program — not to mention his job — on him when he brought the quarterback in as a graduate transfer.
The reason most often cited by Orgeron and LSU players for believing in Burrow is toughness. So much so that his reluctance to slide actually became a talking point in the middle of last season.
Burrow was clutch under fire in a come-from-behind win over Auburn and played brilliantly in a stunning rout of Georgia. His entire body cramped up after carrying the rock 29 times in the seven-overtime classic against Texas A&M.
"I do believe that Joe, if we let him, would run into a brick wall no matter what it took," Orgeron said. "He's that tough as a — he has a linebacker mentality."
We'll have to take Orgeron's word for it about the brick wall, but Burrow certainly proved he could get hit by a truck and keep on ticking.
The quarterback got blindsided after throwing a pick-six against UCF in the Fiesta Bowl and popped back up to throw four touchdowns in the MVP-earning performance. His entire team took notice when he got off the ground and began an aerial assault.
"Him being the quarterback, he's the guy," center Lloyd Cushenberry said. "He has the confidence. He's tough. He's a competitor. You see him get knocked down in the UCF game, he gets right back up and plays a great game. That rubs off on every one of us. That was huge."
LSU has fully embraced Burrow as its leader through good times and bad, which has allowed Burrow to be comfortable being his own quirky self.
Whether he's cool, calm and collected in the huddle before a game-winning drive or nerding out all weekend while doing a deep dive on astrophysics, that's just Joe being Joe.
"I think he's more open and outspoken now," Delpit said. "When anybody first gets to a place, they tend to be more quiet than who they really are. He's loosened up to us. He's one of the guys. I love him."