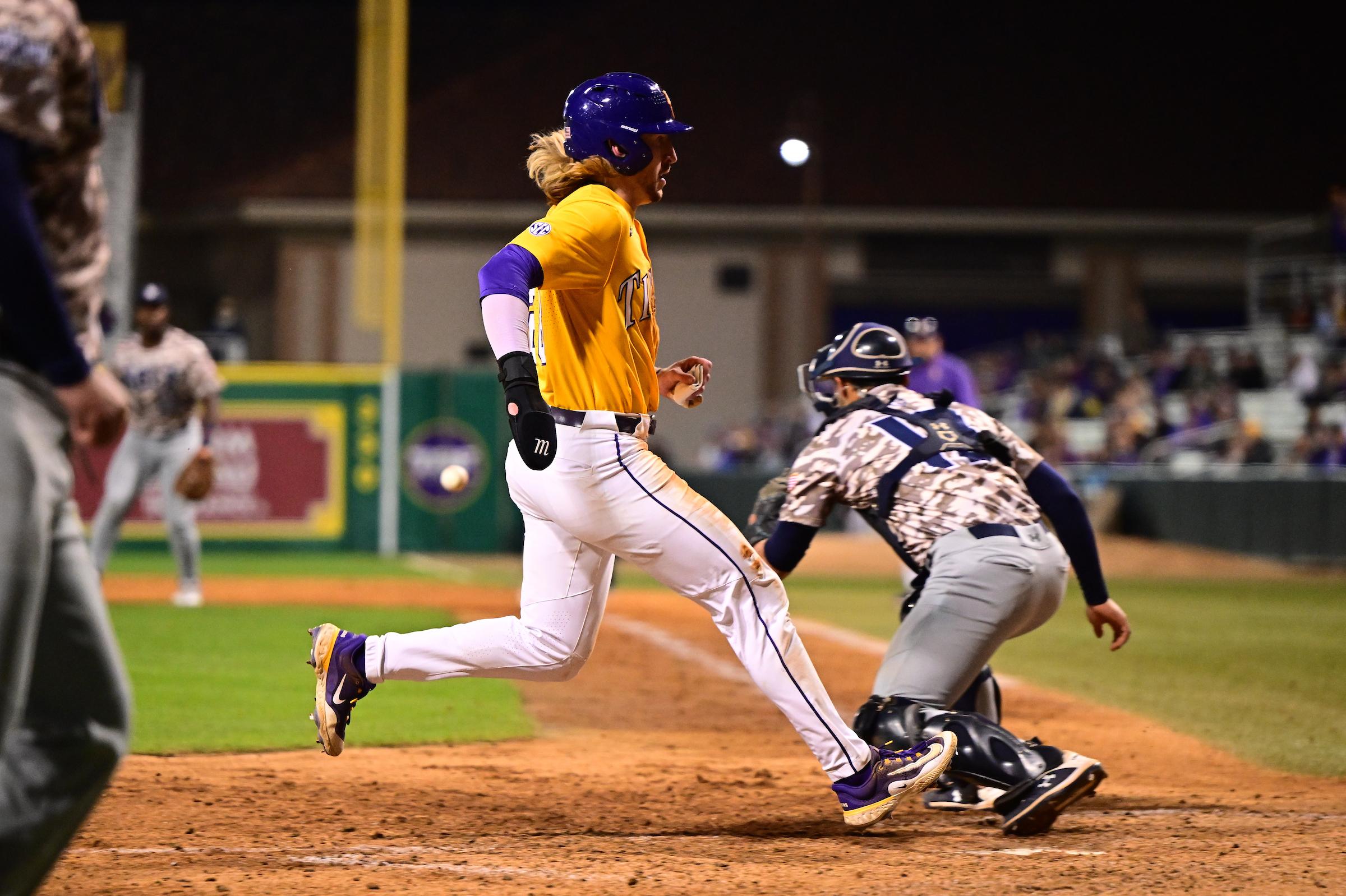 Third baseman Tommy White's three-run homer in the fifth inning Tuesday night broke a scoreless tie and sparked top-ranked LSU to a 16-0 win over New Orleans in Alex Box Stadium, Skip Bertman Field.
LSU (16-1), which has won 11 straight games, recorded its nation's best sixth shutout of the season.
The Tigers open SEC play at 6 p.m. Friday at Texas A&M in Bryan-College Station, Texas. The game will be telecast on the SEC Network, and it may be heard on affiliates of the LSU Sports Radio Network.
LSU right-hander Garrett Edwards (2-0) earned the win Tuesday in relief of starter Chase Shores. Edwards entered the game in the third inning and fired 3.2 perfect frames with five strikeouts.
UNO starter Colton Mercer (2-1) was charged with the loss as he allowed two runs on three hits in 4.2 innings with two walks and five strikeouts.
"You couldn't ask for much more from our pitching staff," LSU baseball coach Jay Johnson. "We've given up two runs or less in eight of our last 10 games; we're going to win when we do that. They're doing a great job, they just need to keep executing.
With the game tied 0-0 in the bottom of the fifth inning, LSU leftfielder Paxton Kling drew a one-out walk from Mercer. After Mercer retired first baseman Tre' Morgan, centerfielder Dylan Crews singled up the middle, sending Kling to third.
UNO reliever Trey Usey entered the game, and White greeted him with a three-run blast to left field for his sixth homer of the year.
"Tommy was just doing his deal," Johnson said. "He got a mistake, and he stayed on it, blasted it out of here and got us going. From there, we were off and rolling and executed a couple of things offensively that put pressure on them, and we broke the game open."
LSU expanded its lead to 10-0 with a seven-run sixth inning that featured a two-run homer by second baseman Gavin Dugas, his fifth dinger of the season.
The Tigers added six more runs in the eighth, as pinch hitter Josh Pearson delivered a two-run double and pinch hitter Hayden Travinski provided a two-run single to highlight the uprising.
LSU relievers Riley Cooper, Blake Money and Christian Little each pitched a scoreless innings to preserve the shutout.