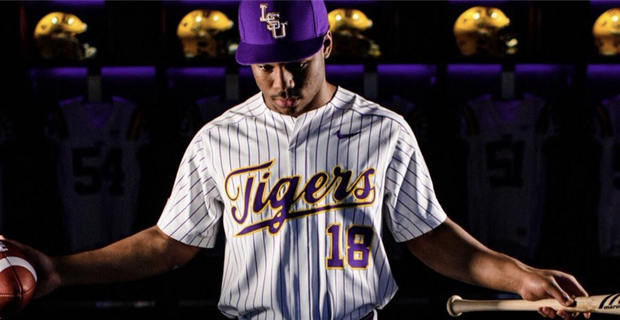 Ed Orgeron has recruited blue chip players from coast to coast over his decades coaching college football, but Maurice Hampton was a first for him.
The LSU coach had never signed a two-sport star of Hampton's ilk, meaning Orgeron had to sweat out the 2019 MLB Draft right along with Paul Mainieri and the baseball staff.
Hampton turned down offers to sign professionally that topped out at $1.85 million, which makes him unique among LSU's incoming freshmen class. But now that he's on campus and taking part in the offseason conditioning program, the highly-touted defensive back is fitting in just like everyone else.

"I think it was emotional for him," Orgeron said at the LSU Coaches Caravan in Metairie on Monday evening. "But now he's at LSU. He's doing well. I talked to him about it. It took him a little while to get over it – When am I going to get drafted? How much money? – but I think he's settled.
"I think he's going to be a great two-sport athlete. He's a tremendous young man with a great family."
The football and baseball staffs haven't yet gotten together to discuss the specifics of Hampton's schedule once the spring rolls around.
He'll spend the entire fall totally dedicated to football. He'll be at every practice and workout from now until the end of the season, as is the standard operating procedure for two-sport athletes. It is a football scholarship that Hampton signed to come to LSU, after all.
NCAA limits on the time players can spend doing organized activity will preclude Hampton from participating in fall ball, but Orgeron expressed an openness to Hampton getting some work in baseball wise when time allows this fall.
"There's some light days," Orgeron said. "I talked to him. On Saturday mornings in high school, he was taking batting practice on his own. So on Sunday morning, if he wants to take batting practice, I'm fine with that."
"If he wants to go in the batting cages on Sundays by himself, there's nothing that prevents him from doing that," Mainieri added. "He'll have a key to the building. He can do that whenever he wants to."
The ball is fully in Orgeron's court as to how Hampton spends his time from now through LSU's bowl game, whenever that may be.
From the baseball side of things, Mainieri said the best thing Hampton can do is fully devote himself to football. In his experience, the football staff tends to be more lenient in allowing two-sport guys to fully commit to baseball come the spring if they demonstrate a grasp of the playbook in the fall.
"The most important thing is for him to really establish himself in the football program," Mainieri said. "I mean that sincerely. If they pick up the system quickly from a cerebral standpoint, if they endear themselves to the coaches and they play a lot … then the coaches are much more willing to give them free time in the spring. Spring football is its own animal, and that's a learning time."
The coach continued: "If Mo can go out there this fall and learn the system quickly, show that he can be a guy that can be counted on, then I'm sure the football staff will be less controlling of his time. That'll allow Mo to establish himself with us. That's the best thing he can do, become a real dude for them."
The most notable two-sport star of recent memory is Jared Mitchell, who was a receiver on the football team and a starting outfielder for LSU's national championship team in 2009. Another example from that 2009 team was Chad Jones, though he never fully left football in the spring.
If Hampton can prove himself to be the kind of defensive back that Jones was in the fall while becoming a star outfielder in the spring like Mitchell, that'd be best for all parties involved.