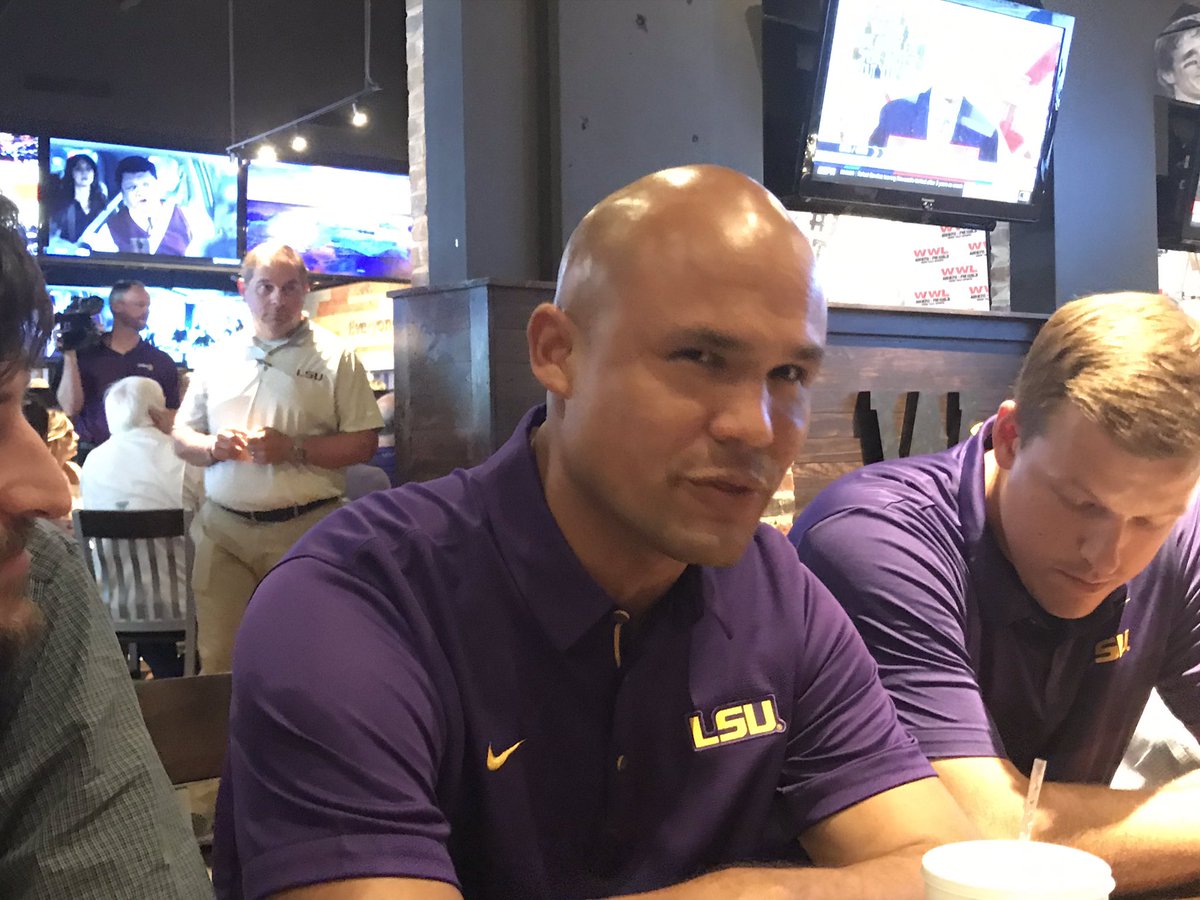 Dave Aranda has earned his reputation as something of a mad scientist when it comes to designing defenses, but LSU's ace defensive coordinator had to spend much of the 2018 season figuring out innovative ways to plug holes.
K'Lavon Chaisson tore his ACL in the season opener, forcing Aranda to reconfigure LSU's pass rush on the fly. Injuries and targeting suspensions forced him to shuffle the front seven several times. By the time the Fiesta Bowl rolled around, Aranda was fielding a skeleton unit in the secondary.
LSU gutted through those bumps and bruises to win 10 games anyway, but Aranda is wrapping his mind around a different problem these days: how best to utilize all the multi-talented pieces that kept the unit afloat last season.
"I feel like the talent that's inherent there, we can move around and use, and I'm excited about that," Aranda said. "It's been a while that we've had a few guys out. We've played quite a bit of football, whether it's been spring or winter, to get guys back healthy and have our full assortment of guys.
"I've been looking forward to that. We've been building to the time when we got everybody back and can use them appropriately."

Aranda spoke with reporters at length on Monday at the final stop of LSU's Coaches Caravan in Metairie. The mastermind provided some glimpses into how he'll implement a few of the versatile defenders he references.
The easiest is Chaisson, who LSU thought could make a run at the single-season sack record if he hadn't gotten hurt. He'll slide back into the 'Buck' outside linebacker position once popularized by Arden Key, who set the sack record in 2016.
That frees us Aranda to move Michael Divinity inside and help fill the void left by Devin White. Divinity will have to compete with Jacob Phillips and Patrick Queen for reps, Ed Orgeron said, but Aranda seemed high on the idea of using him as a multi-faceted chess piece.
Divinity is a confident communicator, Aranda said, making him useful as a tradition inside linebacker on first and second down. Then, on third down, LSU can utilize his talents as a pass rusher from a variety of spots. Divinity led LSU in sacks a season ago.
"That mack linebacker spot, we'll have him on the line at times creating bear looks, whether it's over the guard, over the center or on the edge of the tackle," Aranda explained. "There will be a fair amount of creepers or simulated pressures with him running through interior gaps. I think his physicality in those situations will be good for us."
The coach continued: "What was not so much a limitation as a question; where do we play him? Is he best inside? He does some good things inside. We're trying to make that a strength and build stuff off of that quality of his and feature that. I think he'll benefit that."
That's not to mention the breakout star of LSU's 2018 defense, Grant Delpit. The All-American safety was the only player in the nation to record five sacks and five interceptions last season.
Delpit was freed up to do even more with the emergence of JaCoby Stevens at the quarter spot — basically a box safety or glorified linebacker. Incoming freshman Marcel Brooks could fill a similar role as a hybrid safety/linebacker.
They're all chess pieces on the board going into 2019, and few coaches in the college game are as well equipped to utilize them as Aranda.
"I look at this year's group, there's a bunch of guys that do a lot of things individually really well," Aranda said. "It's our task to take those things and blend it into a defense. That's the challenge of the offseason, to find roles for these guys and build it where they can be a collective group.
"Your creativity and your schematics are built from the players, and I think that's always the way to go."