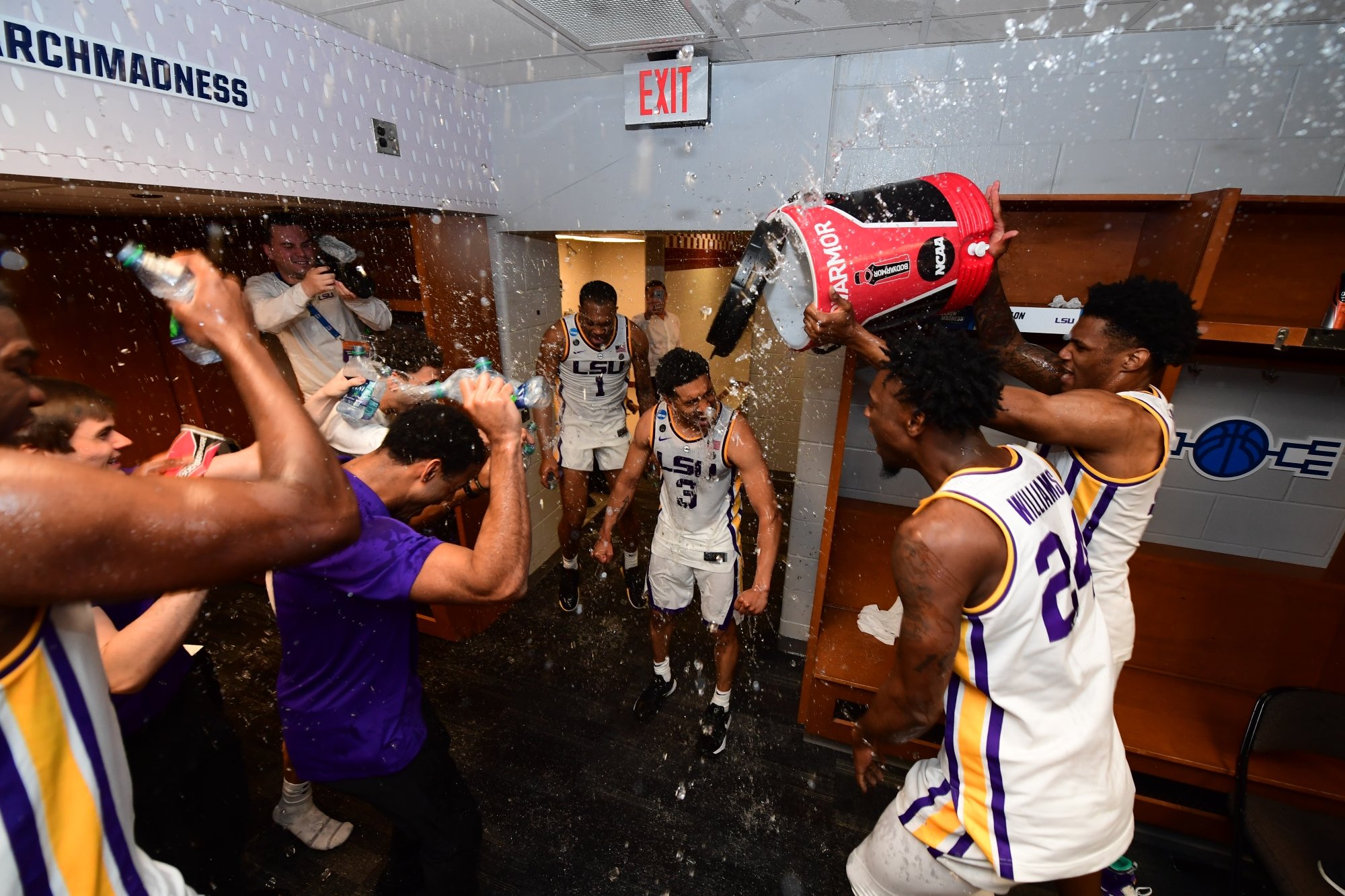 JACKSONVILLE, Fla. — When No. 3 seed LSU came out of a timeout with the game tied at 67 apiece and less than 20 seconds left with the shot clock turned off in its NCAA Tournament second round game against No. 6 seed Maryland, everybody knew who has followed LSU over the past two seasons knew who was taking that final shot.
At the very least, everybody in an LSU uniform knew.
Tremont Waters has been the author of so many storybook endings for LSU since he arrived last season, it's no surprise the Tigers unilaterally wanted the ball in his hands for the final possession.
From his 30 (or more) foot jumper to beat Texas A&M last season that put him in the national spotlight, to his layup against Florida two weeks ago that ultimately helped seal a Southeastern Conference championship and countless big-time plays in between, Waters has been the Tigers' most consistent late-game option since he arrived on campus.
So when the Tigers called a timeout and went into the huddle, everyone agreed interim head coach Tony Benford should draw up a play that gave Waters a good look.
"Well, it was a play that we run," Benford said. "We've run it a few times during the year. We knew against man and zone, especially against that three-two, we had to do a great job of screening that top guy, the three-two, and we told Naz (Reid), whoever is up there if they're in the zone, just screen that guy and put a body on him, and Naz did a great job and Tre — and great players make great plays, and he made a great play."
That great play was one that Reid said LSU has run "at least a million" times.
It was so automatic, in fact, that Waters said he was running purely on instinct.
"This might sound funny, but in the moment I kind of blacked out," Waters said. "I didn't hear anything. I faked the ball to (Skylar Mays) and at that point I just zoned out, blacked out. I didn't hear anything. I just knew I needed to get to the rim."
Waters held onto the ball and dribbled around near midcourt until there were roughly 7.5 seconds left.
That's when Reid sprung into action and set a screen on Maryland guard Darryl Morsell. After getting past Morsell, Waters was quickly met by 6-foot-10 forward Jalen Smith, who served as half a post force that kept LSU from getting to the rim with any regularity all game.
Waters hesitated create an opening, then he went toward the basket at full force. As he picked up the basketball, Maryland guard Eric Ayala made a swipe at the ball, but narrowly missed contact.
Smith stayed right on Waters to the end ready to make a block attempt but weary of picking up a foul call. Instead of going straight up for a layup, Waters went for a scoop shot, something he took up a long time ago as a way to get shots up against bigger defenders.
"Being a smaller player, you kind of have to figure out how to put the ball up into the basket," Waters said. "I watched a lot of Kyrie (Irving) videos and the way he spins the ball and puts it on the glass. As a smaller person, I had to figure out how to implement that in my game."
The ball left Waters' hand, bounced off the backboard and fell right through the net with 1.6 seconds left, just like he practiced.
"As soon as it left his hand I knew it was good," Mays said. "He put it up with great touch. … I trust Tremont at the end of the game. Nine times out of 10 I think he's going to make the shot, and nine times out of 10 he does."
Mays led the charge on a dog pile after the game, something Waters said he had never experienced before, outside of peewee football when wearing pads.
He said he found it hard to describe the feeling, but he put it in a way most people could probably understand.
"It definitely felt relieving after the game to be able to make that shot," Waters said. "To be on the bottom of it, it wasn't a great feeling, but it was a great feeling."
Waters may have been at the bottom of the pile and got a bucket of water poured on him after hitting the game winner, but he pointed out the one who started that dogpile also deserved some credit for the Tigers's win.
Mays scored eight points in the closing minutes of the game, tying the game twice with a 3 then with a pair of free throws, then he gave the Tigers a 67-64 lead with a clutch 3 with roughly 36.8 seconds left.
LSU freshman guard Javonte Smart said he had no clue Mays was going to pull up for the go-ahead 3, but he gave him proper praise after.
"I was like, 'man,'" Smart said. "He just took the shot. He just has confidence in himself. He just kept shooting the ball."
This LSU basketball team has had more ups and downs than most kids their age. But one consistency since the start of the season is the way they've played not only with each other, but for each other.
Waters said that mentality is what allowed him to make that game-winner.
"People preach family, but I feel like this is really a family," Waters said. "Obviously, we've been through a lot: losing our head coach and obviously losing Wayde Sims. We understand it's about us. Everything that's said about us off the court and about how we play, it shouldn't affect how we actually play on the court.
"We understand that we're doing it for each other. I'm playing for Skylar, Kavell (Bigby-Williams), Naz, Javonte, Emmitt (Williams); everyone on this team. And I know that they're playing for me. That's just the way of our team. Everybody knows they're doing that for one another. As long as we keep that mindset, the sky's the limit for us."
Photo Courtesy of LSU Sports Information