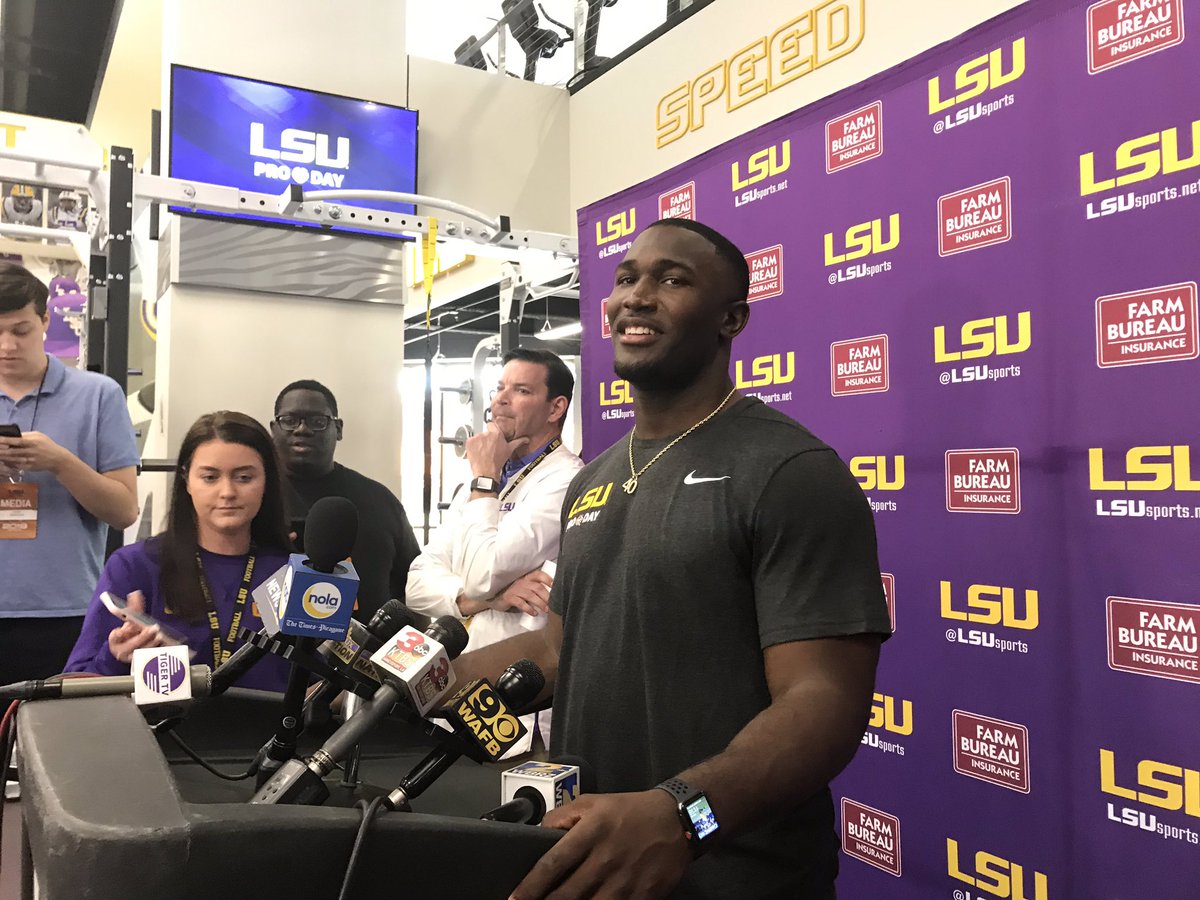 Devin White arrived at LSU Pro Day without many questions left to answer. His All-American season, which culminated in the program's first Butkus Award, and a freakish workout at the NFL Combine all but assured that.
And yet there the sure-fire first-round pick was, flying around during individual drills for NFL personnel and cheering on 11 teammates as they did the same.
Why?
"I was fortunate to go to the Combine and put on a show, so I didn't have to do everything here," White said. "I really didn't feel like I had to do nothing here, but I wanted to do some drills and run around. It's been a long time and I miss the game of football."
White will assuredly be the first inside linebacker to hear his name called at the 2019 NFL Draft in Nashville. He'll be there in person to realize a lifelong dream walking across that stage and accepting a No. 1 jersey from NFL commissioner Roger Goodell — though Goodell isn't a beloved figure around here.
Inside linebacker don't normally get drafted in the top 10 in today's NFL. Georgia's Roquan Smith (No. 8 in 2018), Boston College's Luke Kuechly (No. 9 in 2012) and Alabama's Rolando McClain (No. 8 in 2010) are the only off-ball linebackers to be top-10 picks since 2010.
That fact isn't lost on White, but he says that bit of recent history doesn't matter. According to White, there's a team so in love with him that it would consider trading up into the top-five just to make sure he's manning the middle of its defense in 2019.
"There hasn't been many linebackers who've gone in the top five … I'm trying to go top five," White said. "If you're worth it, you get picked there. A person knows 'Devin is not going to be on the board too long, and we're not going to find another Devin in 10 years. He's rare.' God took his time when he made him, and I'm really appreciative of that."
Teams that wait to pull the trigger on White run a serious risk, he says. They'll have to wait five years to get a shot at signing him in free agency if they miss out on draft night. And that'll be an expensive proposition.
"The price is going to go up," White smiled. "I'm going to be looking for $100 million then."
Not all teams subscribe to the same rigid set of rules for positional value. The New York Giants spent the second-overall pick on a running back last year in Saquon Barkley because the team management felt he was that special of a player.
Therein lies the multi-million dollar question: does a team consider White that special of a player too?
That's the question LSU coach Ed Orgeron has heard in many forms and fashions from NFL decision makers in recent weeks. The game tape speaks for itself, but teams want to know what kind of person they'd be investing so heavily in.
Orgeron enjoys this part of his job. On a professional level, LSU players getting drafted — especially drafted high — is good for business on the recruiting trail, and that factor is never far from Orgeron's mind.
But on a more personal level, Orgeron has long been effusive with his praise for White. Few players, if any. have been more paramount to the early success of his tenure than White, and unlike Greedy Williams, LSU's other first-round prospect, White stayed to lead the team in the Fiesta Bowl.
One name has come up repeatedly in those conversations between Orgeron and interested teams: Patrick Willis.
Willis, like White, was a two-time All-American and took home a Butkus Award while playing for Orgeron at Ole Miss. He went on to a decorated eight-year career with the San Francisco 49ers during which he was named First Team All-Pro five times.
The two are similar in size, speed and college credentials heading into the NFL Draft, but that's not what makes them so alike in Orgeron's mind.
"It's his character," Orgeron said. "Character-wise, one person told me 'Coach, this is Patrick Willis all over again.' As far as character, as far as toughness and his ability to run, those are the things I'm talking about."
Willis was a leader and a star for San Francisco from the day he joined the organization, winning NFL Defensive Rookie of the Year in the process.
White knows he'll have to do the same for whatever team expends a first-round pick on him. Being productive won't be enough, he has to lead as a rookie. It comes with the territory of being a middle linebacker at any level of football.
And it won't be like college, when White had the luxury of learning from Duke Riley during his freshman year. Nobody in that locker room is going to be overly concerned with taking a hot-shot rookie linebacker under their wing.
Every coach, general manager and personnel director White has met with so far made sure he understood that point well.
"They said when you came into LSU as a freshman, you looked up to those older guys," White said. "You're going to come in (to the NFL) and there's going to be a guy who has been playing for eight years and has a whole family. You can't look up to him. You have to lead him.
"So I have to come in with that mentality that I'm going to take your job or I'm going to lead your defense off the rip because I'm a linebacker. That's just the expectations. So I can't come in like 'Hey big bro, how does it work around here?' I've got to come in create a way, but I've got to do it with respect."
White has excelled in every task he's set his mind to football wise, whether it be making the transition from running back, rallying the troops after a rock-bottom loss to Troy or becoming the best linebacker ever to come through LSU.
Will an NFL team buy what he's selling? Tune in on April 25 to find out.