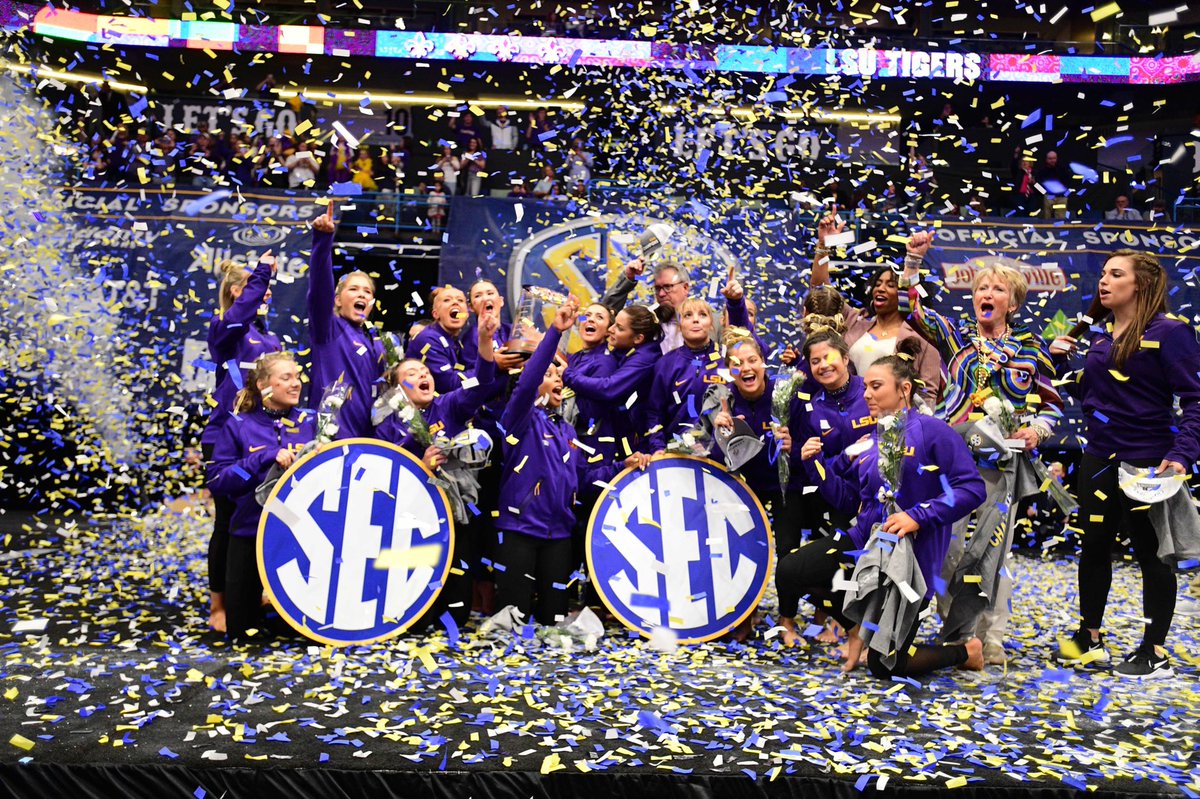 NEW ORLEANS- The third-ranked LSU gymnastics made a furious comeback in the final rotation to capture its third-straight Southeastern Conference championship with a team score of 197.900 Saturday night inside of a raucous Smoothie King Center.
An SEC-meet record of 10,505 fans stormed the arena and lifted the Tigers to the championship win. Senior gymnast Sarah Finnegan clinched the title with a perfect 10.0 score on floor to finish off the win.
"What an incredible night for SEC Gymnastics," LSU gymnastics head coach D-D Breaux said. "This crowd was absolutely unbelievable, and it's a product of the incredible work done by the Greater New Orleans Sports Foundation and Jay Cicero, SEC commissioner Greg Sankey and Joe Alleva to get this meet to New Orleans."
"This team caught on to momentum from the incredible crowd tonight. They never backed down and kept clawing their way back. Every performance tonight was on and they had a championship mentality from the start to finish."
The Tigers were able to fend off fourth-ranked Florida who led throughout the first three rotations and finished with a 197.750. Alabama finished third with a 197.350 and Georgia rounded out the top four spots with a197.000. LSU became the fifth team in SEC history to win three titles in a row.
Finnegan won her second-straight SEC all-around title with a 39.800, the second-highest in the meet's history. The Lee's Summit, Missouri, native became the fourth gymnast in SEC history to win two all-around titles. With the win, Finnegan earned her 12th all-around title of the season and passed Susan Jackson for the most in a season in school history.
In addition to the all-around win, Finnegan also earned the bars, beam and floor titles. Finnegan claimed her 25th beam title and passed April Burkholder for the most in a career in school history. Finnegan scored a 9.95 on both bars and beam.
Tigers Begin with Trio of Strong Scores on Vault
Starting the night off with rousing, consecutive scores of 9.90 were Finnegan, Ruby Harrold and McKenna Kelley. Anchoring the rotation for the Purple and Gold was Kennedi Edney with a 9.85 while Priessman rounded out the first rotation with a 9.825 to give LSU a 49.375 on vault.
Finnegan Claims SEC Title on Bars
LSU finished bars with a 49.475 for the highest at an SEC Championship meet in school history. Finnegan claimed her first event title of the night with a 9.95 to anchor the rotation. Following closely behind was Lexie Priessman, the 2017 SEC Champion on bars, as she had an equally impressive 9.925. Edney recorded a 9.90 in the fourth spot. Sami Durante and Ruby Harrold score 9.85s on the front half of the rotation.
Tigers Continue Consistent Meet on Beam
The Tigers put a strong performance with a 49.450 on beam to close in on the Florida lead. Christina Desiderio opened the rotation with a strong 9.90. Bridget Dean and Edney both earned scores of 9.85 and Durante earned a 9.875. Reagan Campbell put up a 9.875 and Finnegan anchored with a 9.95 to earn her second event win.
Finnegan's Perfect 10 gives LSU the SEC Crown
Down to Florida by .175, the Tigers saved their best for last. Harrold opened things up with a 9.875 and Desiderio followed with a 9.85. In just her second floor routine of the season, Priessman delivered with a 9.90. Edney followed with a 9.925. Finnegan brought the crowd to its knees with her perfect score on floor. Kelley closed things out for the squad with a 9.90
Next Up
LSU will get two weeks off before competing at the NCAA Baton Rouge Regional April 5-6 inside the PMAC. The squad will find its seed and who it will host at the selection show at 4 p.m. CT Monday on NCAA.com.
PHOTO COURTESY OF LSU SPORTS INFORMATION