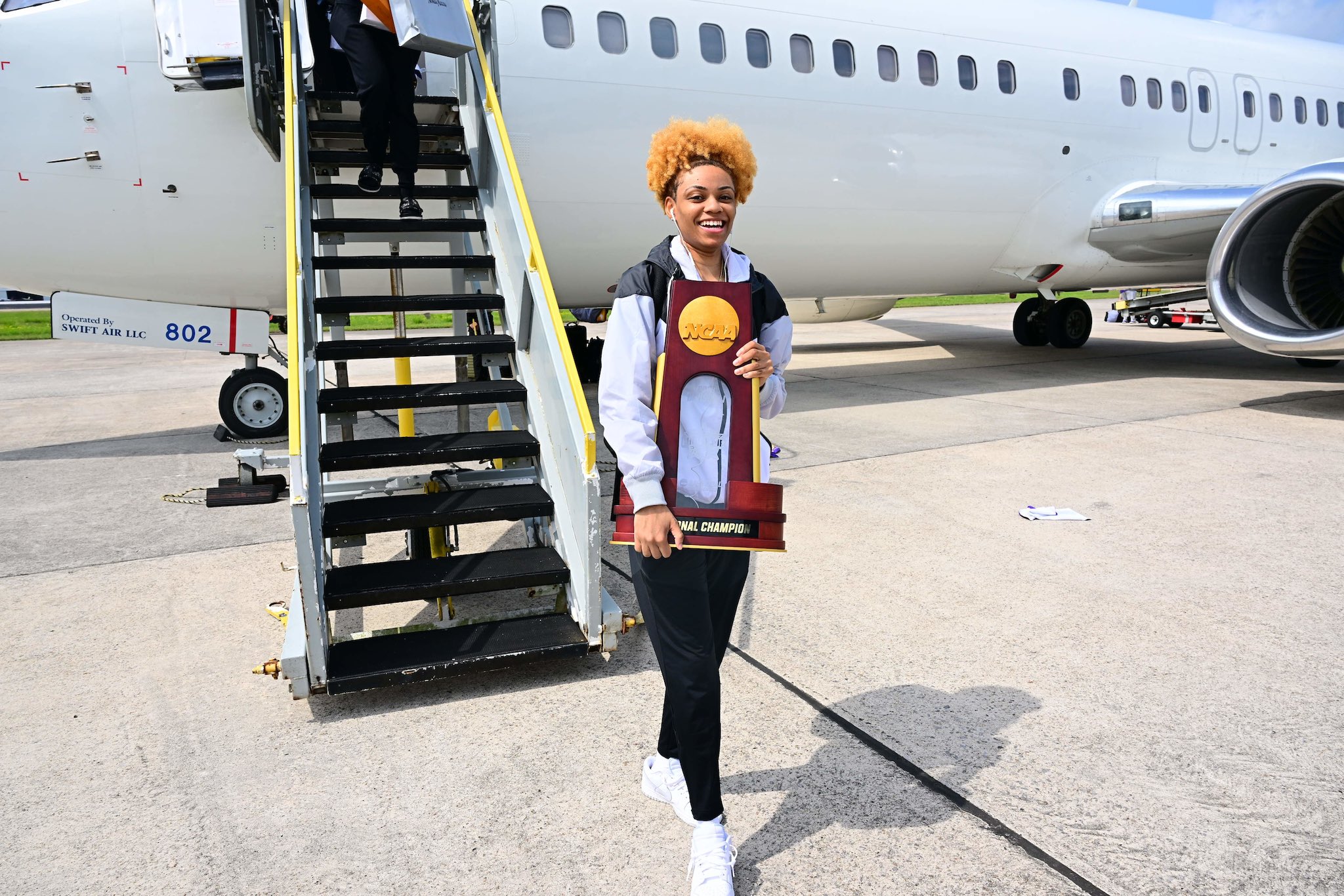 LSU's national championship women's basketball team returned to a hero's welcome Monday before several thousand people at the Pete Maravich Assembly.
The Tigers capped a 34-2 season Sunday night in record-setting fashion with a 102-85 victory over Iowa at Dallas' American Airlines Center.
LSU announced that a parade, weather permitting, for the team and its coaches is scheduled for 6:30 p.m. Wednesday and will begin at LSU's School of Music on Dalrymple Drive and conclude with a celebration in the PMAC at 7 p.m. which is free to the public.
The parade route will take a left on Field House Drive to North Stadium Drive and then down Victory Hill and wind up at the PMAC. In the event of severe weather, the parade will be cancelled, but the celebration will still take place at 7 p.m. as scheduled.
Second-year coach Kim Mulkey recapped her journey where after 21 years and three national championships at Baylor, the Tickfaw native returned to her native state to coach the Tigers.
"I came home to put a championship banner up there," Mulkey said, reiterating her opening remarks when she took the job two years ago. "No way I would have told you we would have been able to do this is two years. No coach can ever put a timetable on championships."
LSU upset No. 1 seed Virginia Tech 79-72 in Friday's semifinal, led by Alex Morris' 27 points, to advance to the school's first national championship game in six attempts and faced No. 2 seed Iowa. The Hawkeyes ended the 42-game winning streak of defending national champion South Carolina.
The Tigers battled mounting foul trouble in the first quarter to take the lead for good (22-20) on LaDazhia Williams' two free throws with 2:02 showing.
LSU went into the second quarter without leading scorer and rebounder Angel Reese and fellow starter Kateri Poole with each picking up two fouls. They were joined on the bench by senior guard Alexis Morris who was assigned the defensive responsibility of the nation's consensus Player of the Year – Caitlin Clark who torched South Carolina for 41 points.
Reserve guard Jasmine Carson, who had previously started in 30 games this season, emerged among the team's heroine's with her most meaningful performance of the season. After failing to score a point in her team's three previous NCAA Tournament games, the graduate student hit a 3-pointer to end the first quarter and gave the packed crowd a prelude of what was to come.
Carson made all seven of her shots attempts in the quarter, including all five from 3-point range, to jump-start an offense with 21 points en route to a NCAA Championship record 59 points and a 59-42 halftime lead.
"I knew she was looking at me," Mulkey said of Carson in the halftime locker room. "I knew she wanted to say something. She's got this deep voice. She says, 'I told you coach.'"
Carson had an ear-to-ear smile while on the front row of the stage assembled for the team during Monday's triumphant return home.
During the stretch where the Tigers outscored the Hawkeyes 32-20 with three of their top players on the bench, Mulkey recognized the contributions of Carson, Last-Tear Poa and Sa'Myah Smith.
Poa made a pair of 3-pointers during a four-minute stretch that accounted for a 52-39 lead and Smith added a short jumper and combined with Williams to help the Tigers' defense and rebounding.
"They won our national championship for us," Mulkey said of the trio to a loud ovation. "Everybody talks about the "Big Three" (Reese, Morris, Poole). But the Big Three are just a part of what we do. They're big, big, big personalities but you don't win championships because ask them, they were sitting on their butts by me in the first half in foul trouble. We took that lead with those three young ladies that have played their role."
Mulkey also lauded the play of Williams who made 9-of-16 shots and scored 20 points, five rebounds and three assists.
"The most valuable player, probably is the unsung hero probably through the entire playoffs, LaDazhia Williams," Mulkey said to thunderous applause.
LSU stood up to a serious surge in the middle the third quarter from Iowa, which made it 63-54 with a 12-0 run and got within 65-57 at the 5:22 mark when Williams extinguished the fire with a pair of baskets. Reese added an offensive follow and Morris two free throws following a technical for a 75-64 lead going into the fourth quarter.
With Carson's 22 points leading the way and Reese's NCAA record 34th double-double with 15 points and 10 rebounds, Morris put the game away with 15 of her 21 points in the fourth quarter and helped cement Mulkey's fourth national championship.
"I couldn't hold the tears back," said Mulkey, who began crying on the sideline after Poole's 3-pointer that made it 98-82 with 1:11 left. "I knelt down. I grabbed my forehead. I was pinching my nose and I had gathered myself and said, 'you can do this Kim. You can do this.' I looked up and here comes the rapper (Johnson) screaming.
"I'm blessed I had the opportunity to come back home," Mulkey said. "I'm blessed these young ladies chose to come play for us. We had no ring to sell. We had to sell Kim Mulkey and that was about it."