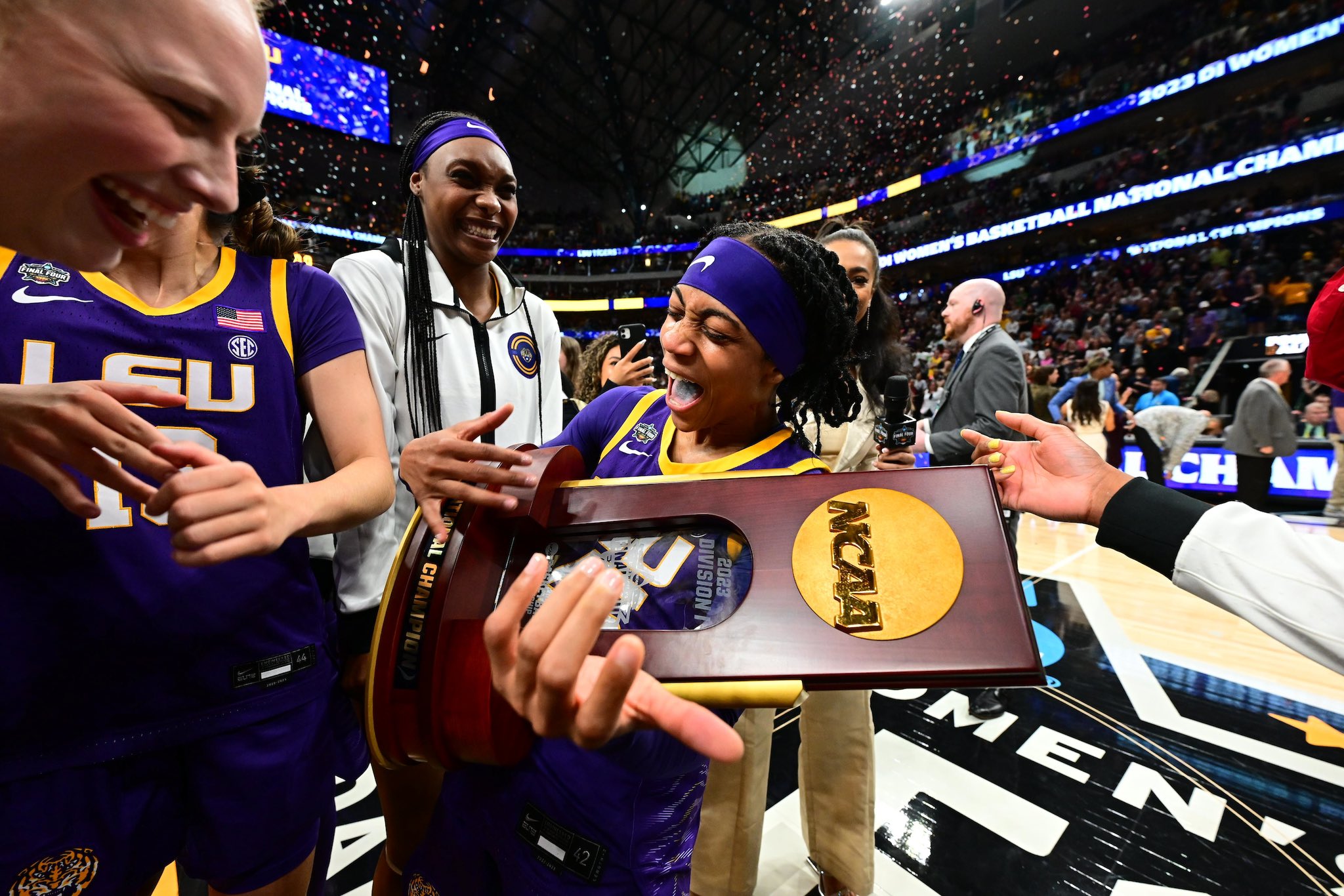 LSU fifth-year point guard Alexis Morris always wondered what might have been had her basketball career never careened out of control five years ago.
She was a member of the Big 12 Conference's All-Freshman team, finishing her first season under coach Kim Mulkey as Baylor's fifth-leading scorer on a team that went to the Sweet 16.
Morris was dismissed from the program after the season following a violation of team rules. Her legal troubles mounted following her arrest for assaulting another woman, and three months later, the Beaumont, Texas native was arrested for marijuana possession and possession of a dangerous substance.
Morris transferred to Rutgers where she sat out a year and played in seven games the next season before transferring again, this time to Texas A&M, where she averaged 6.0 points in 20 games in her lone season in College Station, Texas.
Mulkey led Baylor to the third of her three national championships during the 2018-19 season which would have been Morris' second season in the program.
Instead, when Mulkey decided to leave Baylor after 21 seasons to return to her native Louisiana to coach at LSU, a familiar voice on the other end of the phone – Morris – had reached out to a staff member about the possibility of joining the Tigers program.
Two years later, their reunion was complete with a national championship after LSU downed Iowa 102-85 at Dallas' American Airlines Center on Sunday. It was the first national title in program history and an evening where Morris felt very nostalgic after scoring 21 points and dishing out a team-best nine assists.
"I got dismissed (in) 2018-2019," Morris said following Sunday's national title. "That's the year they won a national championship. Coach (Mulkey), we got it back. I appreciate you for giving me the opportunity. You've always been a winner in my eyes, ever since I was 12 years old.
"It's hard to explain the feeling," Morris added. "It's kind of like, in a way, coach Mulkey's an amazing person. She knows how to get the best out of me. She's been knowing me since I was a child literally. I don't know if I'll ever be able to have the type of relationship with another coach that I have with coach Mulkey because it's special. It's different."
Morris and Mulkey shared the postgame dais in one final time as player and coach. They reflected on the journey of this year's LSU team which finished 34-2 with Morris serving as the only returning starter from a year ago. She was able to mesh her immense talents with an impressive haul by Mulkey in the NCAA transfer portal that landed three eventual starters in Angel Reese, LaDazhia Williams and Kateri Poole and a Top 25 high school signee in Flau'jae Johnson.
Morris overcame a nondescript performance in her final NCAA Tournament to help propel the Tigers into their first national championship game with a game-high 27 points in Friday's 79-72 victory over top-seeded Virginia Tech. She scored 11 points in a furious 29-13 fourth-quarter comeback, setting up the opportunity to meet second-seeded Iowa and Caitlyn Clark, the nation's consensus Player of the Year.
"I've known that child since she was in the seventh grade," Mulkey said of Morris. "(She) Went to a private school (Legacy Christian) there in Beaumont, Texas, came to my camps (for) many years. That smile, that spunk, never, ever has that child ever disrespected me in any way, ever. And when I had to dismiss her, it was for the sake of the locker room and the sake of making a tough decision to not lose your team. Those decisions, a lot of coaches don't want to make.
"I had sleepless nights over it because I loved Alexis. There are many people you dismiss from a team, and you say good riddance, you're a cancer in the locker room. She was not. She wandered to a couple schools here and there, never spoke to her the entire time that she was at Rutgers or A&M.
"But when I got the LSU job, she basically said, 'Coach, I need you in my life. I'm coming back to play for you'. You're thinking, this is a kid who owned her mistake," Mulkey continued. "This is a kid who never blamed a coach. How many of those articles do you write? Everybody likes to go, 'Oh, the coach is a bad person. Oh, the coach did this'. Alexis would never let them write that story. She did it to herself. And you wonder why some coaches will take a kid like that back? That is a valuable lesson for all of us as parents and look where she's sitting today. Look where she is sitting today. What a remarkable story."
Morris was one of LSU's five double-figure scorers that contributed to the highest point total in NCAA championship game history. The Tigers scored a record 59 points in a 59-42 halftime lead in which Morris, who had two fouls, had just two points.
Iowa made its one serious run at LSU midway through the third quarter, reducing LSU's biggest lead of 63-42, to 65-57 with 5:22 left in the quarter.
"Even when we were up by seven, I was like it's not happening," Morris said. "That's not me being cocky at all. That's just me – just knowing the moment – getting a feel for the game, and just being their senior leader and not letting my teammates down, coach Mulkey down. LSU, the fans who drove hours, flew out here, I was so determined not to let nobody down."
Morris scored on a layup off an inbounds play with less than five minutes to go and concluded the quarter with a pair of technical foul shots for a 75-64 lead.
She was just getting started.
Morris' signature mid-range jumper was at the epicenter of LSU's 27-point final quarter which resulted in the team's sixth 100-point game of the season. She made two straight 15-to-17-foot jumpers and added a 10-footer that pushed the score to 85-71, and sandwiched a pair of free throws with another 15-footer for a 91-76 cushion with 4:27 to play.
She scored 15 points in the fourth, including a runner through the lane near the end of the shot clock, and banked in a 3-pointer, again with the shot clocking winding down, with 24.4 seconds left to account for the final score.
"I'll be honest, when my mid-ranges start falling, I was like, 'Oh, yeah'," Morris said. "It's nothing against my teammates, but I said, 'This is my time. I'm not going to let it slip out of my hands. We're too close'. I just smelled, I just tasted it at the time."