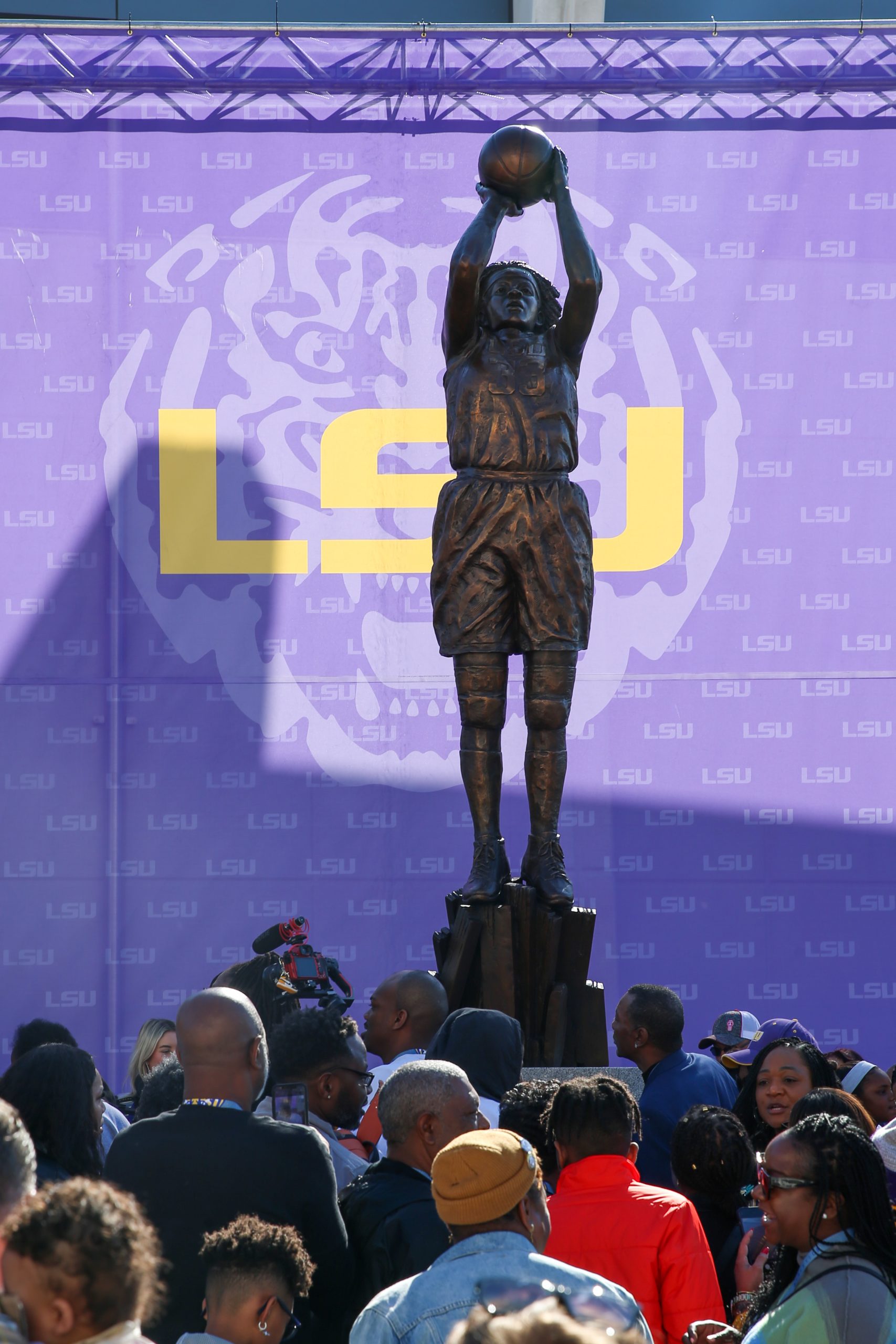 The bronzed pose reaching toward the sky was striking.
It's hard to transform something as golden as Seimone Augustus' jump shot into a 3,500-pound masterpiece but that's what sculptor Brian Hanlon accomplished with his latest work of art that was unveiled on Jan. 15.
The same guy who brought perpetual life to some of the greatest sports figures in LSU history – Pete Maravich, Bob Pettit, Shaquille O'Neal, Billy Cannon and Skip Bertman – did so again when Hanlon was commissioned to create another endearing image of one of the school's most iconic female athletes.
"They'll never be another," LSU associate women's basketball coach Bob Starkey, an assistant with the Tigers during Augustus' collegiate career. "There will be great players. There will never be another Seimone Augustus. Not at LSU. She was home-grown here. That's what makes it different."
The slender, silky-smooth Augustus decided 20 years ago to alter the path of LSU's program, bringing her picture-perfect jump shot 10 minutes away from Capitol High. She eschewed the overtures of Hall of Fame coach Pat Summitt of national power Tennessee and bet on herself. That the 6-foot-1 forward and nation's top prep player could stay home and elevate her hometown school.
"I remember going to the store and a guy was saying, 'LSU. Tennessee'," Augustus recalled before her decision. "He said, 'You think you're good enough to go and do something at LSU? I said I know I'm good enough. If I fail, at least I tried. I made my choice."
Augustus was a child prodigy, the product of parents who provided her with the necessary tools and support to chase her dreams of basketball stardom.
She developed a growing legend as a young girl, going to city parks and recreation centers around Baton Rouge and dominating games against all boys' teams.
Crowds usually showed for 7 p.m. home games at Capitol High School by 2:30 p.m. in anticipation of the show they would see from Augustus that night. She concluded her prep career with 3,600 points, only seven losses in 145 games and consecutive state championships.
"Being at home it gave my family, my supporters another four years to let me become who I needed to become," Augustus said, "and go out into the world and accomplish things that were even greater than what I was able to do here."
LSU, under coach Sue Gunter, went on to a 121-19 record, two regular season championships in 2005 and '06, a tournament title in '06, and made three of five straight trips to the Women's Final Four – a first for the program – during Augustus' career.
Not only had she elevated LSU's program to the high-rent district of women's college basketball, but Augustus' star also began to rise. She was both the national and SEC Freshman of the Year, SEC Player of the Year, USBWA Player of the Year and a four-time All-America selection.
She scored 2,702 points and grabbed 728 rebounds and was off to the WNBA where in 2006, she was the No. 1 overall selection of the Minnesota Lynx. She won four WNBA championships, was an eight-time league All-Star and voted to the WNBA's 25th Anniversary Team.
Moreover Augustus, who experienced success playing overseas professionally, won three Olympic gold medals in 2008, '12 and '16 with Team USA.
With her indelible mark clearly left on the game, LSU took the next step so the current and future generations would never forget Augustus' contributions. She was feted during both a private and public ceremony and had her statue unveiled on Jan. 15 amid a large and spirited gathering, one befitting a trendsetter.
"Miss DD (Donna Hodges) would ask every time I saw her, she said she needed me to get my name in those lights," Augustus said of the mother of former LSU players and teammates Roneeka and Doneeka Hodges. "I told her, 'Yeah, I'm going to get my name in those lights one day'. Well, Miss DD, I got my name in those lights."