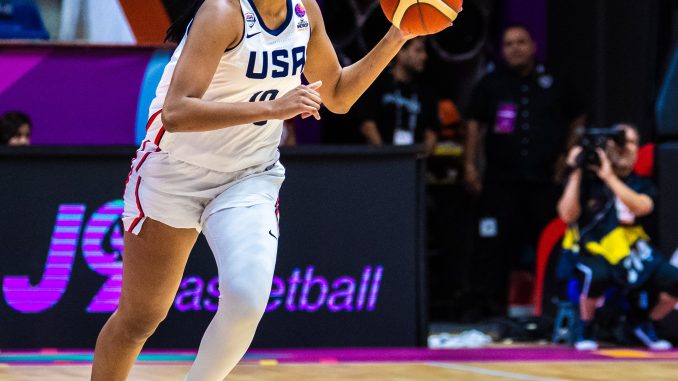 LSU All-American forward Angel Reese and Team USA are 2-0 in the 2023 FIBA AmeriCup going into Tuesday's game group game with No. 13 Brazil in Leon, Mexico.
Reese shared team scoring honors with Rickea Jackson of Tennessee with 11 points in Team USA's 80-54 victory on Saturday over Venezuela. She followed that up with a team-high 15 rebounds in a hard-fought 65-56 win on Sunday against Argentina.
"A win is a win. I love a win," Reese said after the game with Venezuela. "We didn't have our best game but working together and playing hard for each other is something that's important."
The U.S., the youngest team in the tournament at 20 years, 22 months and coached by Kamie Ethridge of Washington State, didn't have any difficulty in disposing of Venezuela. They scored the game's first nine points and built a 46-16 lead by halftime.
Reese got the first of her two starts and made 4 of 7 shots from the field and 3 of 3 free throws in 14 minutes. She also grabbed nine rebounds and blocked a shot.
The Americans started fast against Argentina with a 9-0 lead but wound up with a 33-39 halftime margin.
Argentina used a 9-0 springboard to open a 38-33 lead in the third quarter until Team USA closed on a 12-0 run and took a 49-40 lead.
The game was tied twice in the fourth quarter, including a 56-56 deadlock at the 4:44 mark, when Team USA went on a 9-0 run to take control.
Jackson led the Americans with 17 and UCLA transfer Lauren Betts added 10 points and 11 rebounds.
Reese, who started, was hindered by foul trouble and limited to five points in 15 minutes. She made 2 of 9 shots from the field and 1 of 4 from the free throw line. She pulled down nine of her 15 rebounds on the defensive end and had two assists and a blocked shot.