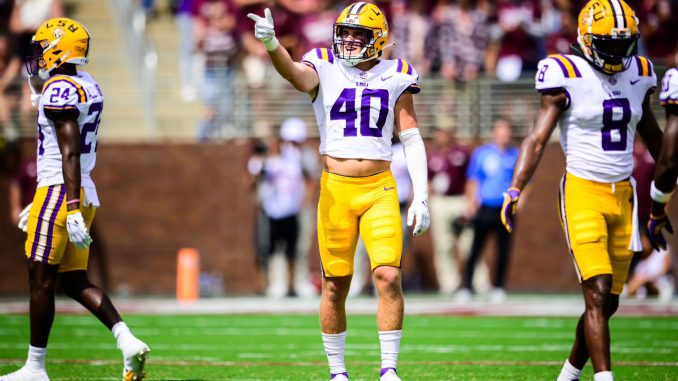 The first trip through the tunnel onto the field at LSU's Tiger Stadium left freshman linebacker Whit Weeks feeling numb.
It wasn't enough that his first collegiate start came on the road in SEC competition against Mississippi State when Weeks discovered another level of out-of-body experience starting for the first time at home last week against Arkansas.
"It's a feeling that I've never had in my life," Weeks said in his first interview after Tuesday's practice. "Running out of the tunnel, you can't even feel your body. Last week against Mississippi State the first play, I couldn't feel my legs because it was my first start. I was real nervous.
"Then this week at home, I knew it was going to be a totally different ball game," Weeks continued. "It's a different level here than anywhere else. Being out there, once I kind of got comfortable with the crowd being loud, it was awesome."
No. 12 LSU (3-1, 2-0 in SEC) visits No. 20 Ole Miss (3-1, 0-1) at 5 p.m. Saturday. The game will be televised by ESPN and carried locally over 98.1-FM.
What could have been a red flag for LSU's defense with the loss of senior linebacker Omar Speights has turned into a comforting feeling for the Tigers.
The loss of Speights, a former All-Pac 12 Conference selection at Oregon State before transferring to LSU, has been filled by the emergence of the 6-foot-3, 222-pounder Weeks the past two weeks. Not only did he lead the team in tackles with eight in a 41-14 win at Mississippi State two weeks ago, the native of Watkinsville, Georgia followed with nine tackles in last week's 34-31 victory against Arkansas.
"He's one of those freshman in college that's happy to be here," LSU running back Logan Diggs said of the good-natured Weeks. "Getting to go out and live your dream, what's there not to be happy about. He's a high-energy guy. The defense feeds off him and that speaks a lot about him as a person. He's a freshman on defense, starting in the SEC, and the guys around you are gelling to you like you've been here forever."
After playing sparingly in the team's opening 45-24 loss to Florida State, Weeks got a taste of his first true college action in a 72-10 runaway triumph over Grambling State, making four tackles.
Weeks, the younger brother of junior linebacker West Weeks, is tied for second on the team in tackles with 21. He's also got two quarterback hurries to his credit.
"He's really instinctive, patient at linebacker," Diggs said. "He's going to do his job. He's going to let the front do their job and he's going to be there to make the play. He's one of those players you know he's going to do his job and he's going to help others do their job at well."
LSU football coach Brian Kelly has commended Whit Weeks' ability to be assignment sound, coupled with the athletic ability that allows him to cover sideline to sideline because of his tremendous lateral speed.
Weeks, the son of former Georgia offensive lineman David Weeks, was a four-star prospect at Oconee Country High outside of Athens where he played linebacker, running back, wide receiver and kick returner. He helped his high school to the Class 3A state semifinals as a senior and piled up 134 tackles, 19 tackles for loss, two sacks and three interceptions and also rushed for 396 yards.
Weeks garnered double-digit scholarship offers, including one from Georgia where he visited during the Bulldogs national championship parade. He opted, though, to follow the path of his older brother West who transferred to LSU from Virginia.
"He had offers from LSU, South Carolina and USC," Whit said of his brother. "He took a mid-week official here in January of 2022. I remember texting him and saying, 'are you still going to go to South Carolina?' He said, 'Dude, LSU's the place to be'. Then they offered me, I took some visits here and ultimately, I tell people it's the place, the people and the football.
"The place is beautiful," Whit Weeks added. "It's not that far from home. It's drivable. The people, everybody in the (football operations) building are just awesome. Right when I got here, I fit in with everybody. Then the place, who wouldn't want to play in Death Valley. Last Saturday was the coolest experience of my life."
Weeks recalled his traditional relationship with his brother who is two years older, complete with the headaches that come with parents trying to referee two athletic, adolescent boys.
"As little boys we were pretty rough," he said with a smile. "We would fight all of the time. I don't know how my mom survived because she was always screaming at us while she was driving. Out on the field playing together we would roughhouse.
"Playing with my brother's awesome," he added. "Back in high school, my sophomore year and his senior year, was the most fun I've ever had playing football. I knew when I made a mistake, he was there to help clean it up, so it was easy playing with him. Growing up with him, we have a good chemistry on the field. I love playing with him. That's one of the main reasons why I came here."
Whit Weeks joined his brother in January, enrolling early for the spring semester. That move paid huge dividends in his ability to learn and adapt to defensive coordinator Matt House's system.
During the team's spring game in April, Weeks served notice that he may be a true freshman to keep an eye on with a 55-yard interception return for a touchdown.
"It was hard," Weeks said of the defensive transition to LSU. "Thank goodness I came in January. If I hadn't come in January, I probably still wouldn't know it. Spring ball, and all of the meetings we had, is really what helped me learn. The extra meetings I get with all of the assistants, Gas (graduate assistants), really help me learn.
"It's totally different than high school," Weeks added. "In high school you have two coverages. Here, you've got so many coverages you have to do, so many different assignments you have to know. It's a totally different ball game."