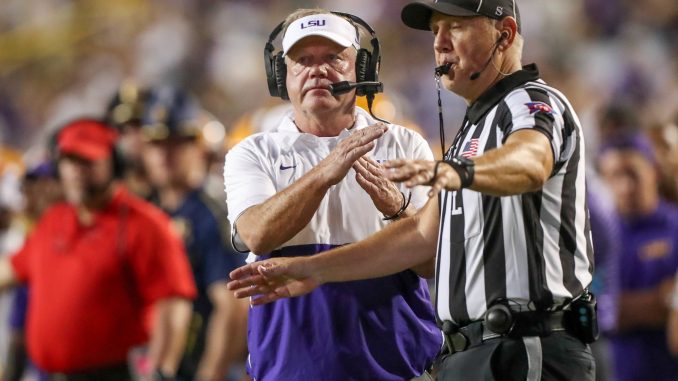 It's been nearly two weeks since LSU safety Greg Brooks Jr. required emergency surgery to remove a tumor from his brain.
The native of Harvey and graduate of West Jefferson High, one of four captains on this year's team, played in the first two games this season for the Tigers with the intent of accompanying the team to Starkville, Mississippi for the Sept. 16 SEC opener.
Brooks, who dealt with vertigo during preseason camp, arrived for practice on Sept. 13 and began experiencing dizziness and an MRI later discovered the tumor. The team dedicated their 41-14 win over Mississippi State to Brooks who was the recipient of the game ball.
When LSU hosted Arkansas in last week's home SEC opener, both teams wore No. 3 decals on the backs of their helmets to remember Brooks. He spent the first three years of his college career at Arkansas before transferring to LSU last year and recording 66 tackles in 14 games, helping the Tigers to a 10-4 record and SEC Western Division title.
Arkansas coach Sam Pittman was granted permission from LSU coach Brian Kelly to visit with Brooks last Friday when the team arrived in Baton Rouge for their game.
Kelly, who previously met with Brooks before his surgery, was back for a return visit on Monday.
"He's making progress," Kelly said Wednesday on the SEC Coaches Teleconference. "I think when we talked about progress after brain surgery, you can imagine, it's a slow process. He recognizes me, he's able to make eye contact. He was up for rehabilitation. He was going through every rehab that day. He was up on his feet moving around, but still, there's a long, long journey here for him. But it's great to see that he's making that progress."
Here's what else Kelly had to say:
Opening statement:
"I think what we're looking towards is playing with much more maturity and getting our jobs done on a day-to-day basis and making sure that transfers onto the field. I think that there were times in the Arkansas game where we lost our focus and gave up some plays that were self-inflicted. So, it's much more about us in terms of the details and playing with that focus for four quarters and as I said, when you go on the road, you need a good team with you, to have a mature team. That's the challenge for our team is to play with a lot more maturity, a lot more smarts. We feel like we've made the progress necessary to go down and play in Oxford, Mississippi, which is a very difficult place to play. (Ole Miss coach) Lane (Kiffin) is an outstanding football coach and he'll have his team ready to play. They're coming off a loss. So anytime you're doing that, you're getting a team that's very angry and hungry, so we'll have to match that and play with a great competitive edge."
Any common traits you look for in recruiting high school cornerbacks?
"I think the one thing that you have to have when we're talking about the athletic profile is verifiable speed. That's the most difficult thing to get when we're talking about the cornerback position is verifiable speed. Meaning you really can't get it off film because the competition that they're playing against doesn't necessarily give you the same numbers that you're looking for in the SEC. So, you've got to get that through camps, maybe get them out onto campus and actually getting them in front of you so you can see them run is probably the biggest challenge. He's got to be able to play the ball in one-on-one situations or he becomes exposed. So, verifiable speed and length will probably be the two features that you're looking for. I think the most important element relative to outside of those, in terms of his traits, would be the ability to let things go. You're on an island, as a corner you've got to be able to if it's a completion, you have to let it go and move on to the next play. So, we look for that kind of demeanor from a corner as well."
Are there specific jobs players have in zone coverage?
"It's about fundamentals of alignment, starting there and we've had many alignment issues relative to leverage assignments, and tackling. We're talking about fundamentals that are taught from day one and Pop Warner to high school, to college. And so, you know, these kids come in with a number of different techniques, they're allowed to do a lot of different things, and freelance. We're trying to get them to be fundamentally found and we're working towards that end."
Is someone on staff in charge of making sure you have the exact personnel on the field each play?
"Oh, it's always chaos on the sideline when you're moving young kids in and out of the game, but the one that's really crucial you know (are) your nickel packages moving them in and out. And then certainly anytime you call for goal line, because it's multiple players moving in and out. So, we have one coach designated for personnel in those situations because they have always in my 30 years have always been the most problematic. I've had situations in my long career, you don't have a corner on the field or one extra guy, you get a penalty. We see it in the NFL with 12 guys on the on the field quite a bit. So, we've always designated one coach to make sure that in those situations, we've got the right personnel."
Where is that coach situated during a game?
"We have it coming down from the (press) box. So, it' so much easier (than) if it's done on the sideline. It can be as you can imagine a bit confusing, so we have a spotter that is responsible for all personnel on both sides of the ball.
What was your reaction when the rule was enacted in April?
"It didn't change the last two minutes of the (first) quarter; (only) the second quarter and the fourth quarter. So, I know that that's the area for example, we got the ball back with 48 seconds last Saturday and scored a touchdown with 18 seconds left on the clock and only use one timeout. So, I know that if the clock stops in college football that would have been the biggest change and that would have been the sky is falling, but not stopping at the first downs, and prior to the two-minute, hasn't affected it that much at all."
Growing up in Massachusetts, did the LSU-Ole Miss series grab your attention?
"The only impressions I've had of the SEC growing up was certainly the Mannings. You know that obviously Ole Miss was clearly a national story. LSU was Tiger Stadium to me growing up, the games were played in Death Valley. That was clearly an indelible memory, but not the Magnolia Bowl trophy. That didn't resonate with me.
But clearly Ole Miss and you had the Egg Bowl (vs. Mississippi State), that was a rivalry game that got everybody's attention because when it when it was played, you know it was always a game that was on TV."
Thoughts through four weeks on new first-down rule?
"I think we know that possessions tighten up a little bit. So, we feel like maximizing a possession is absolutely crucial to us on offense. But other than that, we're not seeing it tactically, other than it may shrink a possession and that's really about it. So, the shrinking of maybe one possession means that offensively you're really detailing out your play calling and making sure that everything needs to be precise on every play."
What makes Arkansas quarterback KJ Jefferson so productive?
"What had been one of the knocks on KJ is ball security. And we were in a situation where we wanted to try to get him moving, so you get him off schedule in terms of throwing on the run and he was highly accurate Saturday night moving and throwing. We were hoping maybe he turns the football over, but he took great care of the football. If he plays at that level, he's one of the elite quarterbacks in college football and he did Saturday night. Hats off to him."