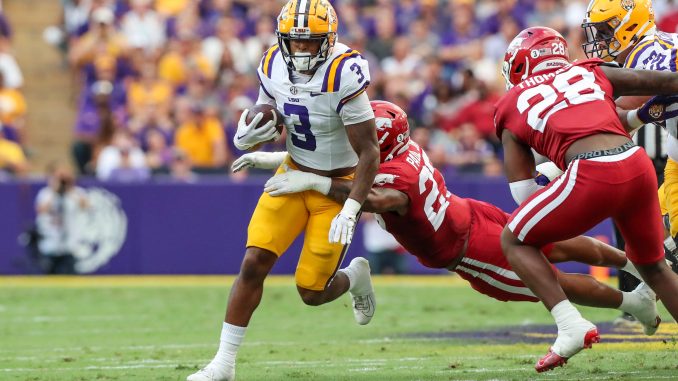 With his team locked in a tense 31-31 game last Saturday and in possession of the football with just over five minutes to play, LSU football coach Brian Kelly made one thing perfectly clear.
He didn't intend to give the football back to Arkansas.
The Razorbacks were out of timeouts and quarterback KJ Jefferson had proved dangerous with 289 yards passing and three touchdowns.
"We're not looking to score a touchdown in that instance," Kelly said after his team's 34-31 victory. "Wanted to take time off the clock, put ourselves in a good position. We have great faith in (Damian) Ramos, our field goal kicker. We wanted to put him in a good position, take as much time off the clock. We got it down to about five seconds and it worked."
LSU's offense efficiently positioned Ramos for his game-winning 20-yard field goal with a drive that covered 72 yards in just over five minutes.
While a 36-yard completion from Jayden Daniels to Malik Nabers ignited the march, the Tigers carried out Kelly's plan for gaining yards and taking time off the clock on the shoulders of running back Logan Diggs. The Notre Dame transfer, who made his third straight start, was in the game in the last five minutes with the game on the line.
Diggs thrived with four carries on the 9-play drive for, two of which picked up first downs, for 30 yards. He led the Tigers with 97 yards on 11 attempts.
"All season as a running back room we compete every single day and finally I had an opportunity to affect the game," Diggs said after Tuesday's practice. "It felt really good, and it was really beneficial to the team. I guess Saturday was my day. I had a good week of preparation and I felt like I was really prepared to face whatever challenges came my way. As an o-line, they really blocked well. It was really a lot of things that helped open up the run game, it's not just one thing I can take credit for."
Behind the 1-2 punch of Diggs and Daniels, LSU rushed 29 times for 189 yards for 6.5 yards per carry to complement Daniels' 320 yards and four touchdowns passing.
"Explosiveness," LSU offensive tackle Emery Jones Jr. said of Diggs after Tuesday's practice. "Logan sees the holes and he bursts through them. He's been doing a great job of getting through the holes and getting those yards. Getting those two-three extra yards after contact."
Most college football analysts believed because of LSU's depth at running back the Tigers would have rely on more of a rotation than a singular runner tasked with gaining 1,000 yards.
The Tigers returned last year's leading rusher among running backs, Josh Williams, along with Noah Cain, John Emery Jr. and Armoni Goodwin. Tre' Bradford also returned to the program and was joined by incoming freshmen Kaleb Jackson and Trey Holly and Diggs, who played at Archbishop Rummel, was signed out of the transfer portal after playing two years for Kelly at Notre Dame.
Kelly spread the wealth amongst his ball carriers in fall camp but when pressed, he explained that throughout his experience of coaching for more than three decades, playing time would eventually go to the most experienced players.
The daily competition in practice, coupled with Kelly's constant motivation, has been a proving ground for running backs such as Diggs, Williams and Jackson four weeks into the season.
Diggs is the team's leading rusher with 38 attempts for 253 yards (6.7 yards per carry) and a touchdown. He's also caught five passes for 51 yards.
"It keeps you humble, and it keeps you level-headed," Diggs said. "This game, it's easy to start feeling yourself, it's easy to get a big head. Having that push from the head coach letting you know that you did good, but I still want more. Yeah, you have a good day but it's still not enough.
"It creates this fire inside of you to keep going, you want to get better and better," Diggs added. "The whole running back room, we all take that personally. Oh, 'Logan had a good day, but it's still my job to take'. They go out and push me every day and I go out and push them. It creates a great level of competition."
Diggs was equally complimentary of his offensive line, a group that's remained intact every week this season.
"Those are my brothers," he said. "The O-line's a running back's best friend. When you come in you want to build that connection with your O-line, you want to build that connection with your quarterback. When I came in, I emphasized that I love ya'll, I can go as far as you guys take me. I'll never take credit for having a successful day. I'll always point back to the O-line. They did a really good job."
Kelly said Diggs wasn't 100% during practice in advance of the Florida State game and was the reason he didn't play. He earned a starting nod a week later against Grambling State in the team's home opener and carried 15 times for a game-high 115 yards and scored a touchdown in a 72-10 triumph.
Diggs has subsequently been the starter to the past two weeks, gaining 41 yards on nine carries and adding a season-high three catches for 30 yards in a 41-14 win at Mississippi State. He shared time with Emery and Williams against Arkansas until becoming the featured back on the team's game-winning drive.
Diggs also showed a level of restraint that comes with being a veteran. He ripped off a 21-yard run to Arkansas' 7-yard line with 2:22 showing and when he got up from the run his momentum slightly carried him into defensive back Dwight McGlothern, who grabbed either side of Diggs' helmet and shoved him backward.
There was no penalty on the play and Diggs didn't retaliate.
"I've felt like I've been through the worst," Diggs said. "Something as little as maybe a hard time during a football game, maybe's not that serious. It comes with a level of focus. I go in every game, every play locked in and focused. It's like a constant running clock. During heated times you've got to keep a level head and be humble about it everything."