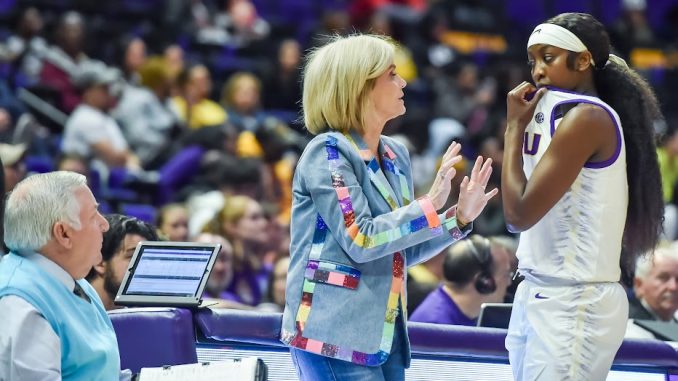 The arrival may have been well ahead of anyone's wildest imagination, but now that Kim Mulkey has LSU perched atop women's basketball, it's her job to make sure it stays there.
In just over two years since stepping to the podium in the Pete Maravich Assembly Center and pointing to the obvious lack of a national championship hanging from the rafters in the arena, Mulkey delivered the school's first such national title and a historic banner will be unfurled for the Nov. 9 home game.
Pretty fitting that LSU's national championship banner and championship rings will debut the night they host Queens College of New York at 7 p.m. The Tigers have been treated like royalty since April 2nd's record-breaking 102-85 victory over Iowa, a game where a record 9.9 million viewers tuned in to see the Tigers cut down the victory nets for the first time.
An on-campus parade that was filled to the brim with jubilant onlookers followed along with trip to the White House to be feted by President Biden and the First Lady.
The aftertaste of victory was never so sweet and difficult to rinse from the collective palate.
Eventually the glad-handing, NIL-related functions relative to public functions and appearances, gave way to the offseason grind of preparing and improving for the upcoming season with countless pick-up games and unending jump shots.
"I'm super excited," LSU All-America forward Angel Reese said at LSU's media day in October. "Basketball's my first thing. I'm a senior and I get to graduate this year. The important thing is to win another championship and I'll graduate as well. I'm happy to be back on a schedule and be back with this team."
When the championship banner is dropped amid what is expected to be a capacity crowd, Reese and the returning members of last year's 34-2 team will be flooded with emotions of the journey they took to reach unprecedented heights in Dallas' United Center more than six months ago.
The six new members of this year's team, a group that includes the nation's top two transfer portal signees – Hailey Van Lith and Aneesah Morrow – along with the nation's top-ranked high school recruiting class, can all stare at the national title banner and their returning teammates' championship rings, envisioning a similar event taking place next year.
It won't be easy.
Mulkey can speak from experience how difficult the season following a national championship can be. The Hall of Fame coach won the game's ultimate prize three times during her 21 years at Baylor, twice taking teams to the Sweet 16 after winning national titles with a third opportunity stopped by the COVID-19 shutdown in 2020.
UConn's fourth straight NCAA championship in 2016 represents the last time a team has repeated as national champions. There have been five different schools that have won the national title since then, including LSU last season.
The bull's-eye already adorning the backs of LSU's jerseys grew in scope with the release of the national preseason polls. The Tigers gained top billing from both The Associated Press and ESPN, a sign of respect for the program but also an affirmation of the talent level and ability of this year's team.
Mulkey has proven adept at melding individual talents and personalities into a winning product. She'll get the opportunity to win back-to-back national titles for the first time under greater scrutiny. Not only is her team ranked No. 1 but also returns some of the game's biggest stars in Reese and Flau'jae Johnson and welcomes the arrival of Van Lith, Morrow and Mikaylah Williams of Bossier City – the nation's top-ranked player.
This should be the ultimate test for one of the game's greatest coaches. Mulkey realizes there's one basketball to go around for her talented team, a unit with plenty of personalities, but it's her blend of leadership and motivation that can bring individuals together and make them a team to pursue its goals.
"We have a lot of depth," Mulkey said the SEC's Media Day on Oct. 19. "That (starting lineups) could be different every night. I tell them it doesn't matter who starts. You want to be in the rotation of 8-9 players and because we have a lot of depth, it's going to be my job to make sure the right people are in the game at the right time."