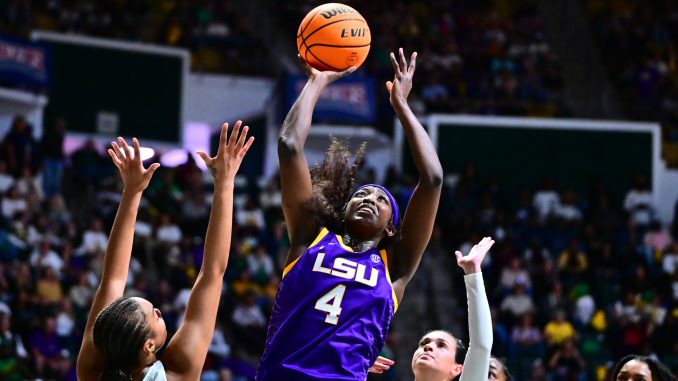 HAMMOND – The homecoming LSU women's basketball coach Kim Mulkey had looked forward to having a little bit of everything.
Except her first team All-America forward Angel Reese.
With Reese away from the team for the first time in her career, preseason first All-SEC guard Flau'jae Johnson turned in a double-double to spearhead a dominating performance Friday in a 73-50 victory over Southeastern Louisiana before a University Center record crowd of 7,500.
"It was very obvious Angel was not in uniform," Mulkey said. "Angel is a part of this basketball team, and we hope to see her sooner than later."
When pressed for more information about Reese, who had started in all 40 games in her LSU career, Mulkey cut off another question from the media.
"That's all you need to know," she retorted.
LSU (4-1) won its fourth straight game and was successful in its first true road game behind Johnson's game-high 17 points, 11 rebounds, four steals and three assists. She substituted for Last-Tear Poa at the 6:44 mark of the first quarter and played nearly 30 minutes.
"She's recovering from the flu, and she's come off the bench just like a superstar," Mulkey said. "It's what I tell kids all the time. It's not about starting, it's about production. She was our spark at Kent State (Tuesday's 109-79 win). She was our spark tonight. You don't ever punish a kid for being sick or injured. Just letting her get her legs back under her. I liked the lineup we had at the end of Kent State. I'm very proud of Flau'jae."
The previous high attendance for a sporting event the University Center was 4,200 for a men's basketball game.
By comparison, Southeastern's football team played its rivalry game against Nicholls State on Thursday at Strawberry Stadium before a crowd of 5,398.
"Kudos to Southeastern, the athletic department," said Mulkey, a native of nearby Tickfaw. "I was proud of Southeastern. I was proud of my team. I was proud of everyone in that arena. When I took the job at LSU, I said I wanted to come back to the state and be a positive. I felt like tonight this was positive for women's basketball."
Johnson was one of four double-figure scorers for LSU which shot 41.3% (26 of 63) from the field. Freshman Mikayah Williams, coming off a career-high 42 in Tuesday's win over Kent State, had 13, guard Hailey Van Lith 12 and Aneesah Morrow added a double-double with 10 points and 11 rebounds.
The Tigers shot 85% (17 of 20) from the free throw line, outrebounded the Lions, 45-29, and forced 18 turnovers.
"This is our first true road game," said Mulkey, whose team opened the season with a 92-78 loss to Colorado in Las Vegas, Nevada. "You come here with the understanding that this was a big game for Southeastern. Any time that you play a school in state, they really want to go at you. You're the flagship university. I just didn't want our team to not be as excited as they were to play. I thought we maintained control the whole game."
Reese scored 11 points and had five rebounds in the first half of Tuesday's game with Kent State. She did not play in the second half of that game and averaged 17 points and 14 rebounds for the season.
LSU began distancing itself from Southeastern with a 15-0 run over the first seven minutes of the third quarter for a commanding 57-33 lead.
Johnson tipped off the quarter with a second-chance basket, scored inside on a pass from Van Lith and converted a steal into a layup and 57-33 cushion at the 3:59 mark.
LSU's defense forced SLU into six missed shots and five turnovers over the first nine minutes of the quarter until Taylor Bell's runner in the lane provided the Lions with their first field goal.
The Tigers outscored the Lions, 22-7, in the quarter and established a 62-38 lead going into the fourth quarter.
SLU was limited to 37.7% (20 of 53) shooting and 31.3% (5 of 16) from 3-point range. Hailey Giaratano, a cousin of Mulkey's, and Kennedy Paul each scored 12 points.
Van Lith scored all 12 of her points in the second half, including the first five of the final quarter, with a 12-foot jumper and 3-pointer on a feed from Aalyah Del Rosario to make it 67-38 – the team's biggest lead of the game.
Southeastern overcame a slow start in the opening quarter and got within seven points (32-25) of LSU with four minutes to play before halftime. The Tigers built their lead to 26-12 on Morrow's 15-footer and Sa'Myah Smith's turnaround from the lane.
The Tigers parlayed a subsequent five-point trip down court with Johnson keeping alive a possession with a putback to go along with a foul. Her missed free throw wound up in the hands of Smith who was also fouled on a putback, giving her team a 37-25 lead on her three-point play with 3:11 remaining.
Johnson cashed in on another second-chance basket after Williams missed in transition and Kateri Poole, who entered the game at the four-minute mark of the quarter, made a free throw for a 40-29 lead with 53.4 seconds to go.
"She's such an improved player from when we got here this time last year," Mulkey said of Johnson. "Understanding defensive principles, she's got length, she's got size on the perimeter. Do other things and the scoring will come and she accepts that challenge."
LSU shot 40% (6 of 15) in the opening quarter and Johnson's driving layup and 3-pointer triggered a 9-0 run over the last 4:38 that Poa finished with 3 of 4 free throw shooting for a 20-10 advantage.
"I'm hugging people on the court, off the court, in the locker room," Mulkey said. "The thing I'm most proud of is I bit the bullet and came back here. That's not an easy decision. I was just proud to see that arena with that many people. I'm happy for Tangipahoa Parish, I'm proud of Southeastern. It's playoffs in football and I'm just glad I could be a part of it."