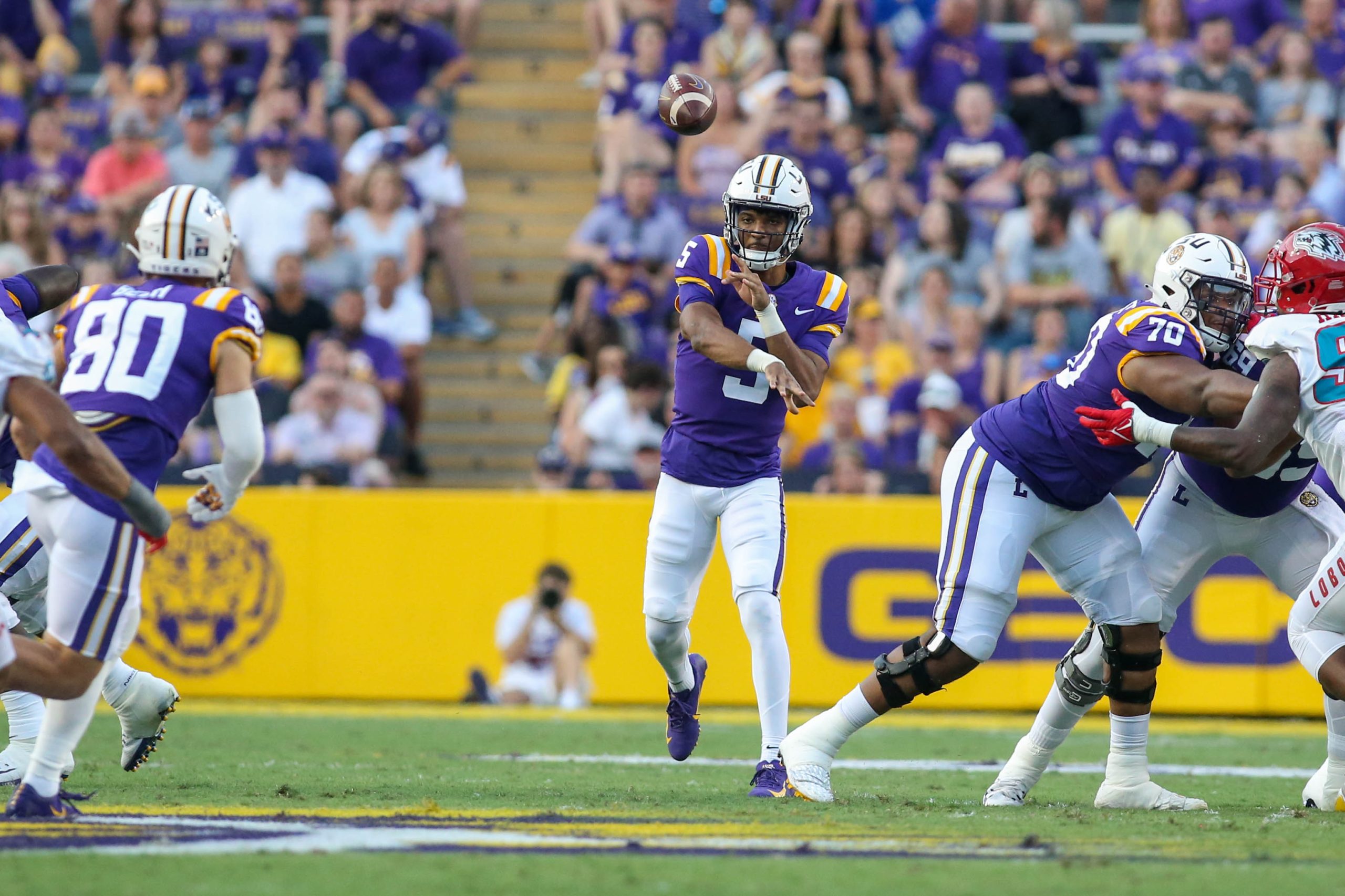 This week's experiment for LSU's football team became apparent from the first time the Tigers touched the football.
The Tigers were intent on getting quarterback Jayden Daniels into an early groove and particularly from the comforts of the pocket.
Daniels passed for a season-high 279 yards before exiting with an injury midway through the third quarter, but LSU's offense with reserve Garrett Nussmeier, scored on three straight drives to outclass New Mexico 38-0 on Saturday before an announced crowd of 100,501 at Tiger Stadium.
"Very efficient offensively throwing the football, running the football," LSU football coach Brian Kelly said. "Really good performance, something to build off of. I told our guys one time's an accident, second time's a coincidence, third time's a habit. They've won three in a row. They're building good habits. We look to continue to build on that going into SEC play over the next month."
LSU (3-1) extended its longest win streak in three years with its third straight victory. The Tigers piled up 633 total yards against a New Mexico defense ranked eighth nationally in yards allowed at 229 a game.
Receivers Malik Nabers and Jack Bech each had six receptions for 65 and 43 yards, respectively, to lead the Tigers. Running back Noah Cain had 11 rushing attempts for 94 yards and along with Armoni Goodwin scored two touchdowns apiece.
More impressive, though, was LSU's defense which registered its first shutout of the season and limited New Mexico (2-2) to 88 total yards and two first downs. The Tigers played without injured starters BJ Ojulari and Major Burns.
"It was pretty clear that they were going to have a difficult time moving the football on us," Kelly said. "I thought our plan was excellent. But we felt pretty good going into halftime even though it was 17-0. We were in a pretty good position."

Daniels, who added 37 yards rushing on 12 attempts and had 314 total yards, was in a particularly good rhythm from the start, hitting on his first seven passes and completed passes to nine different receivers by halftime. He completed 24 of 29 passes through 2 ½ quarters but was forced from the game after getting tackled hard to the ground after a 16-yard gain on fourth-and-four.
He was checked out by the team's trainers, went into the injury tent for observation and later emerged with his helmet and on the sideline.
Kelly said Daniels suffered a strained lower back and was cleared to re-enter the game but remained on the sideline because of the complexion of the game.
By that time Nussmeier had things under control with a nice bounce-back effort following a subpar outing against Southern three weeks ago.
Nussmeier took over after Daniels' injury and connected on two straight passes to Bech and Nabers for 5 and 17 yards, respectively, and Cain took care of the rest. He carried on the next two plays, scoring on second-and-goal from a yard out at the 5:27 mark to make it 24-0.
Cain took advantage of his additional playing time in the second half, breaking a tackle and stiff-arming another player en route to a 49-yard TD and 31-0 cushion with 1:49 left in the quarter.
Nussmeier, 9 of 10 for 135 yards, threw his first touchdown of season to Brian Thomas Jr. who eluded a tackle at his own 47, cut back across the field and completed a 57-yard scoring play to account for his team's scoring with 13:14 to play.
LSU had two touchdowns wiped out by penalty and Damien Ramos missed a 38-yard field goal in the first half.
The Tigers closed the half with a 15-play, 88-yard drive, three times converting on third down and once on fourth down, to take a 17-0 lead into the locker room.
Daniels was 6 of 7 on the march for 65 yards, including a key 16-yard completion to Jaray Jenkins on third-and-four to New Mexico's 28-yard line. He also found Jenkins in the middle of field for 19 yards to the Lobos' 6 and Goodwin scored from a yard out on third-and goal with 23 seconds showing.
"I thought they ran low with their pads and were physical," Kelly said of his running backs. "Noah Cain obviously played really well. I thought all of them ran hard. They were physical, took it to the defense and that was really the emphasis all week. They're not very big upfront. I think Frank (Wilson) was emphasizing that all week, to run physical and I thought were extremely physical at the running back position."

LSU was flawless in its first series, operating its hurry-up offense with Daniels completing all four of his pass attempts for 38 yards and Goodwin scored the first of his two first-half touchdowns on a five-yard run to make it 7-0 at the 9:52 mark of the opening quarter.
Daniels followed a series later with his longest completion of the season of 51 yards to Chris Hilton Jr. down the middle of the field to New Mexico's 34.
He completed his first seven passes of the game until a third-down incompletion on the drive, bringing in Ramos for a 31-yard field goal and 10-0 lead with 2:23 left in the first quarter.
LSU unveiled Bech as its third different punt returner this season and the Lafayette native electrified the crowd with a 76-yard return for an apparent touchdown. However, South Carolina transfer Kolbe Fields was whistled for an illegal blindside block on the play, nullifying the score.
The Tigers had a second touchdown wiped out by penalty when Daniels' 9-yard scoring pass to tight end Kole Taylor was called back after an offensive pass interference against Nabers.
LSU eventually faced a fourth-and-goal from New Mexico's 21 and settled for a 38-yard field goal that Ramos pushed wide right with 9:12 showing in the second quarter.
"We were patient today," Kelly said. "That's a very difficult defense. They want you to throw the ball down the field and waste downs. We were not going to do that. We were going to be very deliberate, very patient. We were going to throw hitch routes and slant routes. We're going to check it down to the backs, use some clock to score. We got the ball out quickly. It was timely. It was efficient."