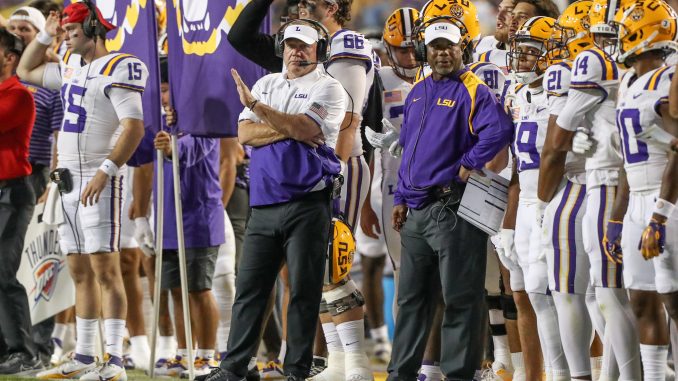 Click Link Below to Hear Brian Kelly and Nick Saban SEC Media Conferences in Full
LSU's second-year football coach Brian Kelly acknowledged the boost it provided to his team that went on to win the SEC Western Division. There was also the additional impetus the Tigers received on the recruiting trail.
But nearly a year later, LSU's 32-31 thrilling overtime victory over Alabama, is a distant memory to Kelly whose No. 15 Tigers (6-2, 4-1 in SEC) are enjoying a bye week this weekend.
LSU travels to No. 9 Alabama next Saturday at 6:30 p.m. on CBS. The game will also be carried by 98.1-FM.
"Seems like an ancient memory," Kelly said Wednesday on the SEC Coaches Teleconference. "I mean, it's what you've done lately. It helps build your recruiting and helps build the momentum in your program. We've got some work to do, clearly still in recruiting, but it helped in the recruiting process. But you know, those are definitely steps in the right direction.
"But as I said for us to get into the ranks of Georgia and Alabama, you've got to be able to do this thing consistently," Kelly said. "So, for us, it's about consistent performance. We haven't been as consistent yet. That's what we'll be looking to model after the Georgia's and the Alabama's consistency and performance."
The two teams traded the lead four times in the fourth quarter when Alabama tied the game with 21 seconds left in regulation on a field goal.
The Crimson Tide took a 31-24 lead with a touchdown and extra point overtime, shifting the pressure back to LSU's offense. Quarterback Jayden Daniels scored on a 25-yard run on first down and after a timeout, successfully completed a two-point pass from Daniels to freshman tight Mason Taylor.
LSU's win over Alabama was a highwater mark during a five-game win streak that included the Tigers, picked last in the preseason, to complete their worst-to-first scenario in Kelly's first season.
LSU, though, lost 38-23 at Texas A&M in its regular season finale and 50-30 to Georgia in the SEC Championship Game.
The Tigers were a preseason No. 5 team to start the 2023 season and were promptly dealt a 45-24 setback against then No. 8 Florida State in the season opener. They dropped to 3-2 overall and 2-1 in SEC play following a 55-49 road loss to Ole Miss before staging a three-game win streak – capped by last week's 62-0 win over Army – going in this week's open date.
Here's what else Kelly had to say:
Opening statement:
"We're pleased with our players' performance this past Saturday against Army; very physical, tough, rugged group, well coached and then you're preparing for an option team. So, our team needed to be disciplined and obviously consistent for four quarters to get a shutout. So really pleased with the maturity and the way they handled themselves after playing five consecutive weeks against SEC opponents. Now we build on that as we go into active rest this week. Working on some details that we need to get better at this week. Today, we'll be in strength and conditioning mode on Thursday, Friday, and then we'll give the guys that weekend off as we prepare for a great Alabama football team. So that's the work in front of us and continue to develop and get our football team better and better as we work towards November."
Did you wear additional padding on helmets in practice at Notre Dame for player safety?
"We didn't wear them. We did not have the data that now is available through the research that has been done with the NFL. That research and that data is now available as of last year. If I had the data, I probably would have worn them at Notre Dame as well. The data, in terms of incidents of head injury in practice and in preseason, was just so compelling that we included them on all of our linemen linebackers, tight ends and running backs and proved to be a very effective tool for us in our practicing."
Status of offensive tackle Emery Jones Jr. and cornerback Zy Alexander?
"Emery will be back at practice today and should be ready to go for Alabama. We're still evaluating Zy that will cause him to miss some time and he'll be evaluated, and we'll have a better indication over the next couple of weeks."
What's your stance on radios in helmets being adopted into college football?
"I think it's absolutely silly that we don't have them. I don't know what the issue has been. I don't know why we've been slowly getting to it. I've been a proponent of it in our SEC meetings. Seems to have not gotten the traction for some reason. I don't know why, to be honest with you. We have all these boards and signs and curtains and it's actually quite silly. So, somebody's going to have to explain to me why we haven't gotten to that level."
How are you using this week to prepare for Alabama?
"Yeah, so you know, clearly, you know, we're not a finished product. There's many things that we have to work on from a technical and a tactical standpoint. You know, physically we'll also give our guys a chance to get in the weight room this week with an extra weight training day and physically recover from a very tough stretch of a games. There's a bit of a mental rest to where you can reset, really now focus on the last third of the season. So that's really what this week allows us to do."
Comparisons to working with offensive coordinator Tommy Rees at Notre Dame and Mike Denbrock at LSU?
"They're different personalities. But in terms of what I know on a day-to-day basis, it's a very similar operation in terms of my interaction with them. I'm a manager and a leader that allows my guys to do their job and really create their offensive kind of flavor within the framework of the offensive system. Each one has a little bit of their own design, but it's clearly something that has a lot of similarities. I think it's just the difference in personalities, but they're both very smart, hardworking, work well with the staff and that's what I'm looking for somebody that has that ability to bring everybody in. It can't be one guy driving it and then I think both have been outstanding and doing that."
What do Denver Harris and Duce Chestnut do to become active players on the roster?
"There's internal things that need to be accomplished and I really can't discuss and they're not with us right now. So, I prefer to just talk about guys that are with us."
Thoughts on Alabama's team this season?
"They're very well coached, I mean that's obvious. Talented defensively. I think they've recruited very well defensively. Length at the outside linebacker position, big and physical inside. Really like the history at the corner, the safeties are athletic and cover man. Love the personnel on defense. Offensively big offensive lineman. You know, the skill positions are underrated. I think they're all guys that can make big plays and the quarterback has developed over the past four weeks to be a dual threat quarterback, that can run it and is very underrated in terms of what he's been able to do the last few weeks in terms of throwing the football. He's made big plays. So, an emerging offense, one that has skill players on the perimeter and then I think a really athletic defense. That that structure is very sound."