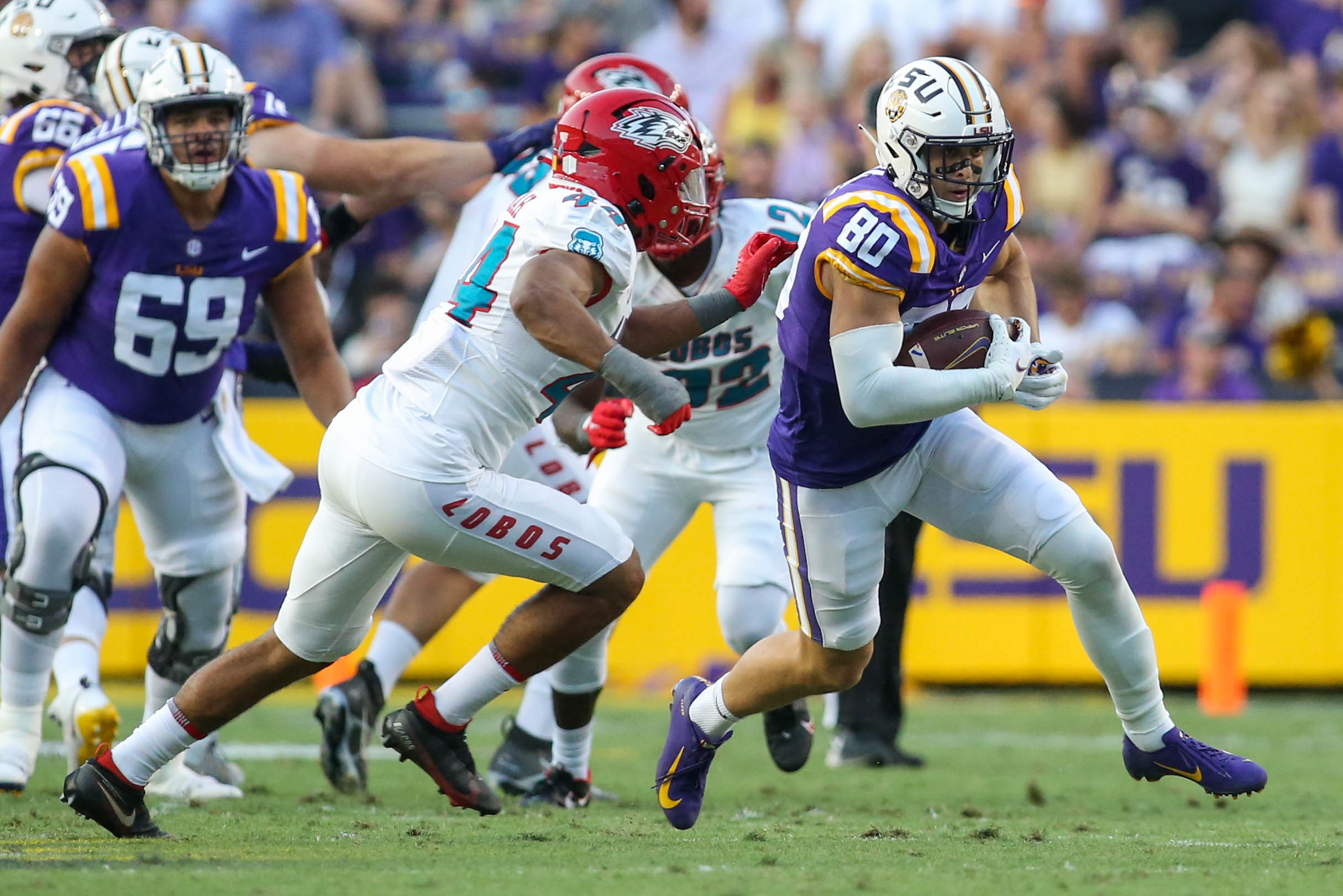 (Editor's Note: Todd Horne is the new editor of Tiger Rag)
Nothing against New Mexico's defensive coordinator Rocky Long.
At least not anything against him personally.
But LSU and head coach Brian Kelly – as in LSU all by itself and, figuratively, Kelly, all by himself – have spent the past two weeks destroying Long's reputation.
It all began last week in Tiger Stadium.
That's when, you more than likely recall, LSU rallied from a 13-point deficit following a mostly anemic first-half offensive performance to blow through Mississippi State defensive coordinator Zach Arnett's vaunted 3-3-5 defense.
By the time final gun sounded against State, LSU had shot enough holes in the favored Bulldogs reputable defenders, outscoring them 31-3 for the remainder of the game en route to a 31-16 upset win.
But that was only a beginning, a preview, if you will, of this Saturday night's massacre in Tiger Stadium of Long's reputation and the myth that apparently is the 3-3-5 defense.
Final score: LSU 38, New Mexico 0.
"The 38-0 score does not define our season," New Mexico coach Danny Gonzalez said. "They were bigger and stronger than us tonight, and they played like it."
Boy did they. They, being the Tigers.
The score not only should have been worse; it actually was worse. Much worse.
It will be interesting to see how long it takes Kelly to beat a team in Tiger Stadium that does not run a 3-3-5 defense.
Probably not long.
But you never know.
Long is one of the reputed godfathers of this allegedly vaunted 3-3-5 defense that's haunted and disrupted college football for the past 15 years or so. He also talks a tough game, too.
As in "we have tough players. We recruit tough players." Blah, blah, blah . . .
Of course, Long brought a top 10 national defensive ranking into Tiger Stadium, but all Gonzales could do was make excuses after LSU rang up 633 total yards on the Lobos' defense, 414 yard through the air and 219 on the ground, those days are over.
"I was disappointed in our effort from the third quarter on, we allowed two long touchdown runs," Gonzales said. "They score 21 points in the second half, obviously you cannot have 33 plays and 88 yards on offense and expect to be competitive in this type of game. We've got to help the defense out."
Long's got disciples and apostles all over the place, too, from Starkville, Mississippi down to his very own sideline. Gonzales is a mentee, a protégé' and a former assistant coach of Long's himself, as is Mississippi State's Arnett.
But beginning long about the third quarter of LSU's dominating second-half performance last week versus Mississippi State, LSU's offense has single-handedly decapitated that myth.
Tonight, had LSU not shot itself it the foot, in the leg and in the head for roughly a six-minute stretch of the second quarter that actually began on the last play of the first quarter. Over that span, two touchdowns were called back – including Jack Bech's 76-yard punt return – and Damian Ramos missed wide right on a field goal, LSU's 51-0 halftime lead earlier this season against Southern University could have conceivably been in jeopardy.
No joke.
As it was, LSU led at halftime, 17-0.
"You just wish you had more points on the board," Kelly said.
Overall, Kelly was happy.
"We're pleased, obviously, anytime you get a shutout. It's difficult to shut out an opponent anytime, college football is set up for success on offense."
Nobody needs to tell that to Rocky Long and his disciples. Not anymore. Thanks to LSU and Brian Kelly and the past two weeks.