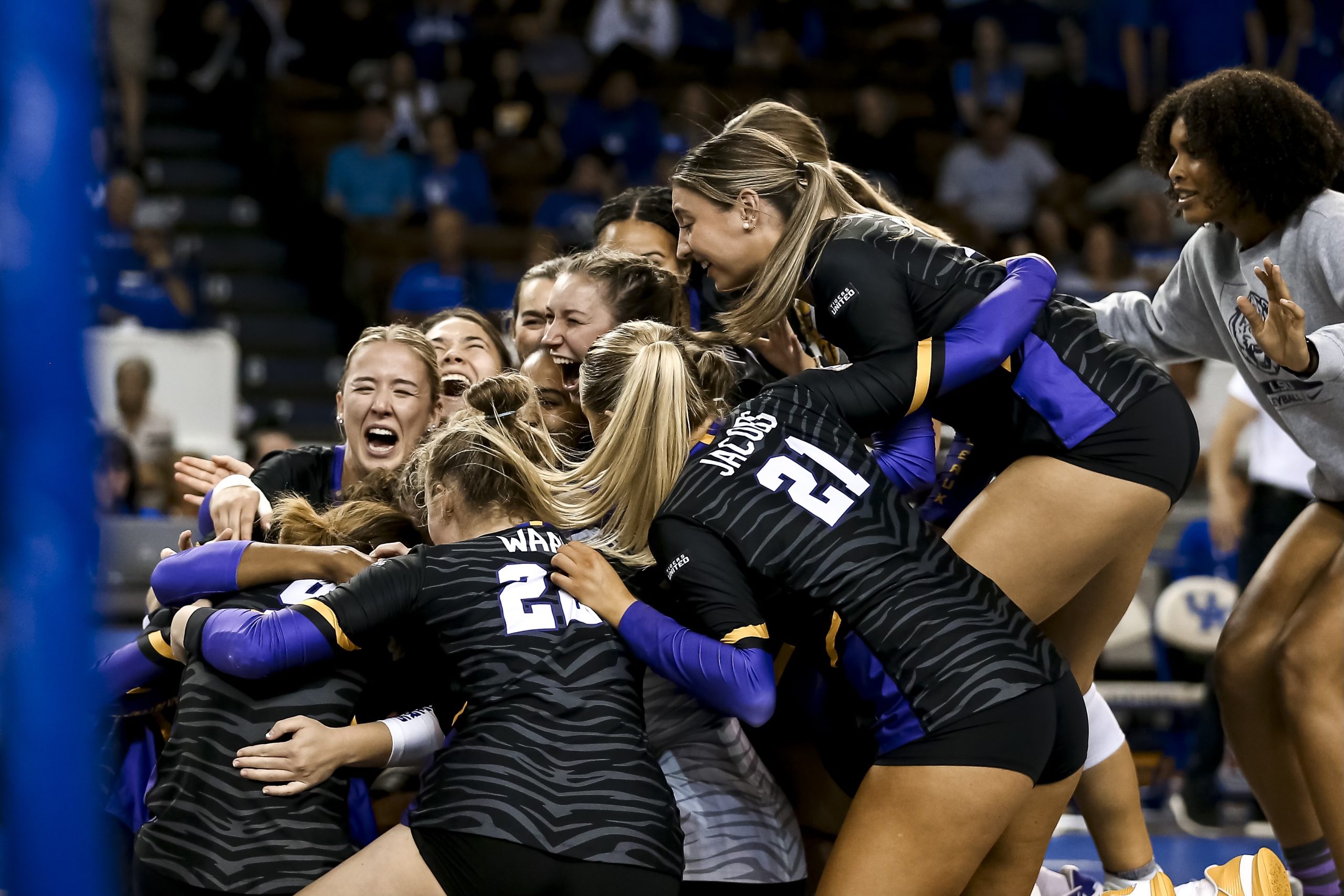 LSU's volleyball team picked up its first road win over a ranked opponent Saturday with a five-set victory over No. 15 Kentucky in Southeastern Conference action at Memorial Coliseum.
The Tigers (8-4, 2-0 in SEC), who won 19-25, 25-17, 25-22, 15-25, 15-11, also defeated No. 20 Arkansas in a five-set thriller at home Thursday.
"This is a huge win for us on the road," LSU volleyball coach Tonya Johnson said. "Obviously it's always tough to play on the road and Kentucky is a good team and ranked 15th in the country and knowing that I thought our kids responded.
"In the first set I do not think we came out focused and ready to go and they took it to us. But from the second set on I felt our kids did a great job taking control of the match and took care of the ball on our side of the net. I could not be prouder of this group of young ladies today."
LSU's back-to-back wins over Arkansas and Kentucky represent the first time the Tigers have accomplished the feat since 1992.
"We have been talking about hitting efficiency in terms of our shot selection, what the sets are giving us and just making better choices," Johnson said. "I thought tonight all of our hitters, our pins and middles did a great job of using the block, tooling the block and keeping the ball in play when we were not in a position to put it away. We hit smart shots tonight. And kudos to our setters. They ran a heck of an offense and did what we asked them to do from a scout perspective and was able to execute."
Outside hitter Sanaa Dotson topped LSU with 20 kills and added nine digs. Outside hitter Paige Flickinger added a double-double with 14 kills and 14 digs, while right side Hannah Jacobs had 13 kills.
Setter Josie Vondran handed out 30 assists and had a career-high six blocks, while setter Maddie Waak contributed 20 assists. Middle blocker Anita Anwusi led the Tigers with eight blocks and had five kills, and libero Ella Larkin finished with a a team-high 17 digs.