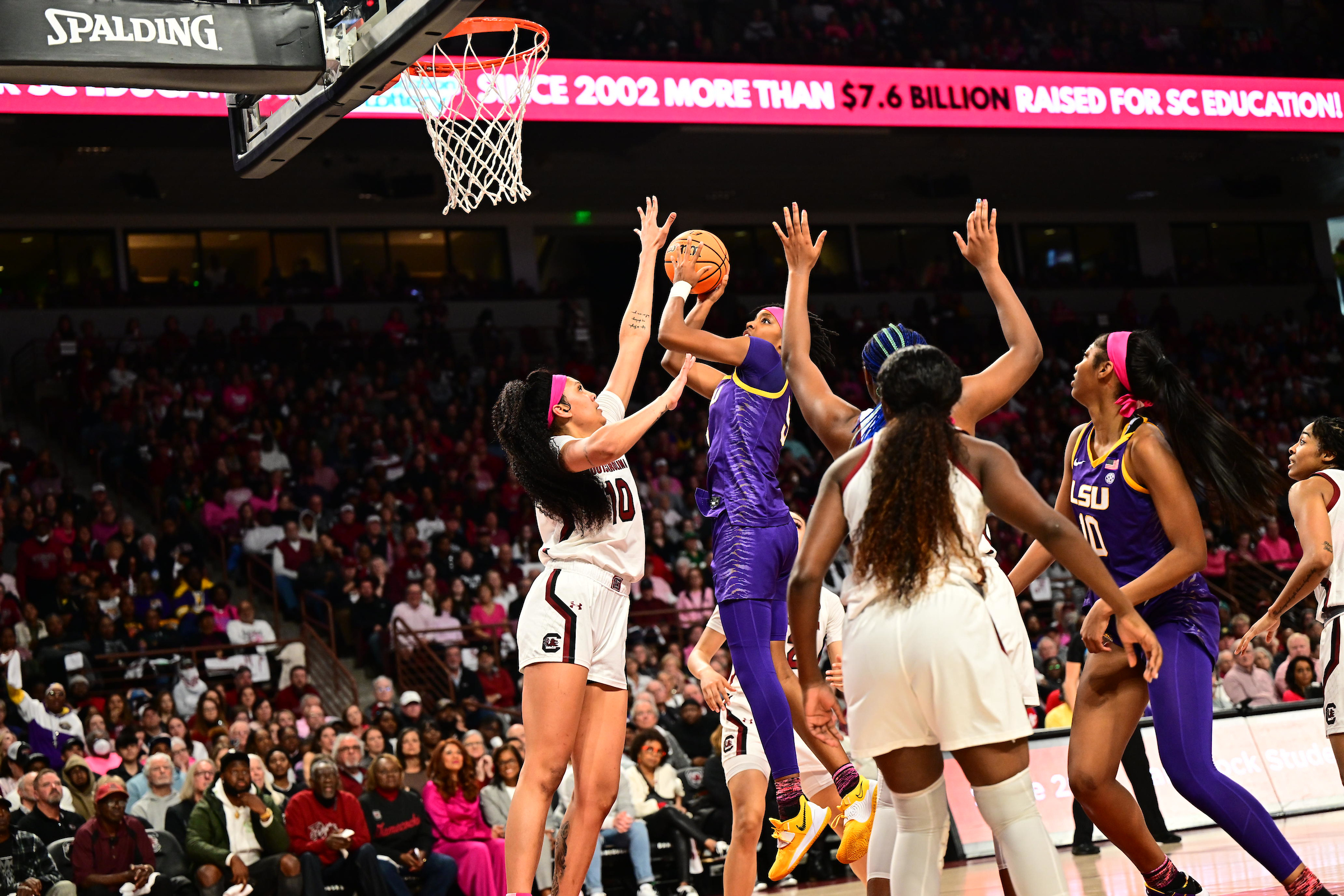 Third-ranked LSU got a view of the top of the mountain Sunday in women's college basketball.
Second-year coach Kim Mulkey believes her team's will continue climbing to try and close the gulf that exits between the Tigers and top-ranked and defending national champion South Carolina following the Gamecocks' 88-64 decisive victory in battle of unbeaten teams before a sold-out crowd of 18,000 in Colonial Life Arena.
"I got to get a true gauge of where we are, what we need to do to get where South Carolina is," Mulkey said. "They have a lot of things that we don't have. That's not just LSU, that's a lot of teams in the country. I thought it started at the tip. We played catchup from the time they tipped the ball and it's just learning."
South Carolina (25-0) scored four seconds into the game, raced out to a 18-2 lead and never trailed in extending their win streak to a school-record 31 games. The Gamecocks also won for the 30th straight time on their home floor and for the 19th straight time against a ranked opponent.
"We don't want to lose and certainly not in our building," South Carolina coach Dawn Staley said. "Our players want to win at all costs."
South Carolina had a distinctive blueprint in handing LSU (23-1, 11-1) its first loss of the season. The Gamecocks (12-0) also took over sole possession of the Southeastern Conference with four games remaining in the regular season.
"This game will not affect our next four games," said Mulkey, whose team hosts Ole Miss at 8 p.m. Thursday. "If we lose the next four games, it will be because the next four teams happen to be better. This is one game and they've been told that. What this does it allows South Carolina to be in position to win another SEC Championship as they should and nothing more."
South Carolina, which shot 57.4% (35 of 61), had five players score in double figures, led by 6-foot-7 center Kamilla Cardoso's 18 points and 13 rebounds in 21 minutes. Guard Zia Cooke added 17 and two-time national player of the Year Aliyah Boston scored 14, Brea Beal 11 and Raven Johnson 10.
Behind the bruising play of Cardoso, who scored 12 points in the fourth quarter, and 6-5 Boston leading the way, South Carolina outrebounded LSU 43-25 and scored 46 points in the paint.
"We tried playing from behind," Mulkey said of Cardoso. "We didn't get enough help from the guards. They just lob it over your head and she's a presence in the paint and boy do they use that paint."
LSU had its best start in school history come to end very unceremoniously.
Fifth-year guard Alexis Morris overcame an early knee injury to score a game-high 23 points on 11-of-29 shooting with six rebounds. Sophomore Angel Reese had her school-record streak of 23 consecutive double-doubles halted with 16 points on 5-of-15 shooting, four rebounds and four blocked shots.
"I thought Angel wanted to do good," Mulkey said. "I thought she was ready to play. Size affected her when she would try to drive, altering her shot. I think we've seen Angel compete better on the boards. Probably a lot of it has to do with them."
The Tigers were limited to 40% shooting (26 of 65) from the field. Freshman reserve Sa'Myah Smith added seven points and matched Morris with six rebounds.
"The tone for the whole game was set on the jump ball," Mulkey said. "They didn't line up the way they were told. You've got to teach and make them understand. I thought we had fight in us to cut it many times and then we didn't have the experience to make it a defensive stop of get a big rebound. We all knew coming into the game South Carolina was a beast on the boards and it showed again today."
Morris scored 15 points through 14 minutes of play, keeping LSU at arm's length at 28-23, and the Tigers closed to within 34-29 with 2:26 to go before halftime on LaDazhia Williams' second chance basket and the Tiger ultimately faced a 42-32 deficit at halftime.
LSU, now 2-18 all-time against top-ranked teams, got as close as five points (45-40) at the 7:21 mark of the third quarter on Reese's driving layup when Williams picked up her fourth foul on the other end of the floor seven seconds later. She fouled out with 6:49 left in the game.
South Carolina went on a 9-2 run to finish the quarter with Beal knocking down a 3-pointer for a 64-48 lead with 2.3 seconds left.
The Gamecocks almost went exclusively to Cardoso in the low block to completely blow the game wide open. She scored nine straight points for her team and Johnson added a driving layup to make it 80-57 with 3:23 left. Her offensive follow accounted for the game's biggest lead of 86-62 with 1:12 showing.
"I give my utmost respect how good they are, how big they are, how talented they are," Mulkey said. "It's South Carolina and everybody else and after playing them today, my opinion of that hasn't changed. They have things we don't have and a lot of the teams in the country don't have. We aspire to be there one day."
South Carolina scored off the opening tip with Cooke and was off to the races in the first five minutes of the game. The Gamecocks built a 18-2 advantage behind the scoring of Cooke and Beale.
With Reese and Flau'jae Johnson saddled with two fouls apiece, Morris single-handedly kept LSU competitive. The Tigers went on an 11-1 run over a 2 ½ minute stretch that Morris capped with a 3-pointer from the wing, drawing the Tigers to within 19-13 with 2:06 left.
LSU lost Reese to the bench with a second foul with 1:15 remaining and trailed 24-15.
"I thought we got South Carolina's best shot at all positions," Mulkey said. "With 18,000 people on your home floor, I just thought they were very, very good today."