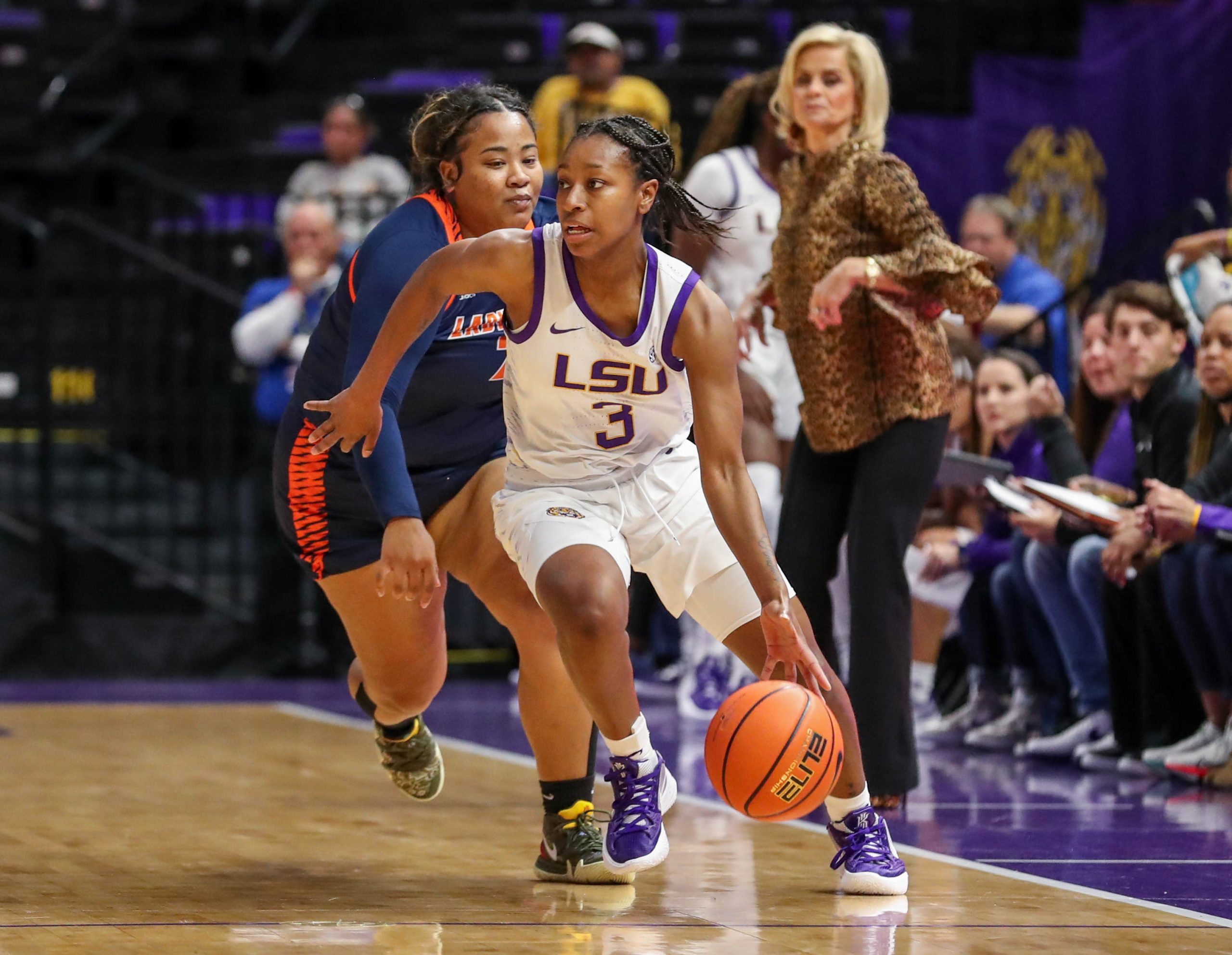 LSU guard Khayla Pointer held up her right arm in admiration.
Pointer had just taken a pass from teammate Ryann Payne following the steal of an inbounds pass and finished the first half with a 3-pointer for a 17-point halftime lead.
Pointer, already near the corner of the floor, turned toward the crowd with her arm still skyward for effect, the result of a terrific finish that helped the Tigers to an overwhelming 112-48 exhibition victory Saturday over Langston College before a crowd of 1,076 at the Pete Maravich Assembly Center.
"I think we're out there just having fun," said Pointer, a returning first team All-SEC performer. "We love each other, we love playing for Coach Mulkey. You have to have fun out there. You're out there playing free; everybody has confidence in their game. That's when the excitement comes in the game, and I think that's what you saw."
LSU remained aggressive throughout the third quarter, turning its 26-point halftime lead into a 79-25 advantage, courtesy of its full-court pressure. The Tigers, who had 26 steals, enjoyed a healthy 52-15 margin in points scored off 44 turnovers.
Pointer finished with a game-high 22 points on 9-of-19 shooting, including 4-of-6 from 3-point range, to go with six assists and five steals, before taking a seat for the fourth quarter when Mulkey emptied her bench and allowed all 12 players in uniform to play, 11 of which scored.
Graduate transfer guard Jailin Cherry scored 17 points with seven rebounds and graduate transfer Autumn Newby of Vanderbilt registered a double-double with 10 points and a game-high 16 rebounds.
"I opted out last year, so this was my first game in over a 1 1/2 years," Newby said. "It was just really exciting. I had little bit of jitters in the beginning."
The Tigers, who shot 44.8 percent, had a total of five players in double figures with fifth-year senior Awa Trasi scoring 15 and freshman point guard Timia Ware adding 15 on 7-of-10 shooting.
During the third quarter LSU steadily pushed its lead from 30 points (46-16), to 40 (60-20) and 50 (74-32) with reserve Sarah Shematsi scoring all six of her team's points in the last 1:25 for a 79-25 lead after three quarters.
LSU cracked the 100-point plateau with 4:347 to play when walk on guard Emily Ward fed Trasi for a fastbreak layup that made it 100-35 and the Tigers went onto lead by as many as 68 points (105-37) with 3:33 left on another transition basket from Trasi after an assist from Ward.
"It went about how I anticipated it," Mulkey said. "Turnovers (24) are always horrible. It's got to get better, and we'll clean that up. The second thing I look at is field goal percentage defense (25 percent). How are we guarding people out there. Lastly, how do we score points? We basically have the same team with a few added pieces."
The only thing more lopsided than the score was LSU's rebound margin of 68-29 with Newby leading the way with 16. Trasi added nine and Pointer 7.
Langston, a NAIA school located in Langston, Okla. and coached by former LSU standout Elaine Powell, put together its best minutes at the start the second quarter, outscoring LSU 10-2 and trailed 25-15.
The Lions did so on the strength on three 3-pointers, including a pair from Jaliyah Sampson with the second coming at the 7:04 mark.
Newby stopped that surge and triggered a stretch of 13 unanswered points with three different players contributing for a 38-15 cushion with 1:04 showing following Pointer's driving basket after a turnover.
Sampson, one of three double-digit scorers for Langston with 13, provided her team's lone point in the last seven minutes when she made the second of a two-shot intentional foul opportunity.
LSU, which forced 20 turnovers in the opening 20 minutes, converted a pair of miscues into points in the final 15 seconds of play with a hanging lay-in from Cherry followed by Payne's steal and assist to Pointer for her third 3-pointer of the half.
"I think the main thing is we played hard, we played for each other, and we have one common goal and that's to win the game," Pointer said.