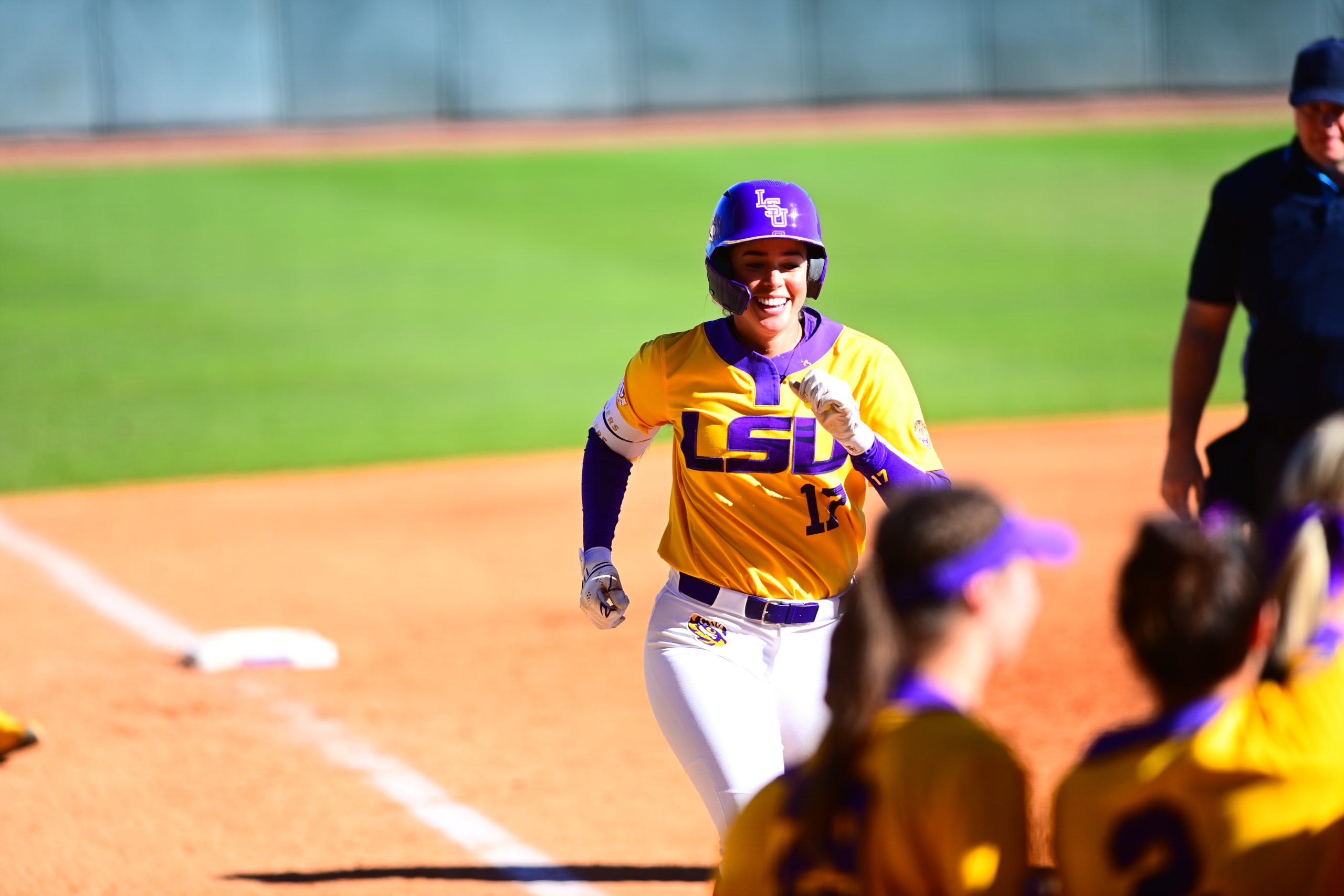 LSU's softball team had to sweat it out before completing a clean sweep of its own LSU Invitational.
The No. 25 Tigers were led at the plate by a three-run homer from Taylor Pleasants in the third inning and freshman pitcher Sydney Berzon preserved her team's 4-3 victory Sunday over Nicholls at Tiger Park.
LSU (5-0) opened Sunday with a 3-0 victory over No. 19 Oregon State.
"We have a ton of things to learn and get better at," LSU softball coach Beth Torina said. "But to be able to learn as you're winning is the way you want to do it. Taylor Pleasants had an incredible weekend for us, and I think she elevated our offense. Sydney Berzon shined throughout the weekend too and stepped up when we called upon her name to get the job done."
LSU 4, Nicholls 3: With the game tied at 1-all, Pleasants homered for second time in the day and fourth time in the weekend, a three-run shot that gave LSU the lead for good.
Stewart, who led off with a single, and Georgia Clark were on base for Pleasants' homer – a full-count offering off Nicholls pitcher Molly Vandenbout. It was the 33rd homer of her career, moving her into fifth place on the school's career list.
LSU finished with eight hits, led by Ciara Briggs and Savannah Stewart with two hits apiece.
Nicholls (1-3) sliced LSU's lead to 4-3 in the fifth on Alexa Poche's two-run homer off relief pitcher Emilee Casanova.
Berzon began the seventh inning and worked a perfect frame with a strikeout for her second save of the weekend.
LSU 3, Oregon State 0: Kilponen (2-0) walked three and struck out 10. She threw 65 of 96 pitches for strikes in her second complete game of the weekend.
A day after taking a mercy-rule win over the Beavers, the Tigers were locked in more a tense battle that included getting a run in the second and two more in the fifth to support Kilponen.
Third baseman Danieca Coffey gave LSU a 1-0 lead with a sacrifice fly that scored McKenzie Redoutey from third.
The Tigers, who took a 12-0 win in five innings over the Beavers on Saturday, made it 3-0 on Pleasants' two-run homer off OSU's losing pitcher Sarah Haendiges who lasted 4.1 innings.
Briggs dropped down a one-out bunt and Pleasants followed by belting a 2-1 pitch over the fence in right field.
Kilponen walked a batter in the first and two more in the third but worked out of any potential trouble in both innings. She allowed a lead-off single to Madi Simon in the fourth but responded with three straight outs to close the inning.