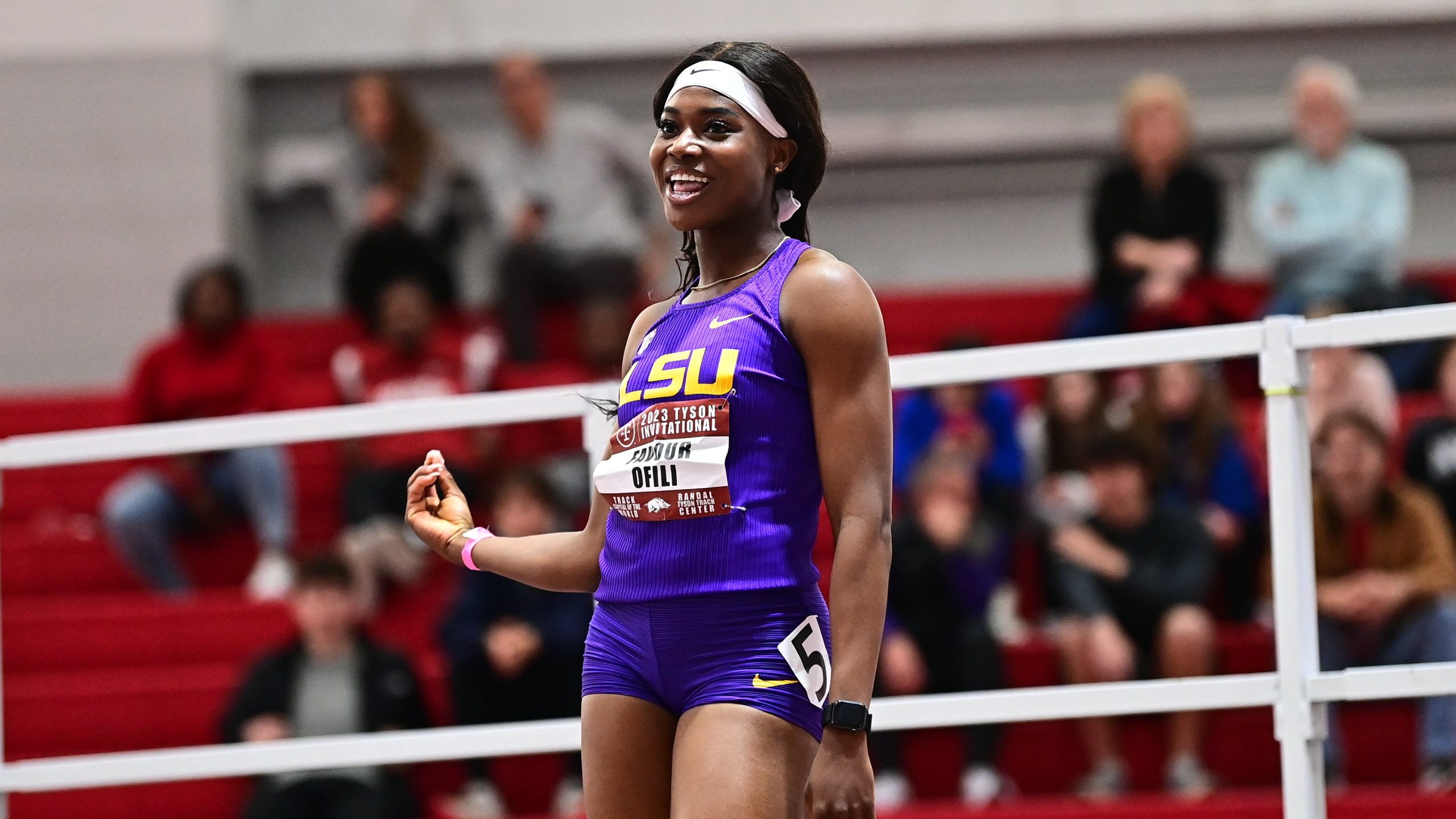 LSU's standout sprinter Favour Ofili took her game to another level Saturday at Arkansas' Randal Tyson Invitational.
Ofili's blistering time in the 200 meters of 22.36 seconds not only won the event but broke her own school and meet record and was the No. 1 time nationally and the world. The mark was the second fastest time ever run in collegiate history and sixth fastest in world history.
The Tigers also picked up another first place at the meet from shot putter John Meyers turning in a winning effort of 66 feet, 9 ¾ inches for a school record.
LSU, which split teams for the weekend and sent a contingent to Boston, also had several strong performances in the David Hemery Valentine Invitational at Boston University.
Jackson Martingayle won the 5,000 meters with a personal best of 14 minutes, 25.35 seconds. That ranks him seventh all-time in school history.
The Tigers also picked up a second place finish from Alex Selles in the 800 (1:47.33) which is the top time in school history and eighth nationally. Davis Bove (7:53.73) turned in a program best time in the 3,000 meters and Parker McBride (1:49.91) had the seventh best 800-meter time in school history.
LSU also had three top-three finishes at the Tyson Invitational with pole vaulter Beau Domingue (17-1 ½) who was second, Morgan Smalls (6-1/2) was third with a PR in the high jump and Apalos Edwards (52-11) third in the triple jump.
LSU returns home Friday to host its LSU Twilight meet to finish the regular season before returning to Fayetteville, Arkansas for the Feb. 24 SEC Championships.