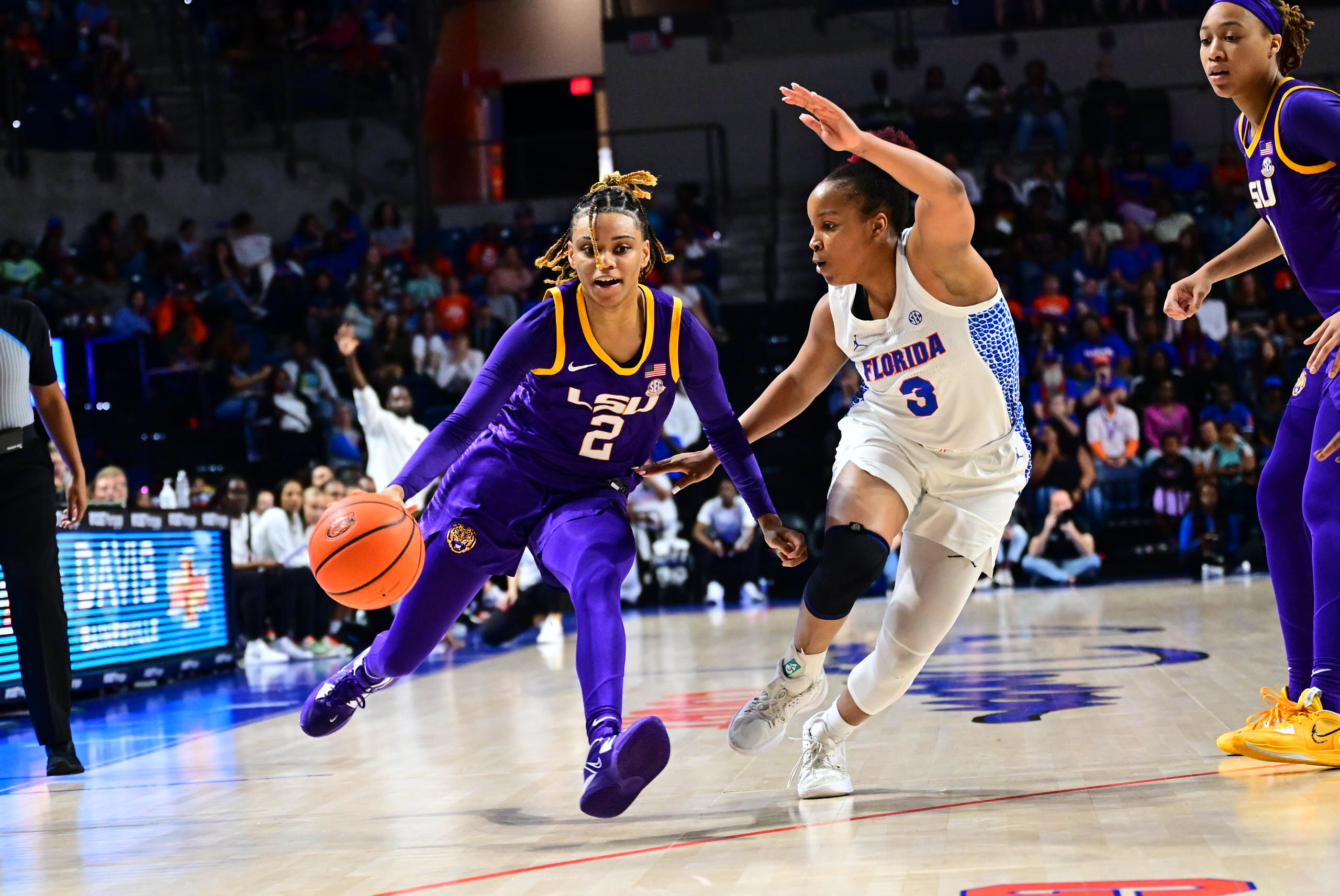 There wasn't anything to suggest that LSU graduate student Jasmine Carson was on the verge of exploding offensively. With 16 points in her last five games, the slender guard's often found herself on the bench because there have been defensive matchups precluding her from being on the floor.
With fifth-ranked LSU losing two-thirds of its starting backcourt to foul trouble in the first six minutes of Sunday's game at Florida, Carson elevated her play in a big way and helped the Tigers to a 90-79 victory in Southeastern Conference action before a crowd of 3,498 at Exactech Arena.
Carson shared team-high scoring honors with Angel Reese, each scoring 25 points, but it was a season-high seven 3-pointers from the West Virginia transfer that was a point of discussion afterward. It was also a career-best in points as well.
"I thought Jasmine Carson was unbelievable today and gosh knows we needed it," LSU coach Kim Mulkey said, after starters Alexis Morris and Flau'jae Johnson were sidelined with two fouls apiece in the first quarter.
Carson and Reese, who had her 25th double-double with 10 rebounds, were two of four players that scored in double figures, keeping LSU (25-1, 13-1 in SEC) in second place in the league standings. Graduate student LaDazhia Williams had a double-double with 15 points and 10 rebounds and freshman guard Flau'jae Johnson scored all 12 of her points in the second half.
Behind Carson's marksmanship, matching the seven 3s made by Pietra Gay in 1997, the Tigers made a season-high 11 3-points and were 55% (11 of 20) from behind the arc. Johnson added a pair and Kateri Poole and Last-Tear Poa added one.
"She's a great 3-point shooter," Reese said of Carson on the SEC Network's postgame show. "She was able to make some key shots. I'm glad she was able to get her confidence back."
Florida (14-13, 3-11) trailed 66-57 with 7:47 remaining on a drive from Kirsten Deans, who led all scorers with 30 points.
Reese scored 11 points in the final quarter and Johnson added 10, propelling LSU to 31 points and 68.4% (13 of 19) shooting in the fourth quarter. The Tigers established leads of 17 points on four occasions, the last coming at 90-73 with 32 seconds left on Reese's 15-footer.
At that point Mulkey subbed out her entire starting five only to watch Florida continue to press and reel off the last six points of the game.
"I'll never do it again unless the coach on the opposing side understands what I'm doing," Mulkey said on her radio show. "She (Florida coach Kelly Rae Finley) kept her starters in and kept pressing. You don't do that, but that's just me. She has to coach her team and I'll coach my team, but those last four to six points are on me. I learned not to do that again. Not against Florida."
LSU struggled to get on track in the third quarter, failing to a score basket for more than six minutes and turning the ball over five times.
Florida managed to cut into LSU's 47-31 halftime lead with a 7-0 run out of the locker room until Morris made a pair of technical free throws at the 4:53 mark and 49-38 lead.
The Gators got as close as 51-44 on Jordyn Merritt's two free throws when Carson stepped forward with a 3-pointer from the wing – her first points of the second half. Kateri Poole followed with another 3 to stretch the lead back to 57-44 with 2:05 showing.
Poole finished the quarter, in which LSU shot just 26.7% (4 of 15), by making a tough drive to the goal and 59-50 lead.
"We had five or six empty possessions," Mulkey said. "We'll find who needs to touch the ball and I don't think we did a good job. Alexis Morris couldn't get in sync and in rhythm. I was proud of the three (Poa, Poole and Sa'Myah Smith) coming off the bench. I thought they did their jobs today."
Carson and Reese combined for 31 points, a total that matched that of Florida which trailed LSU 47-31 at halftime.
The emergence of Carson couldn't have come at a better time with Morris and Johnson sitting on the bench. She made 6-of-11 shots that included five 3-pointers in the first half, including two straight to fuel a 8-0 run and 45-29 advantage after Williams' basket with 1:54 left before halftime.
She scored 17 points in the first half, seven over her season's average, and one more than the point total from her previous five games.
Within a matter of seconds, the complexion of LSU's starting lineup changed when Morris joined Johnson on the bench with two fouls with just over four minutes left in the first quarter and Florida leading 17-15.
Florida's 52.9% shooting percentage helped to keep the game tied five times in the first quarter when LSU surged to take a 27-20 lead on a three-point play from Poa and a driving layup from Reese with 40 seconds to go.
"When Jasmine's out there, she's got the green light," Mulkey said. "When we play against the tough teams that really stress defense, they're not going to give her open looks. But you've got to keep shooting. She got a lot of good looks today."