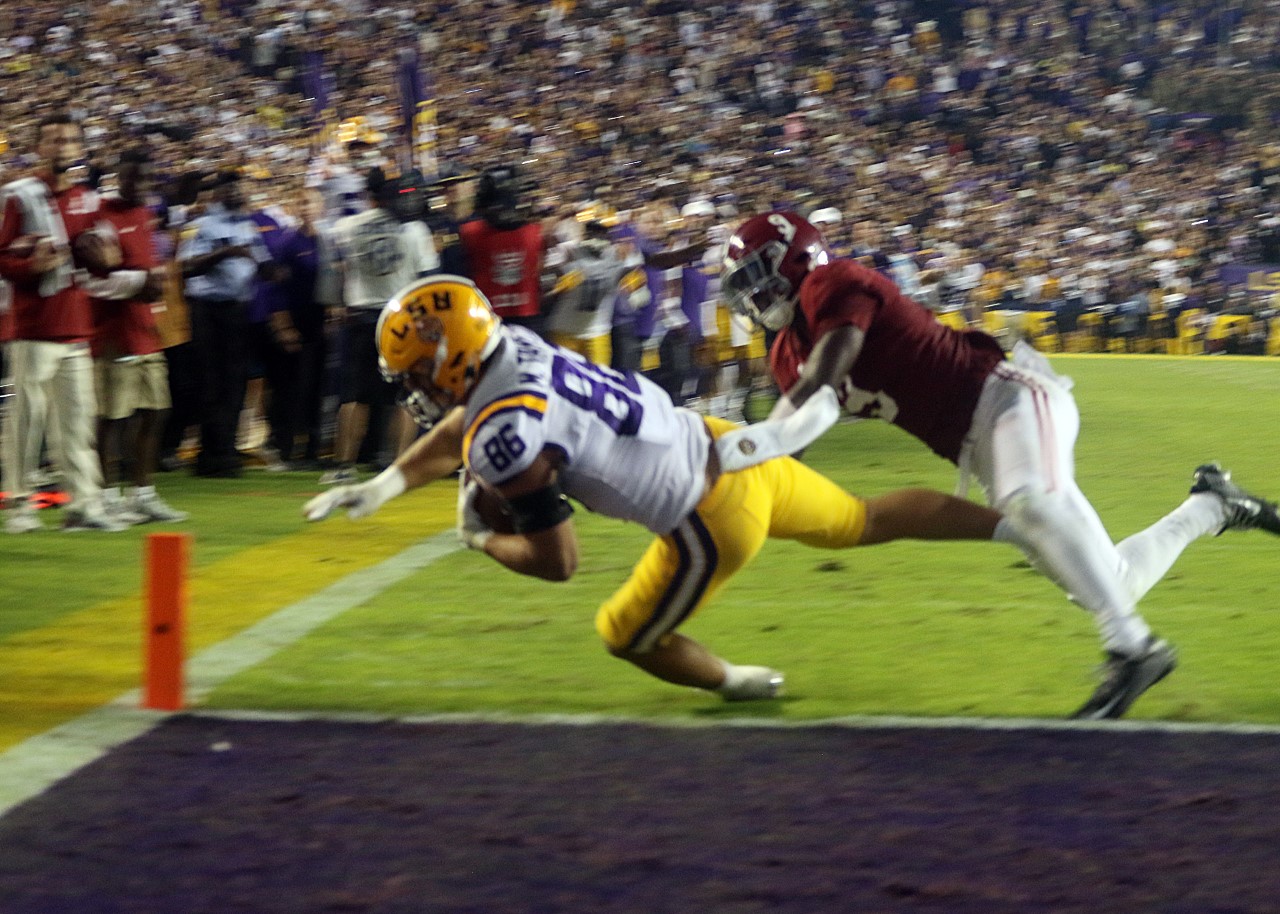 Jayden Daniels is now forever an LSU legend.
Meanwhile, Brian Kelly is, too.
After all, Daniels and Kelly – the quarterback and the coach – combined to lead LSU to an epic win over Alabama and placed LSU where no one in their right mind ever imagined the Tigers would be in this first week of November.
Not even LSU athletic director Scott Woodward imagined it when he lured Kelly away from Notre Dame last November, nor even Kelly himself when he called Daniels to Baton Rouge from Arizona State last January.
Who could have imagined this?
After tonight. After beating Alabama. After Kelly beat Nick Saban for the first time ever. LSU is, incredibly, all of the below:
In first place in the SEC West.
In control of its own destiny to play in the SEC Championship game in Atlanta
Daring to think it possible, if not plausible, that LSU could, in fact, find itself headed to the College Football Playoffs.
All in Kelly's first year?
Shut your mouth!
But, I'll be damn if it is not all true.
No. 10 (CFP rankings) LSU knocked off No. 6 Alabama, 32-31, in an overtime thriller at Tiger Stadium that saw Daniels complete a legendary performance.
Trailing 31-24 in OT, Daniels dusted Alabama's defense, outrunning every Crimson red jersey to end zone on LSU's first play of the extra period.
Daniels effectively handed the baton to Kelly at that moment.
If you were expecting Damian Ramos to trot out onto the field to boot the PAT and force a second OT, you were shocked.
Most everyone was. Shocked.
Kelly decided to go for broke.
Kicking a point-after would have been the easy way out, right? The safe way.
Then, LSU and Bama could strap back on the gloves and slug it out all over again.
But Kelly did not even think twice.
Kelly sent in the play Tiger fans will never forget. Kelly said he knew exactly the one he wanted to call.
Daniels took the snap. He rolled somewhat to his right and then Daniels fired a little flare to freshman tight end Mason Taylor.
"When they first called the play, my heart low key dropped," Taylor said. "I'm not gonna lie, but we practiced for this. Pressure is a privilege at LSU. So, I went out there and executed just like practice."
That's when Tiger Stadium erupted.
Decibel levels unheard of were reached.
"It was a decision I made at that moment," Kelly said. "I just felt as I thought about it (in the moment) we could boil this game to one play and win this game, before the game started if you would have asked me, 'Hey, I'm going to give you one play, and if you're successful on that one play, you beat Alabama.' I would have taken that a hundred times out of a hundred.
"And at that moment it kind of hit me that way. I knew we had a really good play that we hadn't used and they hadn't seen. And when you get five (Daniels) out on the perimeter, you truly have a threat. So, I felt really good about that play, and it was executed. That was the thought behind it."
Ding dong. The witch was dead. Kelly had beaten Saban.
LSU was BACK.
In his very first season at LSU, some two months after falling to Florida State in his first game as coach because of a blocked extra point effectively preventing overtime, Kelly called the shot heard around the world.
It was all over, the game – and Alabama's chances for a return to the College Football Playoffs, for all intents and purposes.
"It would be an understatement to say how disappointed our team is, how disappointed we all are." Saban said. "It is a tough environment, a tough place to play. We got to give credit to LSU for making the plays that they made when they needed to make them."
In a back-and-forth duel with Heisman Trophy winner Bryce Young of Alabama, Daniels twice led the Tigers back from deficits in the fourth quarter and once again in overtime.
Daniels did it with his arm and his feet, throwing scoring passes to Taylor and running in from 25 yards in overtime, before finding Taylor again for the successful two-point conversion that etched his name into Tiger history.
"We are not here unless our quarterback plays really well," Kelly said. "He did some really amazing things, and in particular late. He made big plays late when he needed to. He ran when he needed to. He threw it to make big plays. But this is a team game. We did some great things defensively. Our special teams was good. Look, to beat a Top 10 team again at home, and to beat Alabama, you've got have a complete football game."
Ironically, two nights before LSU took down Alabama to rival the classics of LSU's 2019 season in the hearts of Tiger fans everywhere – Kelly let the world in on a secret.
He told everyone who would listen very clearly and very loudly, and very meekly, too.
"I am not worried about beating Alabama on Saturday night, I am worried about being the best team on the field this Saturday night against Alabama."
Don't worry, Coach.
Not anymore.