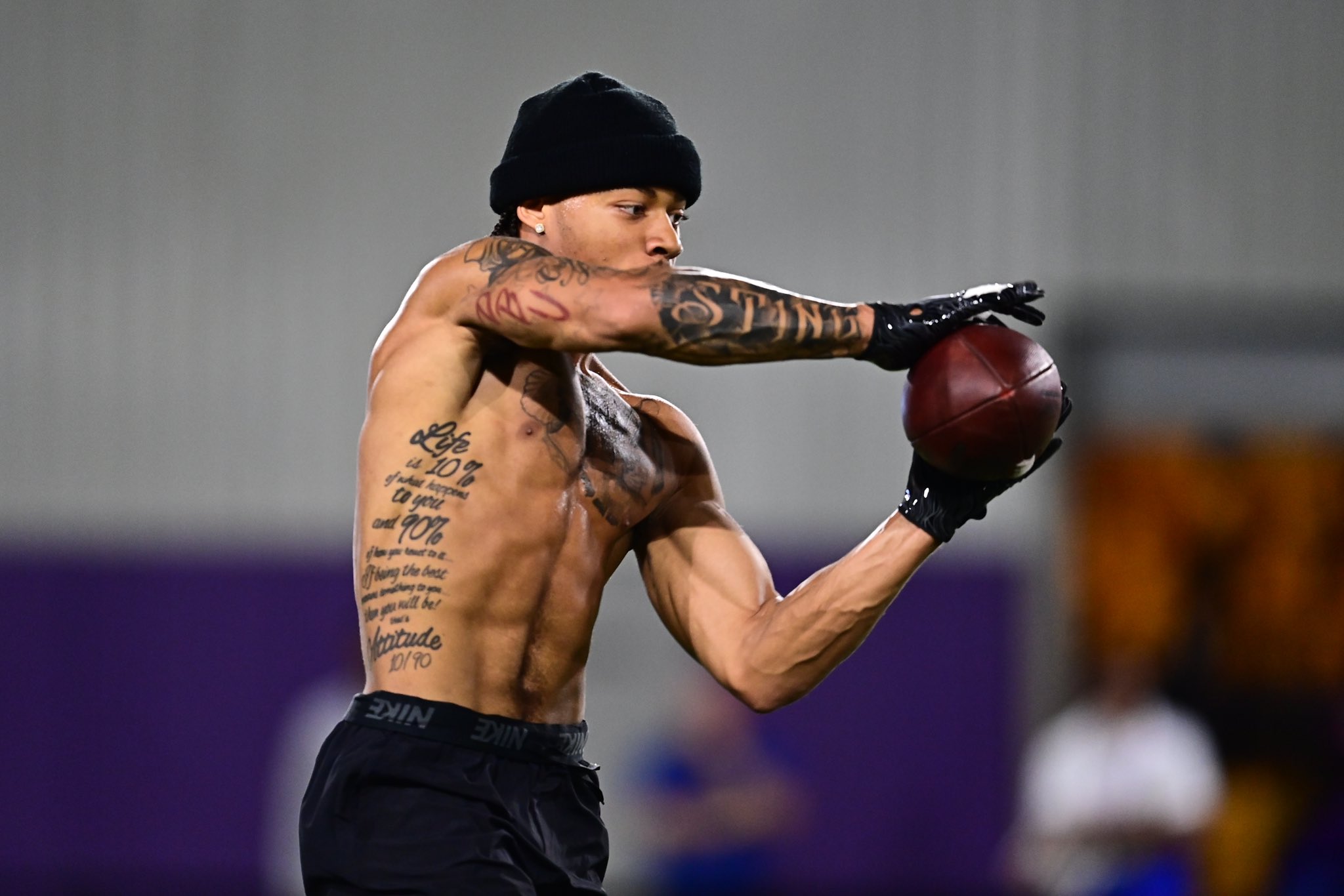 Back on LSU's April 6 Pro Day in advance of the 2022 NFL Draft, Derek Stingley Jr. was asked the question so many of the greats get asked at some point in their career.
"What is your why?" someone said to Stingley.
It boils down to motivation.
Asked another way, why does he do what he does? What drives him? What makes him tick?
Stingley's response was as revealing as it was brief.
"I just want to be the greatest ever – like, ever," he said.
That's what has attracted NFL scouts to Stingley, regarded as one of the top prospects in the draft that opens Thursday (7 p.m. central Saturday; ESPN, ABC, NFL Network) and runs through Saturday in Las Vegas, despite his injury history and an LSU career that started as hot as Vegas in the summertime but fizzled in the end.
Stingley could be a Top 10 pick, and perhaps the first cornerback selected.
Other former Tigers who go in the seven-round draft's top half include cornerback Cordale Flott and defensive lineman Neil Farrell.
Stingley – grandson of late New England Patriots receiver Darryl Stingley, who was tragically left paralyzed by a brutal 1978 hit from Jack Tatum of the Oakland Raiders, son of 1993 Philadelphia Phillies draft pick Derek Stingley, a longtime former Arena Football League player and coach – was a consensus All-American as a freshman during LSU's 15-0 national championship season.
He started all 15 games at cornerback that season, led the SEC in interceptions with six and finished No. 2 nationally in passes defended with 21.
But Stingley missed LSU's 2020 season-opening loss to Mississippi State with what LSU called an "illness."
He missed the last two games that year – victories over Florida and Ole Miss that got the Tigers to 5-5 in a COVID-19 shortened year – with an ankle injury.
And he missed all but the first three games of LSU's 2021 season, which ended with a 6-7 record, with a foot injury, prompting some to question Stingley's mindset and wonder if he perhaps was resting on 2019 laurels while biding time before the 2022 draft.
The nature of Stingley's painful foot injury, however, seemingly squashes that notion.
Stingley said he hurt the foot on the first day of preseason camp last year and, something many didn't know before he said it, played the first three games with the foot still injured before shutting things down.
He subsequently underwent surgery to repair a Lisfranc fracture, which – according to the Cleveland Clinic's website – occurs in a complicated area of the midfoot "where the metatarsal bones (the bridges to your toes) connect to the rest of your foot."
Recovery from Lisfranc surgery is no small task, and it often takes a patient a while to regain full confidence in the foot.
It took Stingley six months and then some.
"With the Lisfranc, it comes down to, like, a mental barrier," Stingley said at the Pro Day. "So, once you tell yourself that you're kind of good, then you'll go out there and you'll be fine.
"The Lisfranc is an injury (that) once you get it fixed, you'll never worry about it again. So, I feel fine right now. It doesn't even feel like I hurt it in the first place."
Yet Stingley wasn't even cleared to resume running on the foot until three weeks prior to his Pro Day, which is why he skipped testing at the NFL Draft Combine in Indianapolis.
He began his rehab work and training at the Exos Pro Sports Training Center in Gulf Breeze, Florida, and continued it at Exos in Frisco, Texas, near Dallas.
"It was a lot of work," Stingley said. "A lot of work."
But he wasn't truly 100%, Stingley said, until two days before Pro Day.
Which is one reason the scouts had so many questions to ask, so much uncertainty about just where Stingley was at.
He answered much of that by running the first of his two 40-yard dashes in 4.37 seconds, which would have ranked fifth among cornerbacks at the Combine, and posting a vertical jump of 38.5 inches, which would have ranked fourth among corners in Indianapolis.
The rest of his answers came through Pro Day conversation, like the one he said he had with Los Angeles Chargers coach Brandon Staley.
"His whole reason, he just told me, for coming out here (to Baton Rouge)," Stingley said, "was he wanted to see if I still had the determination and just the power to go out there and just perform. And when he (saw) it, he said that's what he was waiting to see and that's what a lot of people were trying to see as well."
The process never grew frustrating for Stingley, he suggested, for a reason obvious to him.
"Because I'm calm," he said. "I don't really worry about what I can't control."
So, for most NFL observers, at least according to Stingley, the questions were more about his physical state than his mindset.
But some have wondered, which is why Stingley understood when they asked.
"They're just trying to get to know who I am, because I don't do all that talking," he said. "So, they just want to know who I am in person."
The answer to that?
Just a guy who wants to be the greatest, like, ever.