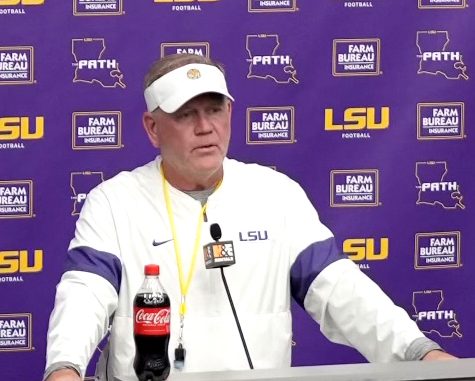 The LSU football team is changing its injury update protocol ahead of the upcoming 2023 season primarily so the players and staff are not badgered by the media and people with gambling interests, coach Brian Kelly said during his post-practice press conference following day one of Fall camp.
The team will be updating the status of injured players twice a week and will then list the players' availability on gamedays.
"We thought it was important given the nature of what's going on today, how they're relative to reporting," head coach Brian Kelly said to the media on Thursday. "We wanted to make sure that we were transparent with injuries, not putting any pressure on anybody here to guess who's in who's out."
Kelly also said that extent of the likelihood of the player's status will be probable, questionable, and doubtful.
The new protocol is uncommon among other college sports programs, but Kelly does not think it brings a competitive advantage making the injury statuses more public.
"I think you're preparing during the week for what you expect. I mean, I can't tell you how many times we didn't know a particular quarterback was playing. You got to adjust on the fly."
The team's first game is scheduled for Sunday, Sept. 3.