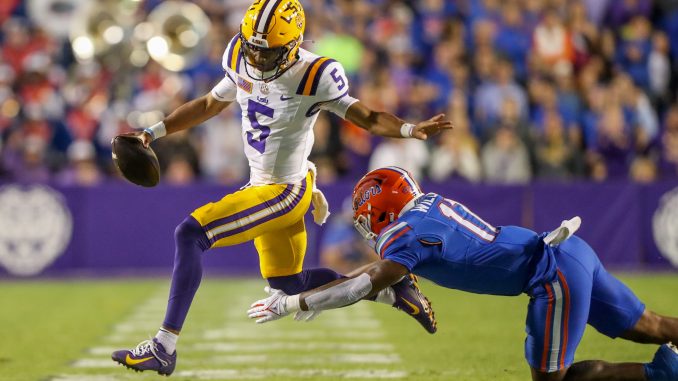 The Heisman Trophy is supposed to go to the most outstanding college football in the country.
The people who determine the winner of the Heisman Trophy each year are sportswriters who are by definition supposed to cast their vote based on an albeit subjective criteria of voting for the player who is deemed to be the most outstanding in all of the land, which means – by definition – the most exceptional one.
That is – by definition, this season – the one and only Jayden Daniels.
College football has been played for 154 years.
Saturday night, as he has done all season long, Daniels put his team on his back once again and outperformed every player not just on the field at Tiger Stadium in Baton Rouge – on this glorious and historic evening, Daniels outperformed any player who has ever played the game of college football.
Period.
Daniels did something more outstanding, more exceptional than any other college football player past or present has ever done.
Daniels churned out 606 yards of total offense by himself – 372 yards through the air including two touchdown passes and he also ran for 234 yards and had two mind-blowing touchdown runs of 85 and 51 yards.
Daniels made history in the Tigers' 52-35 victory, becoming the first player in FBS history with more than 350 yards passing and 200 yards rushing in the same game.
And the thing is, Daniels did it in the outstanding way he always plays the game: He made the extremely difficult look easy. Smooth and easy. He also had fun doing it.
Daniels plays the game the way anyone who loves the game wants to see it played: Daniels plays hard. He plays tough. He plays enthusiastically. He plays with a rapt contagiousness. And he has fun playing it.
On Saturday night, Daniels had the most outstanding performance – ever – as in the entire 154-year history of the sports' existence.
That's the definition of outstanding.
He did this as a topper to an already magical season that has already seen Daniels lead Division I college football quarterbacks in virtually every offensive statistical category there is throughout the season.
Daniels also did this on two days of practice after only one week ago being concussed and sidelined by what should have been an illegal targeting call on an edge rusher named Dallas Turner.
It was a cheap, unnecessary shot from a fearful player who hoped to put Daniels out of the game so as to improve his own team's chance of defeating LSU.
Turner's tactic worked – temporarily.
It sidelined Daniels for the final 11 minutes and change of that game.
Without the services of the best, most outstanding player in the game, LSU was powerless to rally from a 14-point deficit and went on to lose that game.
LSU also lost its hope of winning the national championship when it lost Daniels for those 11 minutes.
There was doubt most of the week whether or not Daniels would be healthy enough to play in this week's game against Florida. 
Had Daniels not been able to start against the Gators, and play entire the game on Saturday night, the thought prevailing was that Florida would likely run roughshod over LSU's poor defense and a Jayden Daniels-less LSU offense would not be able to keep up with Florida. 
The thought was simply LSU could not outscore a bad-to-mediocre Florida team if it did not have the best player in college football leading its top-ranked offense.
But Daniels fought through his injury and did what he had to do to take every single snap for LSU on Saturday night. He led his team to a hard-fought victory that LSU needed if its very program under second-year coach Brian Kelly was going to continue to thrive.
Saturday night against Florida, LSU found itself in the crosshairs of a crucial moment.
As always, Daniels more than delivered, performing at an unparalleled level, putting together not only the most outstanding performance of any college football player this season, but he did so by putting together the most exceptional playing performance of any college football player ever in the history of the game. 
The fact is, Daniels, who struck the Heisman pose late in the game on the sideline while celebrating LSU's huge win over Florida with a teammate (his backup QB Garrett Nussmeier), does not need to win the Heisman Trophy in order to validate his status as the most outstanding player in college football this season.
Daniels is clearly that. Objectively so.
He achieved such on his own with the help of God and his teammates. Daniels proved it on the field.
But the Heisman Trophy needs Jayden Daniels.
The Heisman Trophy voters need to ensure they award the trophy to Jayden Daniels this year so they can validate the Heisman Trophy itself.
So the award can remain viable and remain credible. So that it can maintain its validity. In a word, so that the Heisman Trophy can remain prestigious.
Jayden Daniels is obviously the best player in college football this year.
Hell, the kid is one of the best players in the 154-year history of the sport.
Your move Heisman.
Tread wisely.
Yes, that's right. Jayden Daniels does not need the Heisman Trophy to solidify his spot as one of the greatest ever. The truth is, though, the Heisman Trophy needs Jayden Daniels – even more than LSU does.
And that's a whole lot.