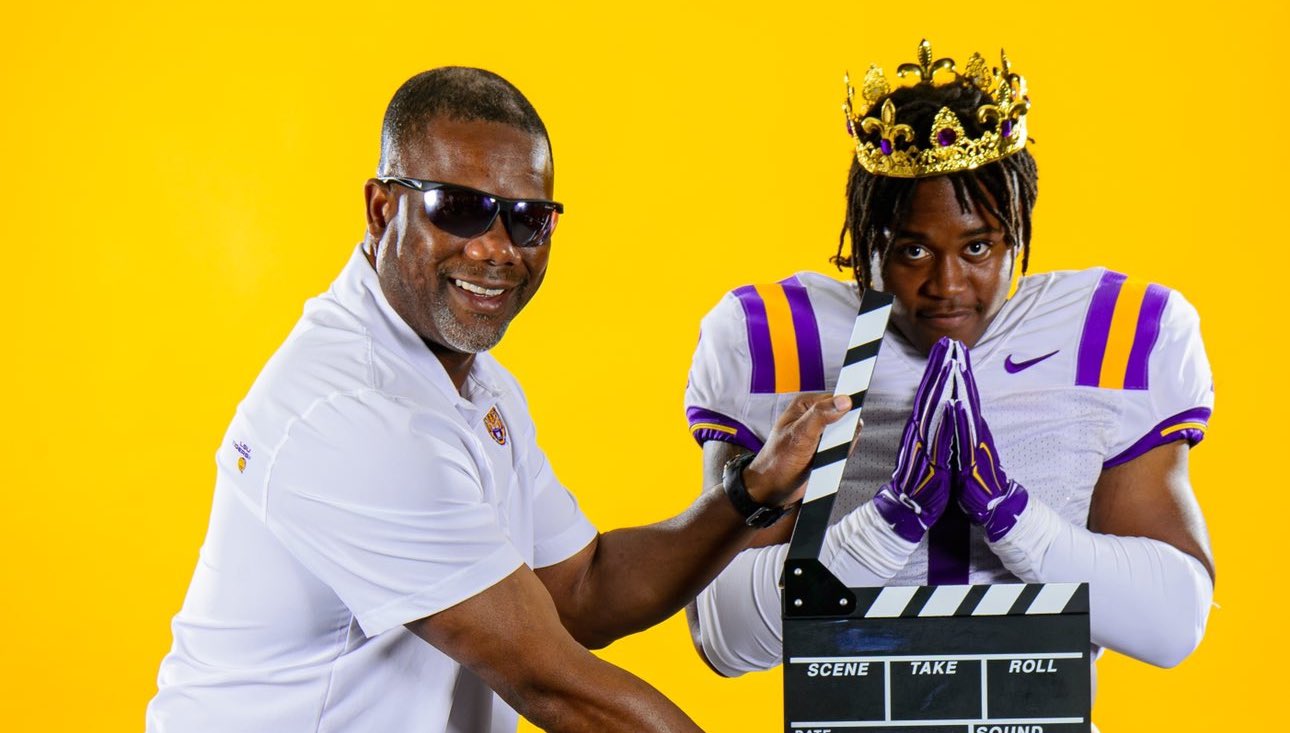 LSU's had a long lineage of some of the best running backs Louisiana's high school ranks have ever produced.
The Tigers picked up a commitment Sunday from a four-star prospect that has one season left to write his chapter as the state's most successful runner in history.
LSU increased its Class of 2023 total of commitments to five with its first pledge from a running back when Trey Holly of Farmerville-Union Parish announced his decision to become a Tiger on social media Sunday afternoon.
"1000 Committed LSU Nation. I'm staying home, Holly tweeted.
The 5-foot-8, 180-pound Holly is rated as high as the nation's eighth-ranked all-purpose running back and No. 85 overall player by Rivals.com. He's the consensus No. 10 running back by 247 Sports and On3.com which both list him among the nation's Top 200 prospects and No. 14 player in the state.
Holly expressed a sense of gratitude toward LSU running backs coach Frank Wilson, who has been in charge of Holly's recruiting since LSU's first-year coach Brian Kelly put together his new coaching staff.
"Lots of reasons but the main one was when coach Frank came to my aunt's funeral it really meant a lot to me!" Holly told 247 Sports.
Holly selected LSU over a group of schools that had also offered scholarships: Arkansas, Auburn, Florida State, Louisville, Mississippi State, Oklahoma State, Ole Miss, Oregon, Purdue, South Carolina, TCU, Tennessee, Texas A&M, USC and Utah.
With 7,829 career rushing yards, Holly's the state's sixth rushing leader and needs 977 yards to break the current state record of 8,806 yards held by Nicholas Brossette (923-8,806-164 TDs) of University High who also played as an eighth grader. Brossette, who played at LSU, is currently the Director of Alumni Relations/High School Outreach at LSU for Brian Kelly's staff.
Holly carried a total of 923 times and scored 108 rushing TDs to go along with 39 pass receptions for 742 yards and 6 TDs. He could pass such former LSU running backs Cecil Collins, Kenny Hilliard and Germaine Williams on his journey to becoming the state's career rushing leader.
Holly's been the Class 3A Offensive Player of the Year the past two seasons and the Farmers have been state runners-up to Madison Prep and Sterlington, respectively. He carried 296 times for 2,633 yards and 33 touchdowns in 2021 which included 182 yards and a score in a 26-24 loss to Sterlington.
He enjoyed a career-high season in 2020 when he rushed 283 times for 2,709 yards and 44 TDs.
"I met some great coaches who care and wanna win and lastly what stands out to me the most is that everybody acts like family down there," Holly told On3.com after an unofficial visit to LSU.