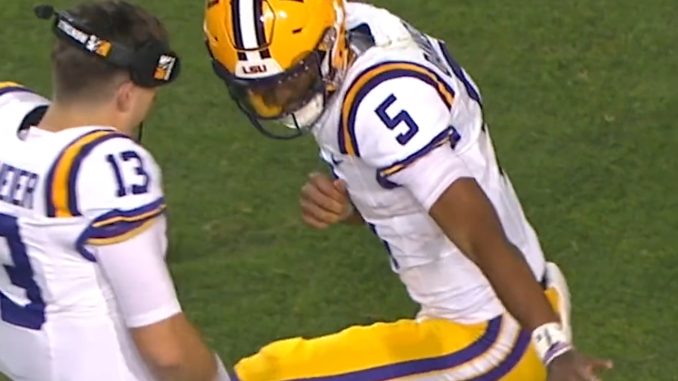 LSU football coach Brian Kelly went all in on the candidacy of his quarterback Jayden Daniels for this year's Heisman Trophy.
"If he didn't win it tonight, he's got to be the leading candidate because of what he did tonight," Kelly said after LSU's 52-35 victory Saturday over Florida. "If you want to be the most popular, then fine, but he's the best player in college football. He did something tonight that no one's ever done. So, if that doesn't make you the leading candidate, then maybe the Heisman is not really for the best player. Maybe it's for the most popular player."
Even the normally laid-back Daniels let his hair down. During the second half when he led LSU's comeback over Florida, Daniels was caught by television cameras celebrating a touchdown on the sideline with teammate Garrett Nussmeier, a moment of elation that included Daniels striking a Heisman pose.
Daniels became the first player in FBS history to pass for 350-plus yards and rush for 200-plus yards in a single game, combining for a career-high 607 yards and five touchdowns in No. 18 LSU's come-from-behind victory in the Southeastern Conference clash before a crowd of 102,321 at Tiger Stadium.
He completed 17 of 26 passes for 372 yards and three touchdowns and added 234 yards and 2 TDs on the ground on 12 attempts.
Daniels' rushing total tied that of Kevin Faulk for the 10th best performance in school history. Of the 23 best rushing games in school history, Daniels became the first quarterback to make the list.
"You know I can't do it on my own," Daniels said. "Some things I'm able to do on my own but not always. The offensive line's got to block, the running backs have to do what they have to do, and the receivers have to make plays. I'm just in the back trying to give them the ball and let them do what they do. The offensive line is doing an incredible job up front dominating the opponent."
Daniels, who played the first three years of his career at Arizona State, became the first player in FBS history to eclipse 12,000-plus yards passing and rush for more than 3,000 yards in a career. His latest feat of brilliance came at the end of a week in which he spent in concussion protocol before gaining clearance to play after Thursday's practice.
"He's a great player," Florida coach Billy Napier said of Daniels. "He came out here today and competed. There's a couple of things we should have executed a lot better. We could have played a little bit better, but he's a great player that came out and played well tonight."
LSU's one-man wrecking crew, Daniels, helped the Tigers score their most post ever in the 70-game series and rolled up 701 total yards – the third highest total in school history. The Tigers (7-3, 5-2 in SEC) extended their win streak to a series-best five consecutive games over the Gators (5-5, 3-4).
Daniels also broke the SEC record of 585 yards of total offense set by Mississippi State's KJ Costello against LSU in 2020.
"He's the best quarterback in the country," Kelly said of Daniels. "He's the best playmaker in the country. He's the best player now. I've watched them all. You know he is the best player. You can say whatever you want, 'we're 7-3'. Whoever else is undefeated, that doesn't mean anything. What matters is who's the best player and he's the best player."
LSU scored touchdowns on all five of its second-half possessions that enabled the Tigers to rally from deficits of 24-21 and 28-24 midway through the third quarter.
Daniels scored on his second long-distance touchdown and gave his team the lead for good at 31-28 at the 6:09 mark of the third quarter. He scrambled out of the pocket on a first-and-10 play for a 51-yard touchdown run and then found running back Noah Cain on their first completion of the season – a 6-yard TD that made it 38-28 at the 2:18 mark.
LSU outscored Florida 35-21 in the second half to eventually pull away from the Gators who got three rushing touchdowns from Jennings native Trevor Etienne, including a 5-yard score with 10:27 to play, that cut the Tigers' lead to 38-35. He finished with a team-high 99 yards on 18 attempts.
Daniels then delivered his second and third touchdown passes of the game, both of which went to Brian Thomas Jr., covering 37 and 7 yards, respectively, over a seven-minute stretch that expanded LSU's lead to 17 points.
Thomas caught six passes for a career-high 150 yards and 2 TDs, while Malik Nabers added six receptions for 132 yards.
In between, the defense turned in one key stop when Florida had reached midfield trailing 45-35. The Tigers were able to hold the Gators and on fourth down defensive back Sage Ryan came up with pass breakup of Gators' quarterback Graham Mertz with 6:34 remaining.
Mertz completed 26 of 38 passes for 311 yards and a TD with Ricky Pearsall leading the way with seven catches for 103 yards.
Given the sudden impact of both offenses, which matched opening touchdowns within a three-minute stretch, the game settled into a defensive posture with LSU taking a 17-14 halftime lead.
Florida climbed back into the game with a 8-play, 75-yard drive that Etienne capped with a 7-yard scoring run with 4:30 to go before halftime.
LSU needed to convert only one third-down on its way to a touchdown on its opening possession which featured the combination of Daniels to Nabers.
They first connected on a 38-yard connection followed Daniels' 14-yard scramble and a completion to Nabers who motioned over on the play and picked up 18 yards for first down to Florida's 4-yard line. Josh Williams, who replaced injured running back Logan Diggs in the starting lineup, took care of the rest on a 1-yard score on second-and-goal.
Mertz went 6 of 6 for 61 yards on Florida's immediate answer, moving right through LSU's defense without trouble. He found Eugene Wilson on a 9-yard TD score at the 8:58 mark.
LSU attempted to recapture the lead on its ensuing series and faced a first-and-goal from Florida's 4 on the arm of Daniels who had completions of 18 yards to Mason Taylor and 10 to Brian Thomas Jr.
Senior running back John Emery Jr. kept on a first-and-10 run of 14 yards down to the 6 but injured his knee on the play trying to make a cut and had to helped off the field. The Gators stood tall, though, holding Williams out of the end zone on four straight running attempts – the last two from a yard out – for a turnover on downs when Daniels took centerstage in the second half and helped deliver what some observers believe was his 'Heisman Moment'.
"You have to control what you can control," Daniels said. "One thing I can control is how I approach every single week by how I practice and how I play. From there, I cannot make those decisions."