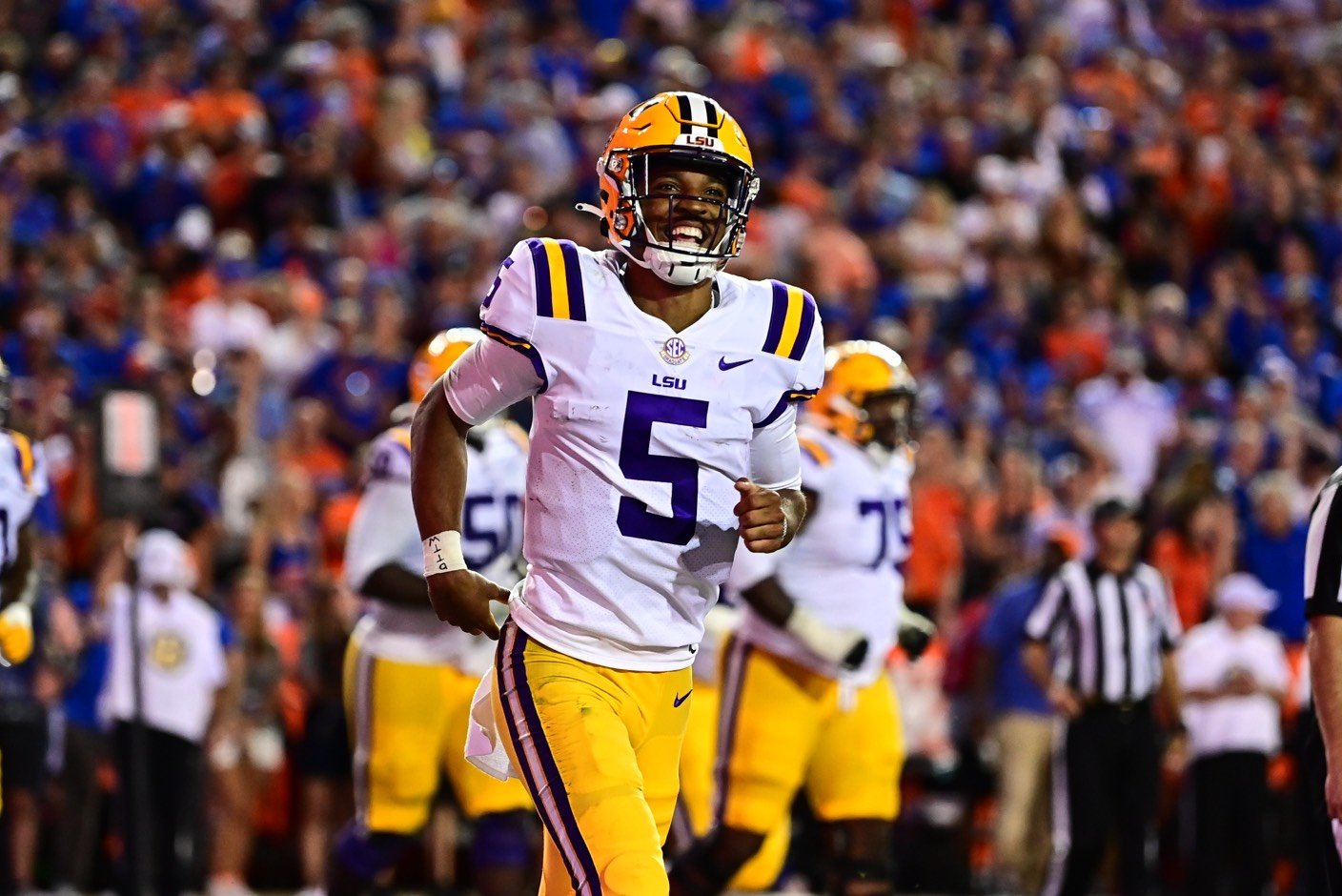 LSU's quarterbacks almost came away with an equitable share of time behind center in Saturday's annual spring game at Tiger Stadium.
Returning starter Jayden Daniels received four possessions with reserves Garrett Nussmeier and Rickie Collins getting three each during the 1 ½ scrimmage that lasted a total of 54 snaps and ended in a 32-32 tie.
Daniels finished 10 of 11 for 168 yards and two touchdowns through the air, including a 70-yarder on the game's first play to a leaping Kyren Lacy. He also scrambled twice for 12 yards.
Daniels completed eight passes for 134 yards and a TD in the first half with his only incompletion coming during his second series on an overthrow to Lacy on third-and-13 from the 28-yard line of the defense.
Nussmeier was 5 of 8 for 139 yards and two touchdowns and Collins 3 of 7 for 25 yards and had an interception turned into a touchdown by freshman Whit Weeks in the final minute of the second quarter.
"We think he's committed to being the best quarterback in the country," LSU football coach Brian Kelly said of Daniels. "I've seen that in his work ethic. I think he was on the verge of moving in that direction throughout last season. His play kind of dictated that until he got injured.
"I think he's picked up right where he left off last year," Kelly said. "Physically, getting bigger and stronger. Leading our offense, leading our entire team. He's been a leader. I don't think there's any reason to think he won't be the next version of that. That means not only one of many good quarterbacks in the SEC, but one of the best quarterbacks in the country."
Daniels helped LSU to a 10-4 record, the SEC Western Division championship and Citrus Bowl victory in his first season after transferring from Arizona State. He put together the second-most total yards in school history with 3,798 yards and 28 touchdowns.
He completed 266 of 388 passes for 2,913 yards with 17 touchdowns and three interceptions in 2022. His 885 yards and 11 TDs rushing were the most in school history by a quarterback.
For his career, Daniels had combined for 11,085 total offense and 73 touchdowns.
Future of John Emery Jr.?
The fate of senior running back John Emery Jr. for the 2023 season appears to be in the hands of one person.
Kelly reiterated after the game Emery's return as a full team member hinges on his progress in the classroom where he's already lost the entire 2021 season and first two games of last season because of academics.
Emery started in two of 11 games last season, rushing 76 times for 375 yards and six touchdowns. He also caught 13 passes for 129 yards and a pair of scores.
For his career, Emery has started in five of 30 games with 190 attempts for 941 yards and 13 touchdowns. He also has 33 receptions for 262 yards and two scores.
"We have not ruled out John Emery for a return," Kelly said. "John has a path back, but it's one that is really dictated by what he does academically. We have not made any misleading statements. We love him but we're putting academics first and foremost. He's got to take care of that first."
Holly gets plenty of work
Because of a depth-thin running back position, midyear enrollee Trey Holly of Union Parish, the state's career leading rusher, got plenty of work with the No. 2 offense and wound up with a team-high 23 yards on seven carries.
Holly also caught two passes for 21, including a 15-yard score out of the backfield from Daniels, which narrowed the lead of the Purple (Defense) to 30-29 with 1:33 to go in the third quarter.
"I love coaching him," Kelly said of Holly. "He's got a smile on his face. He loves to play the game. He brings a great energy every day. He has things that you can't coach. Sometimes you've got to yell at guys to see things. He sees everything. He's got great natural vision, can see a crease and those things are hard to coach. I don't want to take away the credit from (running backs) Frank Wilson would deserve. He's mentored him as a true freshman. He's done a nice job."
Kickers settle nothing
Sophomore placekicker Damien Ramos may have ended the spring game with a game-tying 34-yard field goal, but the team's starter at that position remains unsettled.
Kelly said the battle between Ramos, a sophomore walk-on, and Nathan Dibert, a sophomore scholarship kicker, will continue into the fall before the team will have a clear-cut No. 1 at that position.
"It's not a position where we've decided on who the starting kicker is," Kelly said. "Ramos and Dibert are still competing at that kicking position. Both of them had misses today. We have to keep an open mind on it and keep them competing."
Ramos made all three of his extra points during the spring game and was 1 of 2 on field goal attempts, missing a 44 yarder on the final play of the first half. Dibert made his one extra point attempt and missed a 46-yard field goal attempt at the five-minute mark of the first quarter.

Ramos emerged last season to become LSU's starting kicker and led the team in scoring with 85 points. He made 10 of 14 field goals (71.4%) with a long of 47 yards and had 11 touchbacks in 25 kickoffs with two going out of bounds.
Dibert took over the team's kickoff duties and had 38 touchbacks in 60 attempts with three going out of bounds.
On the mend
LSU played without 17 scholarship players that were either recovering from offseason surgery or injured before/during spring practice and were held out of the spring game.
Among that lengthy list of players were: Maason Smith, Mekhi Wingo, Josh Williams, Armoni Goodwin, Greg Penn III, Bryce Langston, Matthew Langlois, Justin Jefferson, Mason Taylor, Mac Markway, Aaron Anderson, John Emery Jr. (academics), Duce Chestnut, Major Burns, Da'Shawn Womack and Charles Turner.