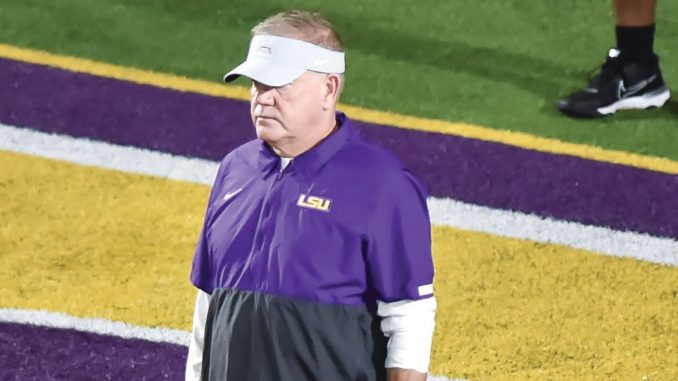 LSU football coach Brian Kelly and the Tigers have improved their team from last year for another run at another national championship.
Kelly is entering his second year as the Tigers head coach, and the team has been getting ready for their game against Florida State since the beginning of August.
No. 5 LSU is scheduled to play No. 8 Florida State in Orlando on Sunday, Sept. 3 at 6:30 p.m. The game is the only top 10 matchup of the weekend.
"I think, mentally, we're, we're better as a football team. Now you got to go out and execute," Kelly said during his weekly news conference on Monday. "We've been preparing since the last game we played, and now we'll see what this team does when it comes time to perform."
LSU has multiple talented players on both sides of the ball. Sophomore linebacker Harold Perkins was named to the Associated Press preseason All-American first team. Defensive tackle Mekhi Wingo and wide receiver Malik Nabers were named to the AP preseason All-American second team.
LSU went 10-4 in 2022 with wins over Alabama and Ole Miss. They lost to Georgia in the SEC Championship game and beat Purdue in the Citrus Bowl.
"Overall, we're a smarter football team. We understand the systems we understand the process. We understand the things necessary to become more consistent and everything that we do to be a championship football team," Kelly said.
We all get better together. Constantly improving. pic.twitter.com/4pXGUidCuI

— LSU Football (@LSUfootball) August 28, 2023
When Kelly joined the Tigers, he brought in an entirely new group assistant coaches to help him have repeat success that he did at his previous coaching stops around the country. Mike Denbrock took over as LSU's offensive coordinator and Matt House was hired as the team's defensive coordinator. Both coaches are entering their second year in those roles.
"Having your coordinators back, having your staff back, where the communication is so much more seamless," Kelly said. "Players start making adjustments on their own. Because they now know the system, they understand what's expected what they can and can't do."
Both LSU and Florida State quarterback Jayden Daniels and Jordan Travis. Both are Heisman hopefuls for the 2023 season.
In last year's matchup won by Florida State, 24-23, both players had great games with Daniels throwing for 209 yards and two touchdowns. Travis passed for 250 yards and two touchdowns.
"They've been looking forward to this challenge," Kelly said. "It's what motivates you in the offseason. All the things that you do to prepare for, a great game like this all come to fruition on Sunday."