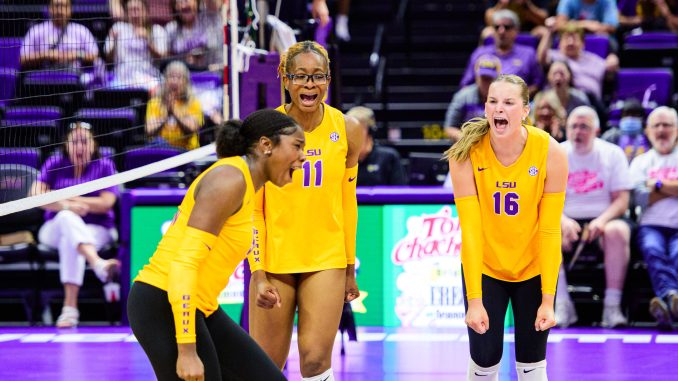 COLUMBIA, S.C. – The LSU volleyball team had to dig a little deeper this time but was able to complete a season sweep over South Carolina in Southeastern Conference play.
The Tigers (11-13, 6-8 in SEC) took their sixth straight win over the Gamecocks (10-14, 4-11) by rallying for a 3-2 victory.
LSU, which is tied for eighth in the SEC, took the first set 25-22 before dropping the next two, 26-24, 25-21. The Tigers mounted a comeback with wins in the next two sets – 25-19 and 15-11. The Tigers took a 3-0 victory over the Gamecocks on Oct. 29 in Baton Rouge.
Middle blocker Anita Anwusi helped LSU to a season-high .682 attacking percentage with a career-high 16 kills to go with six blocks. Outside hitter Jurnee Robinson contributed 14 kills, eight digs and right-side hitter Ellie Echter had 13 kills and six blocks. Right-side hitter Jade Demps finished with 12 kills.
Setter Maddie Waak had 32 assists and Emily Mitter added 24 assists with six digs, and libero Erin Carmichael chipped in with a team-high14 digs and two aces.
LSU increased its winning streak against South Carolina to six consecutive matches and is 7-1 in the last eight matches. The Tigers compiled 65 kills and a season-high 16 blocks, 63 assists and 48 digs.
LSU was able to dig out of a 18-17 deficit with an 8-3 run for a 21-18 lead in the first set behind four kills from Robinson and three from Anwusi.
The Tigers found their backs to the wall after dropping the next two sets and were locked in a 13-13 tie in the fourth set. They overcome a one-point deficit for a 18-16 lead which they stretched into a 21-18 edge with Robinson and Demps delivering four kills each to tie the match.
LSU's 3-0 run resulted in a 8-6 lead in the final set when South Carolina tied the set. The Tigers battled back from an 11-9 deficit to gain the upper hand on a 4-1 run with Anwusi, Echter and Robinson all tallying three kills.
The Tigers return to host No. 11 Tennessee at 7 p.m. Friday at the Pete Maravich Assembly Center in Baton Rouge.