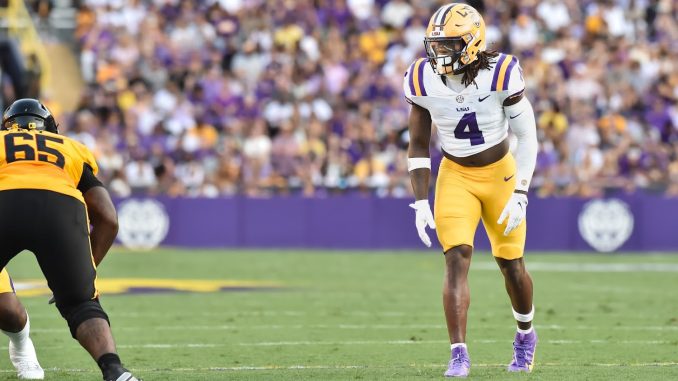 Towards the end of fall camp, LSU had a scrimmage that going in Brian Kelly said would last 60 to 70 plays.
For whatever reason, that didn't happen.
LSU did have the scrimmage, but it lasted only 43 plays – and those 43 plays were split up with the first offense going against the first defense in only two out of the five sessions.
The second offense went against the second defense in two sessions, then the third offense took on the third defense for one session.
Then, it was over.
I left wondering what happened to the 60 or 70 plays we were told would occur. I never did find out the reason for the abbreviated version that wound up taking place.
I didn't think it was enough at the time. That was reinforced later, first in Orlando on the night before Labor Day, and then again Saturday night in Tiger Stadium during LSU's historic home opener.
I thought LSU could have used more scrimmaging before heading for its season opener.
But that was back before Florida State showed Kelly and Co. that this LSU team wasn't as prepared and as mentally advanced as they originally thought they were.
Saturday night in Tiger Stadium – six days after LSU's offense blew two red zone scoring opportunities in the first half, and consequently led the then No. 8 Seminoles only 17-14 at halftime, the Tigers' margin could have been and should have been, 31-17, before LSU tanked in the second half against the Seminoles and got whip sawed, 31-7, in a fourth-quarter debacle. Oddly enough, LSU still had every chance in the world to begin the fourth quarter of that game tied 24-24 only to run out of gas making the final turn.
No need to relive the bottom falling out in that fourth quarter. But it did fall out.
My point is this, though, Saturday night LSU finally got the scrimmage it so desperately needed.
LSU paid Grambling State $760k to finally have that real scrimmage.
What did LSU learn?
Kelly says LSU started fast and ramped up from there. All good, not great, Kelly said. Football's hard, he said.
My take?
I spent the first 10 minutes of the scrimmage on Saturday night wondering aloud if I missed the latest in ever breaking conference realignment news!
Surely, I must have.
Somewhere, somehow 0-1 Grambling – an FCS school that won only three games last season and lost to mighty Hampton last week, was ripping LSU's defense to shreds en route to gaining 173 first half yards and lining up for a 23-yard field goal that would have put the historic HBCU team at 13 points.
Grambling missed the field goal wide right.
LSU led 14-10 at the end of first quarter and managed to adjust moving forward from the first quarter as it dispensed of its dime defense in lieu of a four-man defensive line to finally curtail the rushing demolition Grambling was putting on.
Jayden Daniels and the Fighting Tigers would go on to continue their own offensive destruction of Grambling's defense to lead 42-10 at halftime. Daniels' career-high five touchdown passes led the way, and all seemed okay heading into the second half when he would hand the keys of the bus to backup quarterback Garrett Nussmeier.
But on defense, with Denver Harris finally getting his first start at cornerback for the Tigers and Harold Perkins lining up more regularly in his "See Ball-Get Ball" outside position, and defensive lineman superstar Maason Smith making his long-awaited return to the playing field, how could this LSU defense be so vulnerable even for a play to an inferior FCS opponent?
And in what world could this be considered a fast start?
Look, LSU's long-awaited scrimmage finally materialized. That's good.
LSU improved. I'm sure.
LSU won 72-10. That's hard to do against anyone anywhere.
LSU's defense eventually, and regularly dominated, Grambling from the first quarter of the scrimmage on. Logan Diggs rushed for a game-high 115 yards and looked amazing in his 15 carries. He is LSU's best back right now with John Emery, Jr. slated to come off the shelf next week. All looks good there.
Freshman Kaleb Jackson scored two TDs, rushed for 62 yards and looked powerful and electric. He even had a 27-yard kickoff return that was amazing, considering it happened despite a few missed blocking assignments on the play. And LSU even returned a punt for once, even if it was from Greg Clayton and not Aaron Anderson, to finally move into plus net 20 yards on returns for the season.
Bottom line: LSU outscored Grambling 58-0 from the first quarter on and scored 10 touchdowns on its 11 possessions. Furthermore the defense ended up stopping the G-men's offense after the FCS Tigers' first three possessions of the game.
I'm sure LSU learned a lot from its first prolonged (and very expensive) scrimmage of the year.
I'm just not sure what it all means. Not yet. Because it was a scrimmage. A glorified scrimmage.
And we won't know what it all means until LSU and Mississippi State kickoff next week at 11 a.m. in Starkville to open SEC play. Mississippi State, after all, is a major college football team and that game will not be a scrimmage.
Seems to me like the LSU offense can score and score a lot against most anybody as long as they execute.
It's the LSU defense that has me concerned.
Watching Miami ransack Texas A&M and Alabama lose to Texas like I predicted the Crimson Tide would makes me feel better. Watching Tulane push Ole Miss off the ball every play of that game even though they lost also helps.
But the truth is – right now – I'm glad Saturday night in Tiger Stadium was just a scrimmage.
LSU needed to have a real one before starting SEC play.