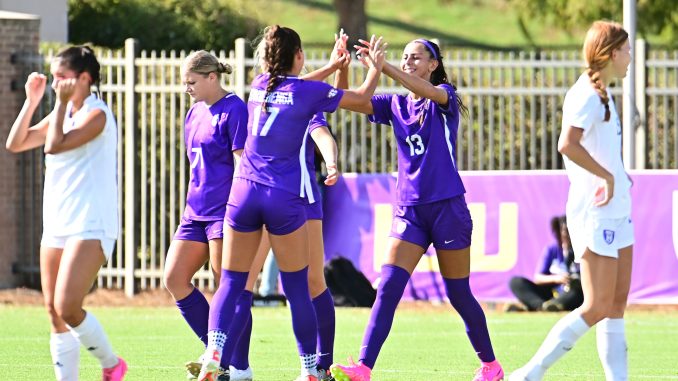 A brace from Taylor Dobles helped LSU's soccer team successfully complete the non-conference portion of its 2023 schedule.
Dobles gave the Tigers a 2-0 lead in the first half which proved to be enough in turning back visiting Northwestern State, 2-1 on Sunday at LSU's Soccer Stadium.
LSU (5-2-1) heads to Ole Miss for the start of Southeastern Conference play at Ole Miss at 7 p.m. (match will be streamed live on SEC Network+). That starts a 10-match schedule which leads up to the SEC Tournament Oct. 29-Nov. 5 in Pensacola, Florida.
"It is so important that we got this win as we head into conference play with as many wins as possible," LSU soccer coach Sian Hudson said. "We talked since the Pepperdine (2-2 tie) game about having a faster start, and I certainly think we got that today starting the game going two-nil up. We were really good for the first 20 minutes or so.
"I think some players got opportunities today and played really well," Hudson continued. "Caley Swearinga, in particular, had her first career start and a great performance. Taylor Dobles obviously had a great response today after not starting last game. Overall, just happy to see the team progressing, and I think we are in a really good place heading into SEC play."
Dobles, a native of Pembroke Pines, Florida, scored nine minutes into the match on an assist from midfielder Danielle Shannon.
Dobles added her fourth goal of the season, once again after terrific teamwork set up the shot attempt. Jocelyn Olliviere spent a long ball up the field to Rammie Noel, who after a couple of dribbles into the six-yard box, found Dobles for the easy goal past NSU keeper Libe Banuelos.
NSU cut into the deficit in the 62nd minute on Taylor Spitzer's goal on an assist from Emily Mougia.
LSU outshot NSU 27-4 overall, including 12-3 in shots on goal, and keeper Mollee Swift tallied two saves.
"I do not think there is a better matchup going into SEC play than Ole Miss," Hudson said. "It is a little bit of a revenge game after last year's loss in the SEC Tournament. I am sure the team is going to be fired up about the opportunity to come back and respond well. Obviously, SEC play brings a whole different level of excitement and atmosphere to everything that we are doing, so I am really excited."