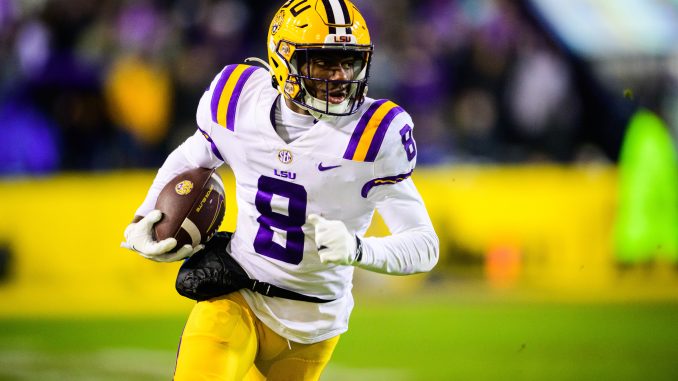 When Pro Football Focus recently broke down the top 10 draft-eligible wide receivers in college football for the 2023 season, LSU star Malik Nabers appeared on that list at No. 2.
The junior receiver who led the Tigers in receiving yards with 1,017 yards and in receptions with 72 in 2022 was paying attention.
He always pays attention, he said.
"I pay attention to everything in the media, both mainstream and social media, all the time," Nabers said.
"I think as a football player you should pay attention to it all.
"A lot of players say they don't, but I think I do mostly because I feel a certain way about any spot that I'm ranked. Because I feel like as a football player, as a receiver, I feel like I'm the best. So, No. 2 is not what I want. I want to be number one. So that's what I'm going to fight for," Nabers said.
Nabers had a huge sophomore season in 2022, cracking the 1,000-yard mark for the first time in his career and emerged as quarterback Jayden Daniels' favorite target. That he was LSU's top receiver last season when most people would have thought heading into the season Kayshon Boutte would have carried that mantle, did not surprise Nabers at all.
"I think it was my work ethic," Nabers said, that put him on top last season.
"I was always out here working late nights. Me and Jayden were always throwing with each other. It was me, him, Kyren (Lacey), and Beachies (Jack Bech). So, we were always out working late nights throwing or sometimes, he (Jayden) might text at odd hours and tell me to come to the field, throw around. And then I was also always around him, catching the ball. So it was that trust that I had to build with him outside the normal football practice with the team, outside of us practicing. It was stuff that we did off the field that united us as our brotherhood."
Daniels' growth and improvement from the start of last season until the end was also something Nabers noticed.
Everybody noticed Daniels' improvement. It surprised many. But it did not surprise Nabers because, he said, he understood how hard Daniels was working, and he understood how much getting comfortable with his reads, and getting to know the offense and the players he was playing with – adjusting to being at LSU in a new environment would help.
Daniels has improved immensely during this past off season, Nabers said, and he believes it is going to have a tremendous impact on LSU offensive production and output in '23.
"It (Daniels' continued improvement) impacts the offense a lot because when he's back there, when he's able to know the defense, recognize what pressures are coming at him, or what coverage the defense is in pre-snap and post-snap, it makes a world of difference across the entire team," Nabers said.
"And when he talks to me on the field, it no longer is verbally. We speak a different language we both understand. He simply gives me signals; I know what he means. So it's a trust that me and him have in one another every time we line up.
"For instance, we're on the field, in a game. I've got my route already, I know my route, but how can I run it to get the ball, to get open? The play might be going the other way, but I need to be his target backside just in case that's not open. So, just me and him knowing that, and us working through that every day outside of practice and in practice, it helps us go out there and compete at a different level," Nabers said.
Now, Nabers enters the '23 season expected to be one of the elite receivers in the SEC and one of the best in the entire country. But he said there are a number of ways he can improve his game this year.
What's somewhat surprising is the areas Nabers pointed to as prime focus areas of improvement for him which happen to be eerily similar to what PFF lauded him for doing so well last season.
"Nabers was a monster after the catch this year, as his 21 forced missed tackles on receptions were the fifth most among Power Five receivers. Nabers' 204 receiving yards after contact were also eighth in the Power Five," PFF said.
"I need to be more explosive," Nabers said. "Make more of those long explosive plays and hitches. Try to take them to the house, turn slants into six. Try to take them to the house. And that's really it. Just be more explosive after the catch. That's what my coaches pointed out when we went over my film, the things that they told me that I needed to work on. I'm paying attention."