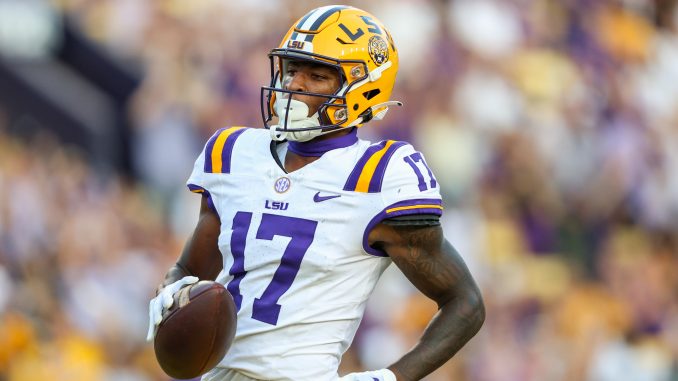 LSU running roughshod 72-10 through helpless Grambling State on Saturday reached historical proportions.
The No. 14 Tigers (1-1) scored on 10 straight offensive possessions and added a fourth-quarter safety on special teams to register the 11th most points in school history before a Tiger Stadium crowd of 97,735.
"We asserted our will in the third quarter and then finished it off," LSU coach Brian Kelly said. "So pleased with the way we played the game regardless of the competition. We're playing and Grambling wanted to win. They worked hard all week and practiced hard. They're well coached and told their coach (Hue Jackson) that I think that they're a difficult team to defend.
"They showed that they were very difficult early on until we had to make some adjustments," Kelly said. "I thought we settled down and then obviously we had 10 straight possessions with touchdowns with no punts and that's a pretty effective and efficient way of doing things. So, play the game the way it needs to be played here at LSU and we need to meet and exceed that standard."
For a team that needed a bounce-back effort in the worst way LSU applied plenty of salve on a wounded psyche after last week's season-opening 45-24 setback to Florida State.
Fifth-year senior Jayden Daniels was the first of three quarterbacks LSU utilized on the 10 consecutive scoring drives – five rushing TDs, five passing – and the homestanding Tigers registered 622 total yards.
It was the most points scored by LSU in five years when the Tigers lost to Texas A&M, 74-72, in seven overtimes.
Daniels played the first half and led LSU to a 42-10 halftime lead. He became one of four players in school history to throw at least five touchdowns (his career high) and joined only Joe Burrow in throwing for five in a half. He completed 18 of 24 passes without an interception.
Garrett Nussmeier (4 of 6 for 48 yards) took over in the third quarter and directed LSU to three touchdowns that increased the cushion to 63-10 with 13:30 to play. True freshman Rickie Collins was responsible for the team's 10th straight score which senior running back Noah Cain capped with a 1-yard run.
After a safety on a punt snapped out of the end zone at the 9:15 to play – the final points of the game – Grambling State (1-1) stopped LSU's offense for the first time when Kaleb Jackson was halted a yard short on a fourth-down run at GSU's 21.
LSU did not punt.
Wide receiver Brian Thomas Jr. led six catches for 78 yards and two touchdowns – all of which were career highs – and Notre Dame transfer Logan Diggs appeared in his first game and topped the Tigers with 15 carries for 115 yards and a touchdown.
"We knew what we were getting with Logan," Kelly said. "He played for me at Notre Dame and I knew what we were going to get from him. It was just a matter of getting him healthy. He prepared the right way, and he was ready to play. I thought Kaleb brought a toughness and physicality to our running game as well. We think we added to that position where we should have a real effective run again."
Jackson did score the first two touchdowns of his career in the second half on runs of 5 and 3 yards, respectively. He was second behind Diggs with 62 yards on 11 attempts.
It was perfection from LSU's offense in building a 42-10 halftime lead.
Daniels engineered six consecutive touchdown drives with five touchdown passes and Diggs added his first score in an LSU uniform.
"It's hard to take issue with five touchdown passes," Kelly said of Daniels. "So, we're pleased. We're not going to walk away here and be ungrateful for the things that we accomplished, but we have some work to do."
LSU averaged 9.2 yards per play in piling up 423 yards with Daniels throwing for 269 yards and Diggs adding 82 of the team's 154 rushing yards.
The offensive onslaught came in handy when LSU found itself with a more difficult task than expected with Grambling's offense scoring 10 points on its first two series and producing 173 of its 320 offensive yards.
The defense also helped to set up a pair of touchdowns. The Tigers turned an interception from Greg Penn III and fumble recovery from Jalen Lee into second-half touchdowns on 1-yard runs from Nussmeier and Cain.
Daniels' 47-yard TD pass to Chris Hilton Jr. on a deep post at the 8:24 mark of the first quarter enabled LSU to snap a 7-7 tie and take the lead for good.
Daniels executed the same 'pop' pass play to wide receiver Malik Nabers who was in motion, the second of which went for seven yards and a touchdown on the second play of the second quarter.
Grambling moved its third series to LSU's 5-yard line when placekicker Tanner Rinker pushed a 23-yard field goal attempt wide right with 11:39 left in the second quarter.
Diggs powered LSU to a 28-10 lead with seven carries on a 9-play drive, totaling 63 yards with final play covering three yards over the right side for a touchdown and 28-10 advantage.
LSU's defense began to settle in, forcing the first of two straight punts from Grambling while the offense continued to sizzle.
The combination of Daniels-to-Thomas reached the end zone for the second time with Thomas getting his right foot down for a 10-yard TD at the two-minute mark before his momentum carried him over the end line.
LSU executed its two-minute drill for its final score of the half, going 85 yards in 10 plays in 1:15, when Daniels found Kyren Lacy on a 3-yard TD on first-and-goal with a second left.
"To have 10 straight possessions and score in this game is hard," Kelly said. "When somebody doesn't want you to score, it's really hard. You have to execute at a very, very high level. That doesn't happen very often. I've been doing it for over 30 years. There are other things we have to do better. The competition picks up, so I'm not going to leave here going, 'we've got this thing figured out'."