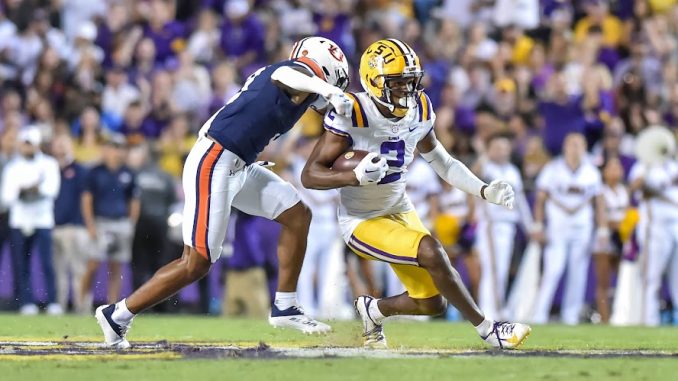 LSU wide receiver Kyren Lacy was already feeling pretty lousy after dropping a third down pass from quarterback Jayden Daniels that would have helped the Tigers maintain a second quarter drive.
LSU was already leading 20-7, its offense off to a fast start in Saturday's game with Auburn when Lacy suffered the drop that sent the punt team on the field and the senior wide receiver to the sideline with his head in disbelief.
Lacy, a native of Thibodaux, apologized to Daniels before turning to his coach Brian Kelly, offering to metaphorically pay his debt to the team.
Kelly played along.
"He said he owed me one. No, you own me two," Kelly said he shot back at Lacy.
When LSU gained separation from Auburn in the second half, Daniels went back to Lacy for results.
Lacy obliged with a 25-yard touchdown that made it 27-10 and the UL-Lafayette transfer finished with four catches for a career-high 111 yards in his team's 48-18 victory.
"When stuff like that happens," Lacy said after the game, "the head coach comes to you, and he still believes in you, it just strikes another nerve in you to want to go out and be better. So yeah, he told me I owe him one, so I had to do something, and I just took advantage of my opportunity."
The drop – his lone lapse in five targets – turned into a measure of redemption for Lacy who has operated mainly in the shadows of the team's top two targets and two of the best nationally – Malik Nabers and Brian Thomas Jr.
"It's a confidence boost for him," Nabers said of Lacy after Tuesday's practice. "I stayed on him when we got to the sideline. I told him I would throw the ball to him again, and I expect you to make it (catch) next time it comes to you. He told me the next time he touched the ball he was going to do something special with it, and the time he caught the ball he did something special with it up the seam. I told him on the sideline I would keep throwing to him and to keep that same confidence as you keep going."
Auburn closed to within 20-10 on its first series of the third quarter when LSU (5-2, 4-1 in SEC) responded with four straight touchdown drives to pull away to its second straight win going into Saturday's 6:30 p.m. homecoming game with Army (2-4).
After a 1-yard sack on second down, Daniels stepped up in the pocket on third-and-seven and found Lacy on an in-breaking route. Lacy watched the ball in, worked his way toward the end zone in middle of the field against one defender for his second touchdown in three weeks.
Lacy, who averaged 27.7 yards per catch, helped ignite what may have been the final blow to Auburn.
Daniels dialed up Lacy's number on the left side of the field on the first play of the drive. Lacy weaved his way through Auburn's defense for a season-long gain of 57 yards down to the visiting Tigers' 10-yard line. Three plays and an illegal block-in-the-back penalty later, Daniels connected with running back Josh Williams out of the backfield on a 13-yard TD pass that made it 34-10 with 3:53 to go in the third quarter.
LSU's offense finished with 563 total yards, with 325 of its coming on the right arm of Daniels and 111 from Lacy.
Lacy improved his season totals to 13 catches for 280 yards – 15.6 yards per catch – and three TDs which increased his career totals to 87 receptions for 1,216 yards and 13 TDs.
"Last year, maybe Kyren doesn't respond the right way," Kelly said. "And maybe he drops his head a little bit. He's matured so much that he stayed positive and said, 'Coach when I get my chance, I'm going to make it up'. It was great to see him do that."