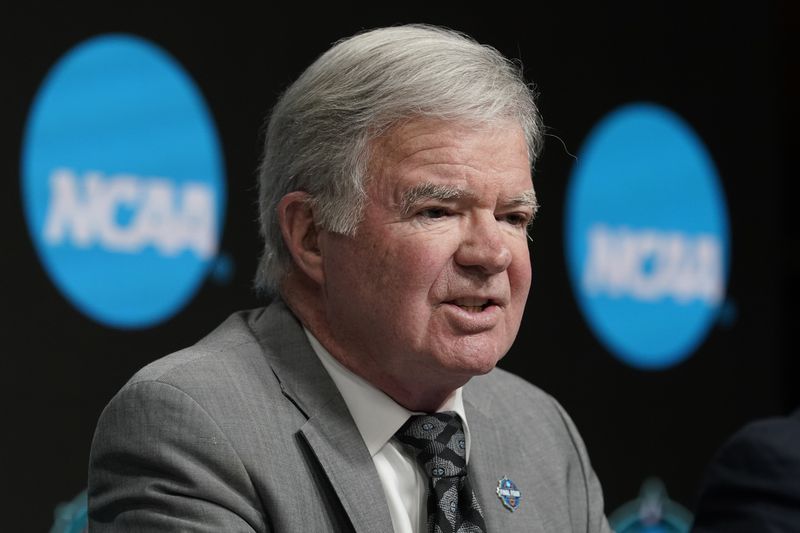 On a warm Saturday in April, LSU defensive lineman Maason Smith dropped back to field a punt. He caught it cleanly, sparing teammates extra running in practice.
The Tigers went wild, celebrating like their 2019 national championship team, not the one that went 6-7 in 2021.
So, it goes in spring practice, a time for fresh starts and a little jackpotting around.
New LSU coach Brian Kelly jokingly was asked about his new return man afterward.
"You know," Kelly deadpanned, as he's apt to do, "we've got a controversy already. I think we start piping that one up. 'Punt returner controversy.' Maason Smith. I think probably an NIL deal … in the offering as well. You know, good hands. You know, insurance."
Name, image and likeness.
NIL, as the kids call it.
It's the worst thing to happen to college sports since the last worst thing to happen to college sports, the transfer portal.
That's perhaps why no one was shocked when the NCAA Board of Governors announced April 26 that former LSU Chancellor Mark Emmert, the NCAA's president since 2010, will step down by mutual agreement but continue to serve in his current role "until a new president is selected and in place or until June 30, 2023."
That's two-and-a-half years earlier than Emmert's current contract had been set to expire.
"I am extremely proud of the work of the Association over the last 12 years and especially pleased with the hard work and dedication of the national office staff here in Indianapolis," Emmert said in an NCAA-released statement.
Reality, however, suggests Emmert – who led LSU from 1999 until leaving in 2004 to be president of his alma mater, Washington – will exit the NCAA with the governing body of college athletics in a state of disarray.
Exactly one year before announcing its separation agreement with Emmert, the NCAA announced – on April 26, 2021 – that it had extended his contract through the end of 2025.
Also, in 2021 the Supreme Court unanimously ruled against the NCAA in NCAA vs. Alston, stating strict NCAA rules limiting certain athlete compensation violated anti-trust law.
It was another entry in a long list of messy occurrences under Emmert's watch, spanning from a bungled NCAA Tournament television deal that cost the organization billions of dollars to obvious disparities between men's and women's accommodations at the Big Dance.
Investigations into NCAA rules violations and other improprieties, something with which LSU is all too familiar, take far too long.
Resolutions seem heavy-handed in some instances, watered down in others and unevenly applied depending on the individuals involved or the size, clout and pocketbooks of the accused institution.
Power 5 programs continue to distance themselves from Group of Five programs, and the NCAA continues to treat leagues like the SEC versus ones like the Sun Belt as if they're from different planets.
Emmert operates largely behind a curtain, yet paying attention to him and the organization he runs is requisite for everyone in college athletics from walk-ons to those running multimillion-dollar enterprises operating under the guise of amateurism.
The transfer portal has transformed roster development into a transactions report that could fill a newspaper's agate page.
Gone are days of building a team. In is an era in which entire jobs are devoted to monitoring movement in the portal.
The notion of college sports and amateur athletics being synonymous anymore is farcical.
Truth be told, it has been on the Olympic level for generations.
Remember when those steely eyed Soviets stole gold from Team USA at Munich in 1972?
The reason the Miracle on Ice was so celebrated is because that en route to winning gold at Lake Placid in 1980, a collection of mostly American college students upset a Soviet Union team comprised of professionals.
Yet for the longest time, the NCAA stymied kids from making money while chasing dreams.
Because three-time World Championships-medalist Jeremy Bloom wanted to capitalize on what he did on the slopes and ski for his country at the 2006 Winter Olympics in Torino, the NCAA – feeling he'd violated his amateur status – denied him an opportunity to play his junior and senior seasons as a receiver and punt returner at Colorado.
Now chasing NIL money is 2021-2022's version of the 1849 gold rush.
Alabama quarterback Bryce Young has deals that according to ESPN are worth more than $800,000.
Former Oklahoma football coach Barry Switzer is the front man for a newly founded collective whose stated objective includes creating an opportunity for ever Sooners football player to earn between $40,000-to-$50,000 annually.
LSU athletes, including one not yet on campus, are in on the action too.
Olivia Dunne isn't LSU's most-accomplished gymnast, but her status as a striking social influencer – with more than 1.7 million Instagram followers – has helped her pocket seven-figure income already.
Cornerback Derek Stingley Jr., a 2022 NFL Draft first-round pick, had a boatload of deals even though he was injured most of last season.
Quarterback Myles Brennan was among a few Tigers appearing last year in a Smoothie King commercial, among his multiple deals – yet he was hurt and didn't play at all in 2021.
Flaujae Johnson, a rapper who oh-by-the-way happened to sign with coach Kim Mulkey's LSU women's basketball team, is an NIL mint in the making.
All of which is great.
Why not be able to retire before 25?
The problem, however, again is one of inequity.
While some make their millions, others toil under the hot sun earning little more than tuition, books, room and board, and in some cases full cost of attendance – another NCAA debacle under Emmert's command.
Walk-ons practice just as much as NIL nouveau riche, often much more, but the NCAA has an issue if they snatch dinner off the training table.
It's so messed up, cleanup on aisle six doesn't suffice.
Implosion might be the best option as the next NCAA president faces an impossible task: stitching back together the unraveled.
Kelly's take on where college football is headed?
"Yeah, you know, I live in the moment, and so name, image and likeness is with us," he said. "So, I've spent most of my time putting together the most comprehensive, and what I would consider attractive, name, image and likeness program for our student-athletes here that can compete with anyone in the country instead of worrying about what's wrong with it and what we can do to fix it.
"I'm not getting too far in front of ourselves, trying to operate within where we are, and trying to move forward that way," he added. "Look, if I'm going to worry about all the other issues, then I think it's gonna take away from the kind of name, image and likeness program that we need to have here at LSU."
Exactly what all that means lacks detail and clarity.
So maybe a better way is just to punt and say this: "You're in Good Hands with Allstate."
Calling Maason Smith, anyone?