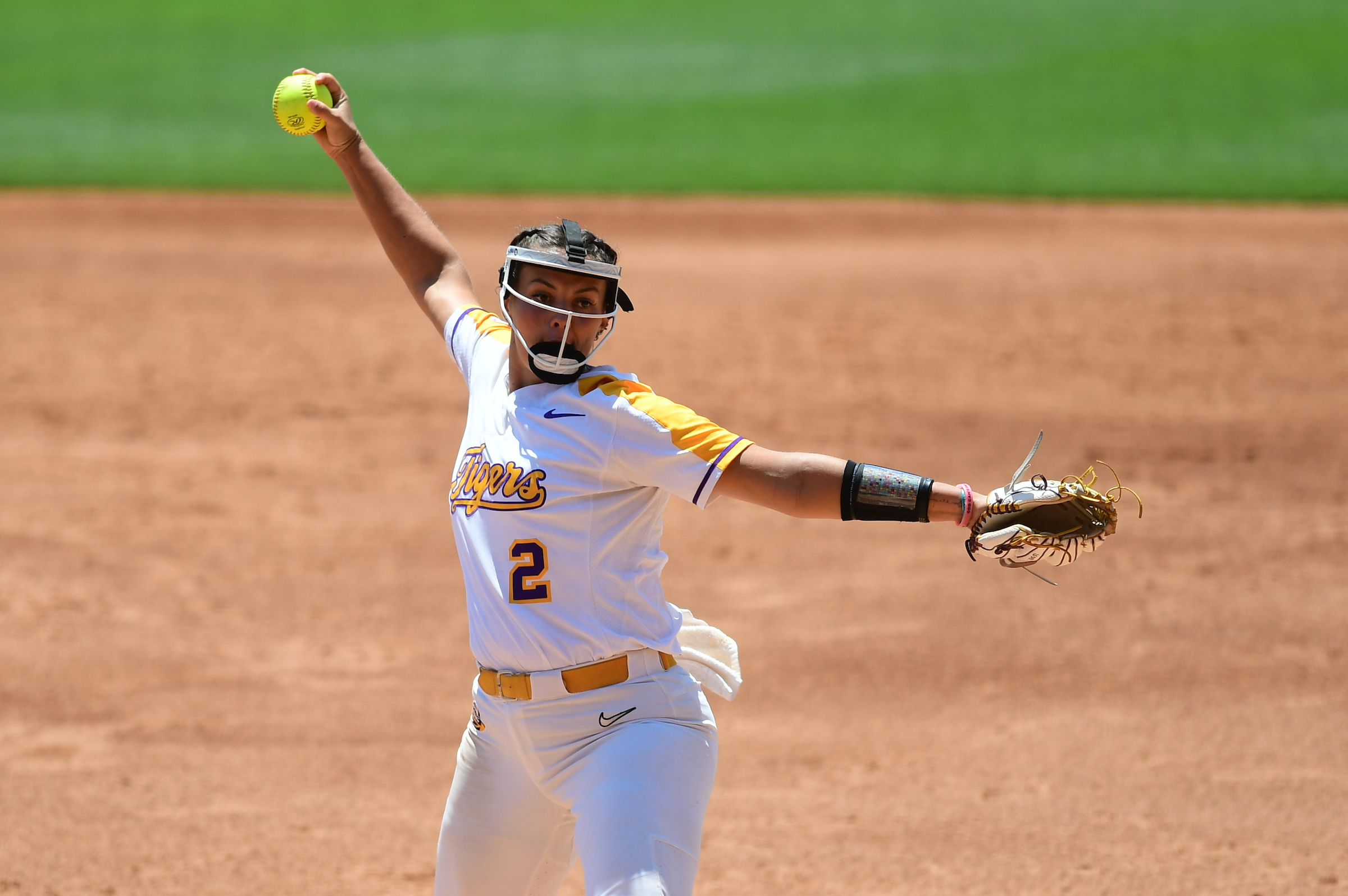 After escaping early trouble and pulling even at 1-1 through four innings No. 19 LSU was locked in a Southeastern Conference duel with No. 9 Florida that required additional time.
Eight innings weren't enough when Florida got a one-out solo homer from Cheyenne Lindsey in the top of the ninth and pitcher Natalie Lugo retired LSU in order for a 2-1 victory to clinch the series at Tiger Park.
"(Cheyenne) Lindsey is just a great hitter," LSU's Ali Kilponen, who went the distance in taking the hard-luck loss. "That was my fifth time facing her today, and at the end of the day you just have to tip your cap because it was a good pitch, she just had my number during that at bat."
The heroics enabled Florida (38-13, 13-11 in SEC) to deny LSU (32-19, 11-10) its first series win in its last four opportunities. The Tigers, who finish at Mississippi State next week, dropped from fourth in the league's standings into a tie for sixth with Georgia and Kentucky.
"It came down to just a couple of pitches and I think we allowed that to happen by not taking advantage of some situations that we had," LSU softball coach Beth Torina said. "I think it could have easily gone our way. I think our defense played well and Ali [Kilponen] pitched incredibly. She worked her way out of some jams and made some big pitches in some big spots. You know, just didn't get that timely hit."
Kilponen was able to get out of a bases-loaded, no-out jam in the second inning by allowing only Kendra Falby's sacrifice fly. Left fielder Ali Newman had to come in and dive for the first out, easily allowing Katie Kistler to score from third without a throw.
Kilponen (17-5) scattered five hits the remainder of the way until the ninth and Lindsey's homer to right field on an 0-2 pitch. She fanned six and threw a total of 164 pitches, 95 for strikes.
LSU came within inches of tying the game in the third when McKenzie Redoutey's deep drive to left-center field caromed off the top of the wall. Instead of it being a home run, Redoutey continued running when left fielder Kendra Falby fired a strike to third baseman Charla Echols who applied the tag for the first out of the inning, a call that was upheld by video replay.
The Tigers, led by Danieca Coffey's two-hit effort, made it 1-1 in the fourth when senior Shelbi Sunseri, who was honored before the game as part of the team's senior weekend, singled home pinch-runner Raeleen Gutierrez. With Florida's defense shifted over to the left side, Sunseri punched a base hit through a wide-open right side.
"It's a bittersweet moment," Sunseri said of her final regular season game at Tiger Park. "We knew it was coming, so I think that I was kind of prepared for it. Really all I can say is that I'm blessed to be able to have done this journey with these people. I think that's the coolest part of it. It's like yes, it is coming to an end, but you still have postseason, and you still have games left. I think it's just a bittersweet moment knowing that this was my last game in Tiger Park, and I got to do it with people that I love and with coaches that I love so much."