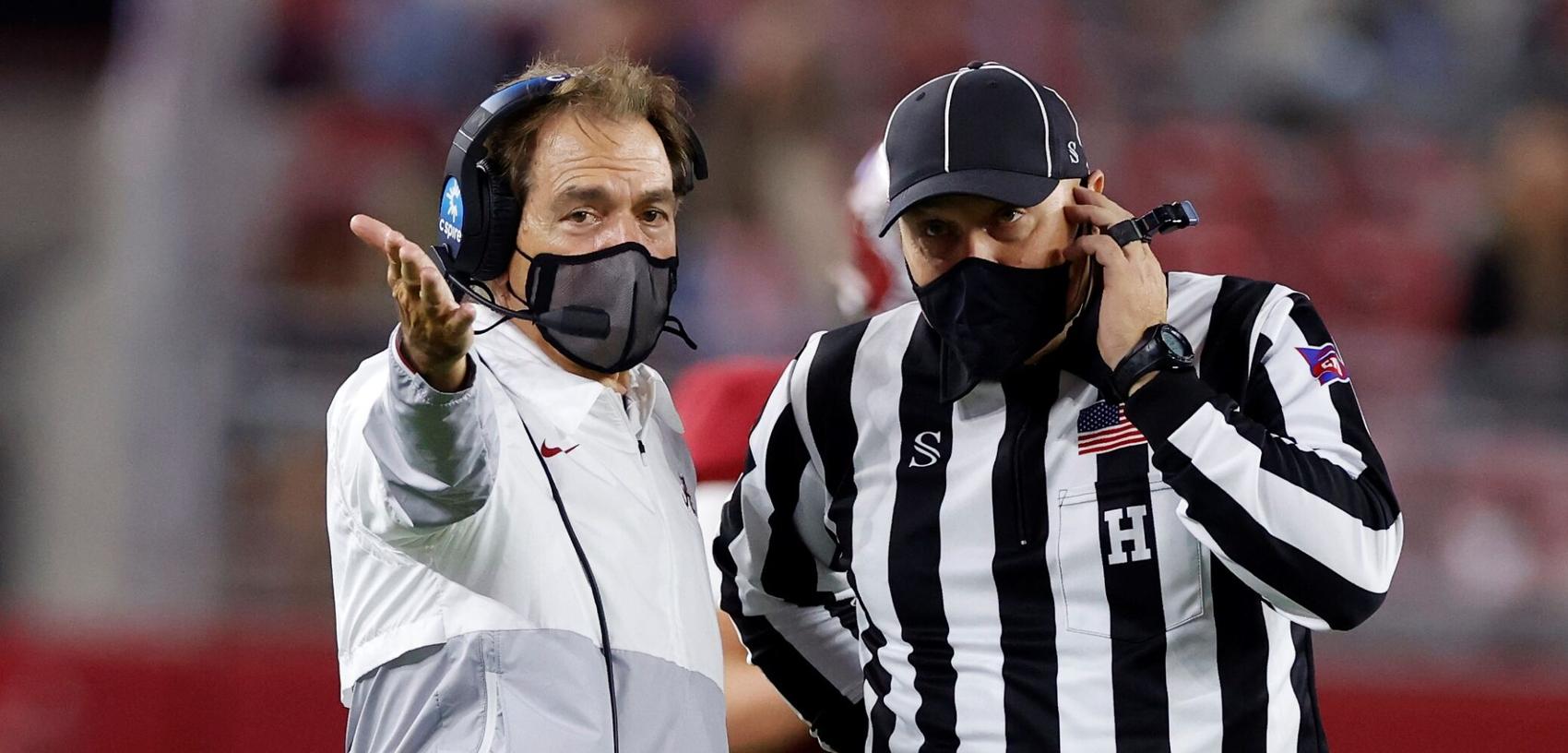 In a world overflowing with crime, war, inflation and insane gas prices,
thank you's are in short supply.

So here goes.

Thank you, Nick Saban.

Thank you, Jimbo Fisher.

Thank you for stirring the pot in mid-May, when college football controversy usually is in a lull with spring games in the books and preseason camps still several weeks away.

Thank you any and every SEC coach who has, or will, weigh in on what Saban and Fisher had to feud about this time.

Thank you name, image and likeness deals – NIL, for you acronym lovers – being as polarizing as okra, oysters and the age-old debate on whether or not to suck the heads off crawfish.

For the uninitiated, Saban started the stir when – while in Birmingham, Alabama, for an event promoting the upcoming World Games, a 10-day international gathering featuring athletes from more than 100 different countries competing in sports from as traditional as archery, bowling, karate and lacrosse to as fun and goofy as beach handball, boules, korfball and tug of war, but we digress – he accused Texas A&M of using NIL deals to buy "every player on their team."

Never mind that Saban, even while bemoaning all that's wrong about what NIL has morphed into, also, in the same breath, a cynic might suggest, seemed to be challenging Alabama faithful to be prepared to pony up some big bucks of their own.

"We didn't buy one player, all right? But I don't know if we're gonna be able to sustain that in the future," he said, shaking his head, "because more and more people are doing it. So, it's tough."

Saban didn't stop there, taking shots at Jackson State football and Miami basketball too.

Fisher, of course, wasn't going to let any of it go unchallenged.

He answered the next day, calling Saban a "narcissist," saying Texas A&M bought no one and delivering this doozy too: "Some people think they're God. Go dig into how God did his deal. You find out a lot about a guy, that, a lot of things you don't want him to know."

Fisher, LSU's offensive coordinator under then-Tigers coach Saban from 2000-04, went on and on about his old boss, taking all sorts of shots even as he stammered along the way. Fisher's comments may not have been delivered nearly as eloquently as Saban's, but none of it was pretty – and all of it gave anyone who loves college football, despite its many flaws, plenty to ponder.

Before long new Florida coach Billy Napier, who worked under Saban as receivers coach at Alabama from 2013-16, got in his two cents worth in on NIL issues, and at late-May SEC meetings in Destin, Florida, Georgia coach Kirby Smart, yet another Saban protégé, did the same.

Saban did dial things back a bit after his comments in Birmingham went viral, and he went easy on Fisher during the SEC meetings.

But none of the disdain over what NIL has become, truth be told, is really new.

"Saban had gone to the media several times, right?" SEC Network host Peter Burns said during a May 24 appearance on Tiger Rag Radio. "He's told it to me, he's told it to a bunch of people, (suggesting) he didn't like the new kind of 'pay-for-play' rules.

"But when he says it … just that way, you know, it kind of makes a headline, but then we forget about it. And I think this was more Saban going out and going, 'You know what? Alright, nobody's really paying attention. I'm gonna say this about Jimbo Fisher, I'm gonna say this about Deion Sanders, and I'm really gonna rattle some cages.' And I think ultimately that's what he's done, and that's the reason we're talking about it right here, right now, on Tiger Rag Radio, as opposed to, you know, it just being a throwaway comment that Saban made at a fundraiser."

All the talk, in any event, has provided plenty of dog days material for sports writers, sports talk radio hosts and TV folks too. To wit, flip deep into this month's issue of the magazine and you can read Tiger Rag contributors Glenn Guilbeau and Jim Kleinpeter and Tiger Rag president Jim Engster all weighing in on matters of Saban, Fisher and the heart.

Fisher said on June 1 at SEC meetings, that "we're done talking about the squabble." Don't believe it.

Expect the pony show to continue in July, when coaches and purveyors of fact and fiction gather in Atlanta for SEC Media Days.

Maybe even new LSU coach Brian Kelly will join the fray.

And that's just fine.

One can only wonder so long if Myles Brennan, Jayden Daniels or Garrett Nussmeier will start when LSU opens against Fisher's former team – Florida State – on Sept. 4 at the Superdome in New Orleans.

One can only argue so long about how many games Ed Orgeron's old team will win in 2022.

One can engage in only so much pre-World Games korfball banter before there's nothing left to say.

So, bring on the barbs, as long as it's all good fun and no one loses an eyeball.

SEC commissioner Greg Sankey may try to put a muzzle on all the ugliness before the gang meets again where the worlds of Coca-Cola and CNN collide, but he's likely to have as much luck with that as the bettor who puts big bucks on Fisher and Saban secretly hugging it out at a bar in Buckhead.

NIL talk simply isn't going away, and neither is the uncomfortable relationship between two former colleagues who just can't seem to get along.

Which – especially in May, June and July – is not necessarily a bad thing.

So, thank you, again, Coach Saban. Thanks, again, Coach Fisher.

Thanks, again, NIL, you big troublemaker.