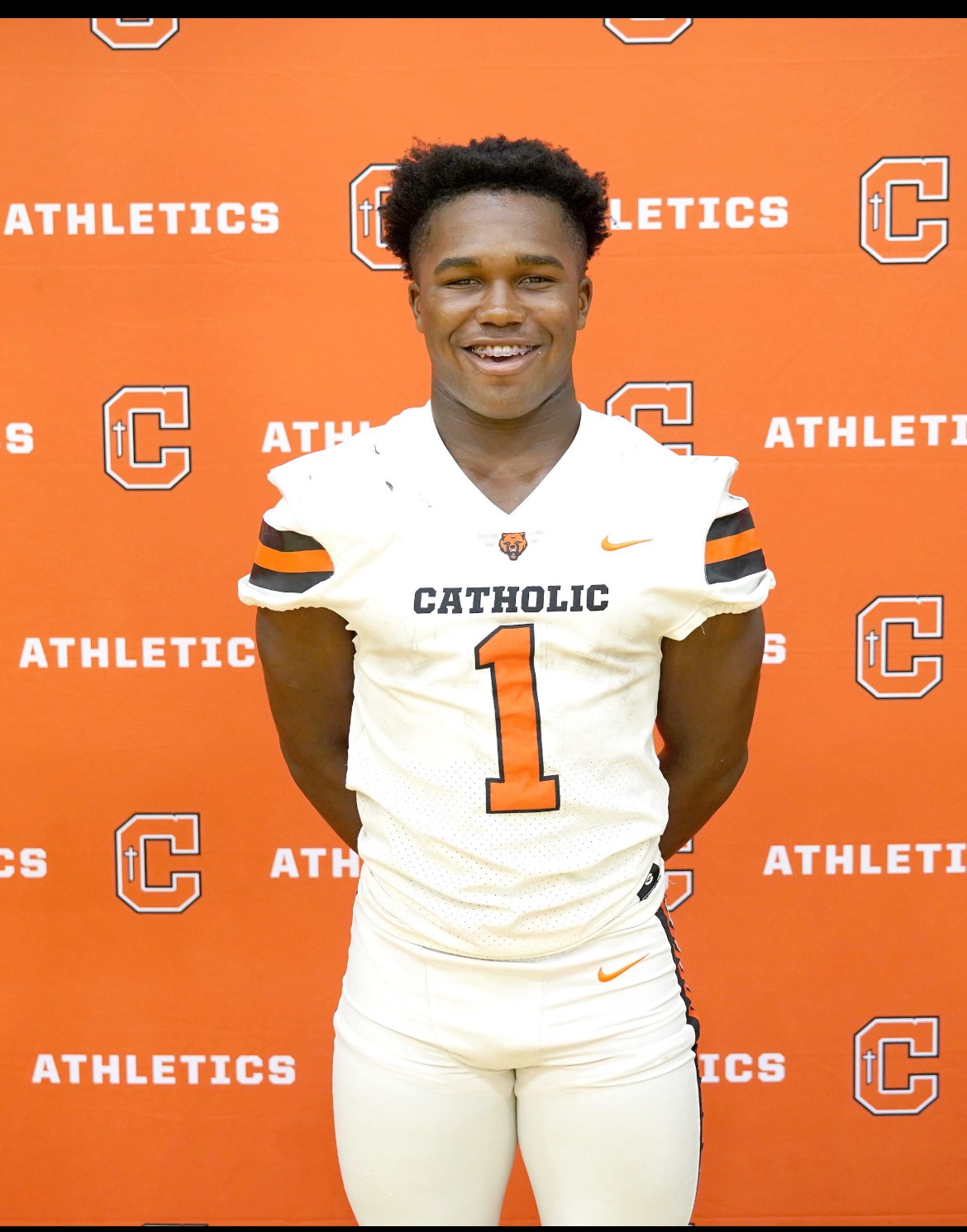 With No. 3 Catholic High looking for a remedy to its high-scoring matchup with visiting St. Thomas More, the Bears knew exactly where to turn.
Catholic relied on its ground game, and more specifically junior running back Barry Remo II, in the second half to ignite a 28-0 second half performance and secure a 49-28 victory.
Remo was at the heart of that second-half attack that included a pair of touchdowns in the fourth quarter, including a 71 yarder, that put the game away.
For his efforts Remo, who carried a career-high 28 times for a career-best 293 yards and four touchdowns, is this week's Tiger Rag Magazine Shining Star of the Week.
"He had two long runs, one that started the offensive fireworks, and the other was the one that broke their backs," Catholic High football coach David Simoneaux said. "We were excited about the way he played. He's been consistent. We're excited about his trajectory."
Remo broke loose for a 57-yard TD run in the first quarter and added a 14-yard score in the second quarter to help Catholic to a 21-14 lead before the Bears trailed at halftime, 28-21.
It was the 4-yard score from Remo with 11:54 left that broke a 28-28 tie, a touchdown that was part of a 21-point fourth quarter that he capped with his 71-yard score with 4:54 remaining.
"We were trying to find ways to get him the ball last year, but we had two seniors and both guys were over 1,000 yards," Simoneaux said. "When he got in there, he made a spark and a lot of it happened late in ball games that were still tight when our older guys were getting a bit worn down. He was a huge asset for us in that regard and was a huge asset on special teams. He was kind of a Swiss Army knife for us.
"He's a great kid with a magnetic personality," Simoneaux added. "Has a huge smile. Great energy and he's going to have a great year for us."
OFFENSE
D'WANYE WHITFIELD, Lutcher (Accounted for 444 yards, 6 TDs; Completed 18 of 25 passes for 261 yards 3 TDs, Rushed 13 times for 183 yards, 3 TDs, C'ZAVIAN TEASETT, Scotlandville (Accounted for 368 yards, TD; Completed 15 of 25 passes for 317 yards, TD; rushed eight times for 51 yards), JACKSON HOUSE, Dunham (Accounted for 278 yards, TD; Rushed for 147 yards, passed for 131), TYLAN JOHNSON, Madison Prep (Accounted for 250 yards, 3 TDs; Completed 18 of 30 passes for 184 yards, 2 TDs, rushed 6 times for 66 yards, TD), MIKE MITCHELL, Plaquemine (Accounted for 240 yards, 5 TDs; Rushed 17 times for 124 yards, 3 TDs; Completed 8 of 16 passes for 116 yards, 2 TDs), RICKIE COLLINS, Woodlawn (Accounted for 233 yards, 2 TDs; Completed 15 of 25 passes for 168 yards, 2 TDs; Rushed 16 times for 115 yards), GLEN CAGE, Central (Rushed 19 times for 214 yards, 3 TDs), CAM KELLY, Denham Springs (Rushed 32 times for 194 yards, 2 TDs), COVANTA MILLIGAN, Scotlandville (Accounted for 189 yards, 2 TDs; Rushed 10 times for 101 yards, 2 TD, Caught one passes for 88 yards), JACKSON FIRMIN, Central (Passed for 174 yards, 3 TDs), REID CHAUVIN, Episcopal (Accounted for 171 yards, 3 TDs; Rushed eight times for 130 yards 2 TDs; Caught three passes for 41, TD), JOHN MARTINEZ, St. Michael (Rushed 15 times for 170 yards, 3 TDs), DALTON RUFFINI, St. Michael (Completed 6 of 8 passes for 136 yards, 2 TDs), ABRAM JOHNSTON, Parkview Baptist (Completed 15 of 27 passes for 146, TD), SHELTON SAMPSON JR., Catholic-BR (Caught 11 passes for 138 yards, TD), JATERRIOUS JOHNSON, West Feliciana (Rushed 6 times for 125 yards, 5 TDs), CONNOR KIMBALL, Catholic-PC (Rushed four times for 121 yards, 3 TDs), MARK YOUNG, Brusly (Rushed 5 times for 112 yards, 2 TDs), CRAIVEZ OXLEY, Brusly (Accounted for 102 yards 2 TDs; Rushed 10 times for 72 yards; completed 1 of 1 passes for 30 yards, TD), KEILAN SHERMAN, Madison Prep (Rushed 8 times for 88 yards)
DEFENSE
GAVIN KNAPPS, St. Michael (17 tackles, TFL), KAM REED, Scotlandville (13 tackles, TFL, fumble recovery, TD), MICAH JOHNSON, Parkview Baptist (13 tackles, 3 TFLs, forced fumble), DIEGO DAVIS, Plaquemine (11 tackles, TFL), PARKER JACKSON, Plaquemine (11 tackles, TFL), AIDEN CAIN, Plaquemine (9 tackles), MATTHEW PAYNE, Parkview Baptist (8 tackles, TFL), TRAEVON JORDAN, Plaquemine (8 tackles, TFL, sack, fumble recovery), MATTHEW BELL, St. Michael (7 tackles), TREYLAN JAMES, Madison Prep (7 tackles, interception, 2 pass breakups), COLIN BONAVENTURE, St. Michael (7 tackles), HUEY JOHNSON, Brusly (7 tackles, blocked extra point), DAVID JONES, Madison Prep (6 tackles, TFL, pass breakup), CONNOR ACHEE, Catholic-PC (6 tackles, interception), HAYDEN KNAPPS, St. Michael (5 tackles, 2 TFLs, sack), ALLEN YOUNG, Brusly (4 tackles, blocked punt)
SPECIAL TEAMS
BREK SCHULTZ, Live Oak (Kicked 3 PATs, 2 field goals and had four touchbacks)