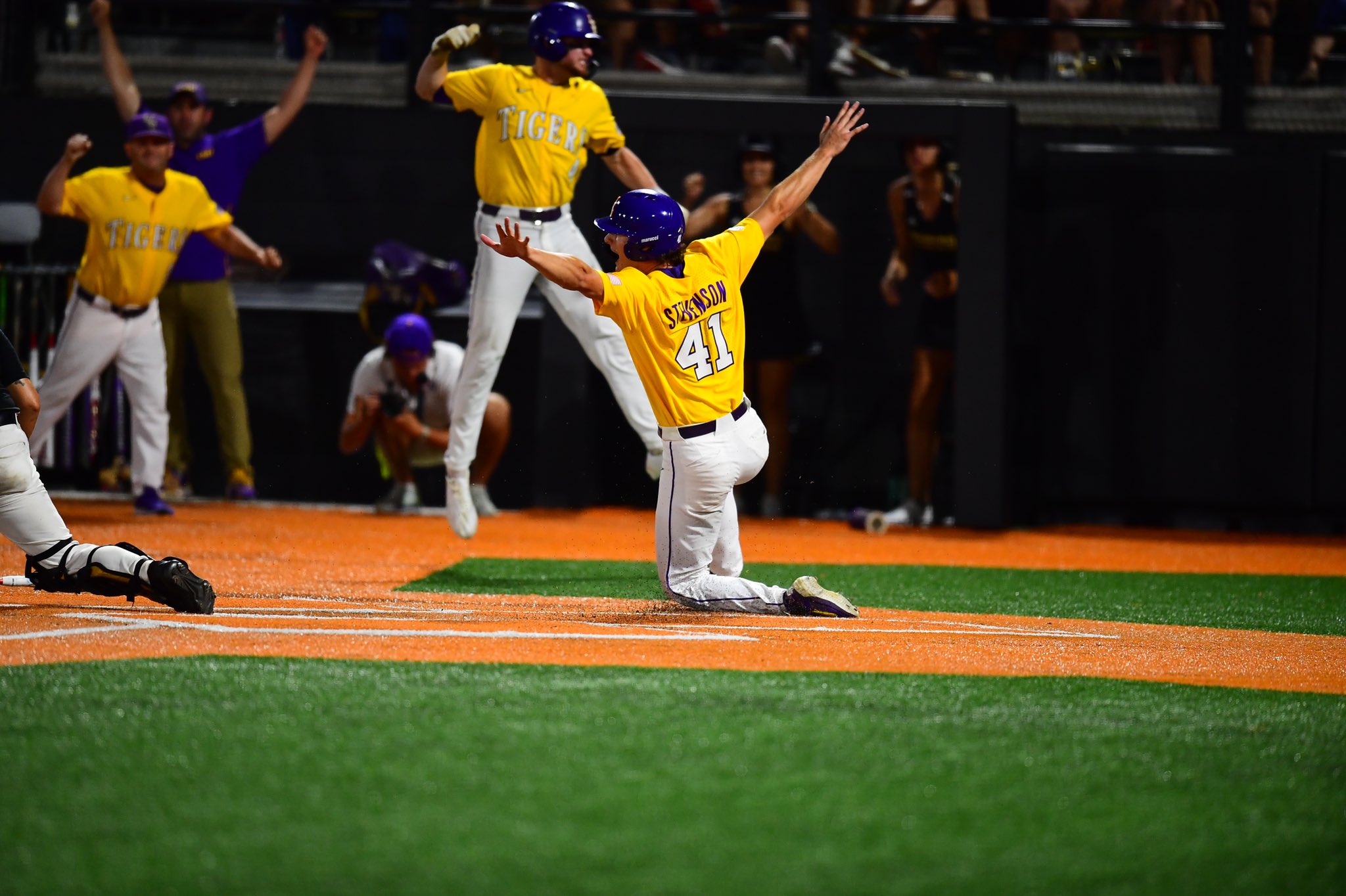 LSU gave an encore performance to its dramatic come-from-behind win on Friday.
A night after rallying for a dramatic three-run, opening-round victory second-seeded LSU put together a stirring ninth-inning rally to tie the game and won the game in the bottom of the 10th for a 7-6-win Saturday against top-seeded Southern Mississippi in the Hattiesburg Regional before a crowd of 5,211 at USM's Pete Taylor Park.
LSU (40-20) advances to Sunday's championship game at 6 p.m. against the winner of the 1 p.m. game between USM vs. Kennesaw State. The Tigers outhit the Eagles 11-7 and matched the home team with three home runs from Tyler McManus, Dylan Crews and Cade Doughty.
"It was a great night for college baseball, a great night for our team and a great night for our program," LSU baseball coach Jay Johnson said. "I'm proud of the players again. We said it yesterday and we have this saying that there's no clock in baseball. No team has probably exhibited that better than our team here in the last two days. I'm proud of their competitive fight. There's a lot of baseball to be played, so we'll turn our focus to tomorrow."
Relief pitcher Paul Gervase (4-1) worked a perfect 10th inning and LSU responded in the bottom half of the inning.
The Tigers loaded the bases without an out when pinch-runner Collier Cranford was thrown out at the plate on Jacob Berry's grounder. Freshman Josh Pearson (2-for-6) followed with a bases-loaded, high chopper up the middle which scored Josh Stevenson from third, well ahead of the throw home.
"Coach just told me to stay in my approach and do what I've been doing all year," Pearson said. "I was just
trying to put a ball through the infield going up there or hit a sac fly in the outfield. It got the job done and that's all I was trying to do."
LSU's bottom of the ninth was one to remember with four runs on four hits, rivaling that of Friday's 10-run eighth when they rallied to defeat Kennesaw State, 14-11.
USM was 38-0 this season when leading after the eighth inning.
"On paper it's huge," Johnson said of his team reaching the regional final. "I think there's a lot more to it from a coaching standpoint. In these tournaments you always look at how you need to do it and this certainly helps. The rest is more important than anything and then not playing in the 1 p.m. game. I've had a team lose this winner's bracket game and win a regional and then ultimately a Super Regional, so I know what that looks like. I think this team is positioned like a team that could actually do that, but I think
this is better for and we just need to get reset. It allows us to stay in our routine that we've been in since we've been here and that's a good thing."
Crews (2-4) homered for his team-leading 22nd time and following Pearson's two-out single, Doughty (2-5) homered for the first time since his return from injury, drawing LSU to within 6-5. Tre' Morgan was hit by a pitch, pinch-runner Drew Bianco stole second base and scored the game-tying run when Jordan Thompson singled up the middle.
"It's just about competing and wanting it as much as everyone else on the field," Thompson said. "You just really want to come through for your boys. When I look down the dugout and I see everyone cheering me on, it makes me want to come through and take a good at bat. It was crazy."
USM starting pitcher Hurston Waldrep threw a season-high 119 pitches over 6.2 innings, shutting out LSU after the second inning and allowed USM to build a 4-2 lead before he departed the game. He yielded five hits, two earned runs, walked two and fanned 11.
Waldrep retired 12 consecutive batters during a stretch until Crews' two-out double in the bottom of the seventh inning when he was lifted for reliever Dalton Rogers, who struck out Berry to end the inning.
LSU led 1-0 with a run in the first inning on Morgan's RBI-single into right field and tied the game in the second after USM's Will McGillis cracked a two-run homer, the Tigers got a run back to make it 2-2 through two innings.
McManus (2-5) led off the inning with a home run – his 10th of the season – just out of the reach of USM center fielder Gabe Montenegro.
With Waldrep silencing LSU's bats, USM gained separation on Danny Lynch's run-scoring single in the fourth and Carson Paetow's solo homer – his 14th of the season – to make it 4-2 through the fifth inning.
LSU starter Ty Floyd completed six innings, allowing four earned runs on six hits with no walks and seven strikeouts.
USM extended its lead with single runs in the seventh and eighth innings against LSU relief pitching.
Rodrigo Montenegro's RBI-groundout gave the Eagles a 5-2 lead, taking advantage of a pair of walks from relief pitcher Jacob Hasty. Fellow reliever Trent Vietmeier recorded a pair of outs in the eighth but served up a solo homer to Christopher Sargent to left field for his team-leading 21st of the season.